We've created a new Club Management System to help clubs build their digital presence and make your courses even more accessible to the public.
The new CMS, supported by Sport:80 who built our members' portal, will make your beginners' courses, tasters and have-a-go's easy to find and bookable through our beginners' website: Start Archery.
Currently, finding an activity to take part in can feel like using a travel agent in the pre-internet era. People often spend significant time searching for suitable activities, contacting various providers to check availability, waiting for email responses or phone calls and hoping the information they receive is accurate and up to date, having to make cash or payments over the phone. This outdated process prevents 1 in 5 people from participating in physical activity.

The CMS complies with Open Data which allows you to book a sport session with a few taps of your phone.
What are the other benefits of Open Data?
The new CMS opens your courses up to other partners who use Open Data to feed their experience finders. This means your event won't just appear on your own website and on Start Archery but on other event finders too such as those provided by your local Active Partnership. People can simply search by postcode and sport, and they will be directed to your club.

As well as making courses bookable, you can take payment via the new CMS, offer courses to your current members and create a website for your club all through the same platform. You won't pay hosting fees for your website - saving your club money. If your club already has a website and you don't want to switch you can still create a microsite to relive the burden of arranging courses and collecting money manually through emails/phone calls and bank transfers.

If you're still unsure, here are all the benefits:
It's free for clubs to use
It provides a template for building a website to help get your club online easily
It makes your club more digitally accessible and easy to find online
It reduces admin, freeing up volunteers to find better ways to get involved with running the club
It promotes your activities to more people in more places, breaking down barriers and increasing diversity
You can take payment through the CMS from members of the public and club members
To help get your club onto the new CMS, we've produced two guides: one on how to set your club up on the CMS and another on how to register an event. We're also producing two videos which will be released soon if you prefer a visual guide.
Before you get started, make sure you have admin rights to access your club's CMS. The six roles that have access are:
Club Course Admin
Club Event Admin
Club Finance Admin
Club Reports Admin
Secretary
Club Super Admin
---
Steps to getting set up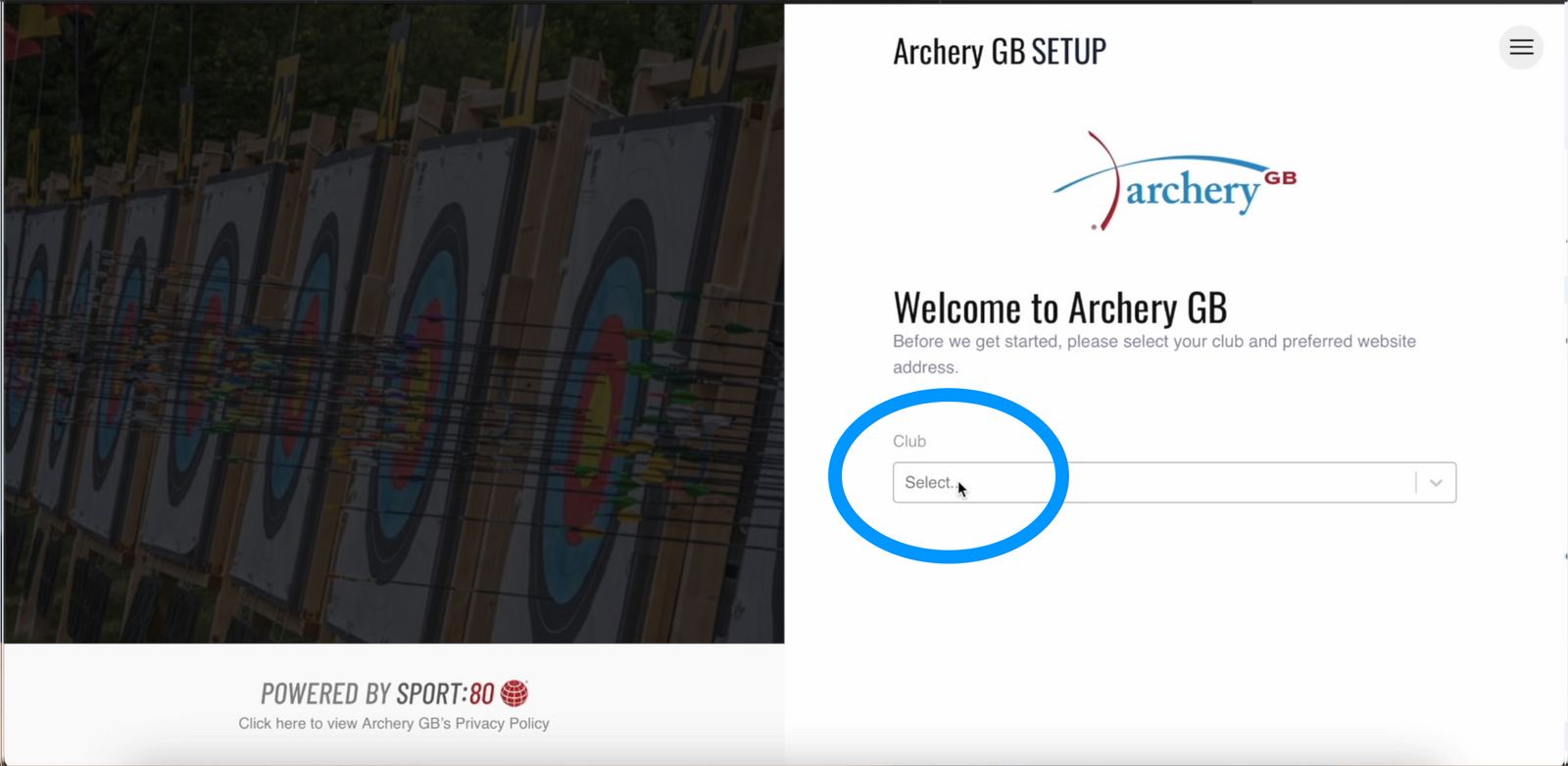 Follow the 10 steps below to get your club set up on the CMS. If you've already done this step, skip it and scroll to the next section to see how to upload your events and appear in our Experience Finder. Although you have to set up a club website as part of this process, you do not have to use the website if you prefer to continue using your existing club website.
Log in as you usually would through Sport:80
Select your club's account
On the left-hand side, click 'Access AGB CMS'
This will take you into the CMS where you should see a black screen with a big target
Click on the 'Select' button. Search for your club in the list
You will then be taken to the bottom of the screen as you will need to select a URL address name, we recommend you enter the name of your club for this
You will now need to set up your club landing page/website, which can be found in the menu on the land-hand side:

You need to enter the details requested to start to compile your club page, please ensure you complete as much information as you can – remember you can preview the webpage as you go using the following link:

Don't forget to fill in as much detail as you would like to show on your page, including social media tags and any upcoming events you want to promote
To ensure your page is live, the public access date needs to be either current, or set to the date that you want it to go live; this will then be available to highlight the opportunity to book sessions and/ or showcase upcoming club events:

Once in the CMS, scroll down to choose 'Website' and then click 'Setup'
Make sure you've filled in all the 'Basic Details' for the club, including adding today's date at the bottom of the tab under 'Availability: Public Access' to set the CMS to go live (if you haven't already). Click save before exiting
Add at least one landscape orientation photo in the 'Images' tab, you can add the club logo too at this point. Adding images and logos ensures your home page is personalised to your club and looks inviting
From the menu icon in the top left corner, choose 'Locations' and ensure your club's shooting locations are added/saved and correct, and easy to identify from their title. Open the middle 'Geography' tab and click the exact location of the range you are saving on the map. Click save before exiting. This makes sure events are showing in the correct places, so people can find you, and any maps on experience finders work correctly:

---
How to upload your booking
Once you've got your club set up on the CMS, it's time to upload your first event. Here's a short guide to help you get started.
Log into the club profile on the membership portal as usual, and click 'Access AGB CMS' on the left-hand menu
From the menu icon in the top left corner, choose 'Bookings' and 'Add new'.
Enter a title, select the location and choose the activity category from the drop-down menu. e.g. 'Beginners' course' or 'Have a go'
If you would like to promote the event, click the 'Make Public Event' switch in the 'Basic Details' page (the switch will go green when selected) and start to type 'archery' in the 'Activity' box below, then select it. Fill in every box, making sure to set any age restrictions and add accessibility details under 'supported disabilities'. Click the 'Save' button at the bottom of the page. All Start Archery Week events must be made public, but for other events such as beginners' courses or coaching sessions it is the club's choice
Click the 'Schedule' tab at the top of your booking and click the red plus symbol to add details. Enter a Start Date, End Date, Start Time and duration (of the whole event) plus confirm the day of the week. Unless you are taking payments for bookings, make one entry per day please – if you are offering multiple sessions in the day, you can tell people that later and ask them to email the club to confirm their slot
Check the entry details by clicking the three dots next to the 'Save' button on the top right, then 'Sessions' (Click the pencil icon to edit anything). Then you're done!
---
Further resources and support
If you've followed these instructions, then your club's events should appear in our Experience Finder after the switchover on Wednesday 28 June. We'll be sharing the finder across our social media channels after this date to give your events even more promotion.
If your event is missing from the finder, please contact enquiries@archerygb.org using the subject line 'CMS support'.
If you need further help, we've put together some resources to support you through the process.
We'll be uploading two video guides to this page later this week if you prefer to watch the process and follow along step-by-step. We'll also be adding instructions on setting up payment collection on your courses so people can pay you at the time of booking.
We ran a series of webinars explaining why we have moved to a new CMS and how to get started. If you missed them, you can watch a recording here:
If you have further questions or need extra support, you can get in touch with your local Regional Development Officer:
RDO contact details
Thank you for supporting the role out of Open Data, which helps people on their journey into archery.