236 archers from 21 counties met on the weekend of 24 September to go head-to-head at The National County Team Championships. All bow types competed across both the men's and women's teams on Saturday and in mixed teams on Sunday. The weekend's results were merged to create a combined county ranking across Recurve, Compound, Barebow and Longbow. The medal ceremony made for an emotional event full of smiles, joy and even a few triumphant tears.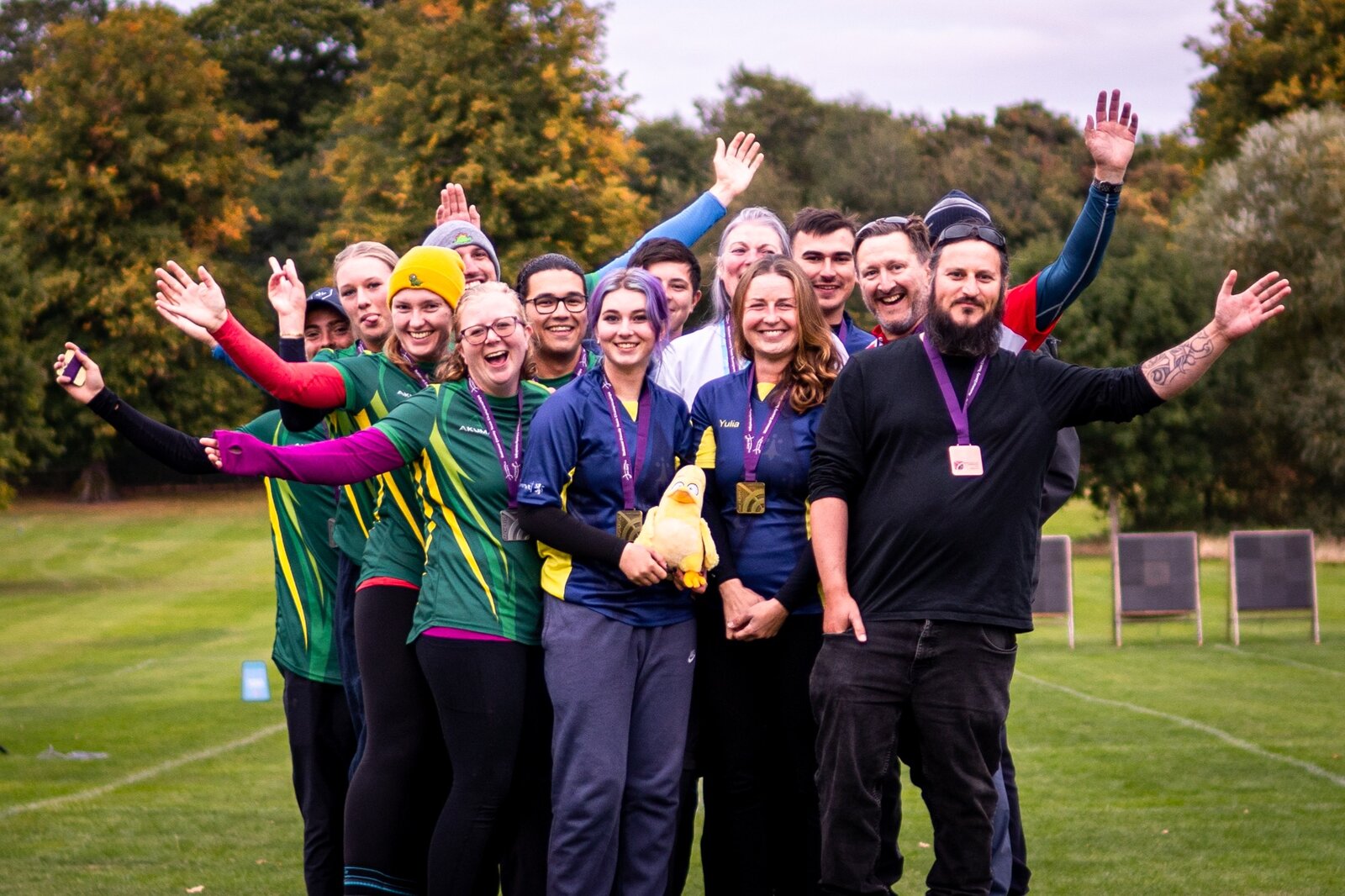 The field was filled with archers from all backgrounds and experience levels, from archers at their very first competition right through to archers on the World Class Programme. Tips were shared, friendships were made and strong connections in and across counties were solidified thanks to the competition.
Over the weekend, some counties entered multiple teams per category, such as Hampshire who brought coaches and 30 archers to the competition by entering both A and B teams.
A highlight of Sunday's competition was that almost every single round led to a shoot-off just highlighting the consistent and strong shooting across the board from all counties.
Recurve
Warwickshire led the Men's Recurve category in qualification. Monty Orton seeded first and set a new National record of 682 after 72 arrows on the Sunday, while Tom Hall placed second in qualification across both days.
In the Women's Recurve category, again first and second in qualification was unchanged with Penny Healey of Shropshire and Malgorzata Sobieraj of Yorkshire, respectively, both leading the way with consistent performances.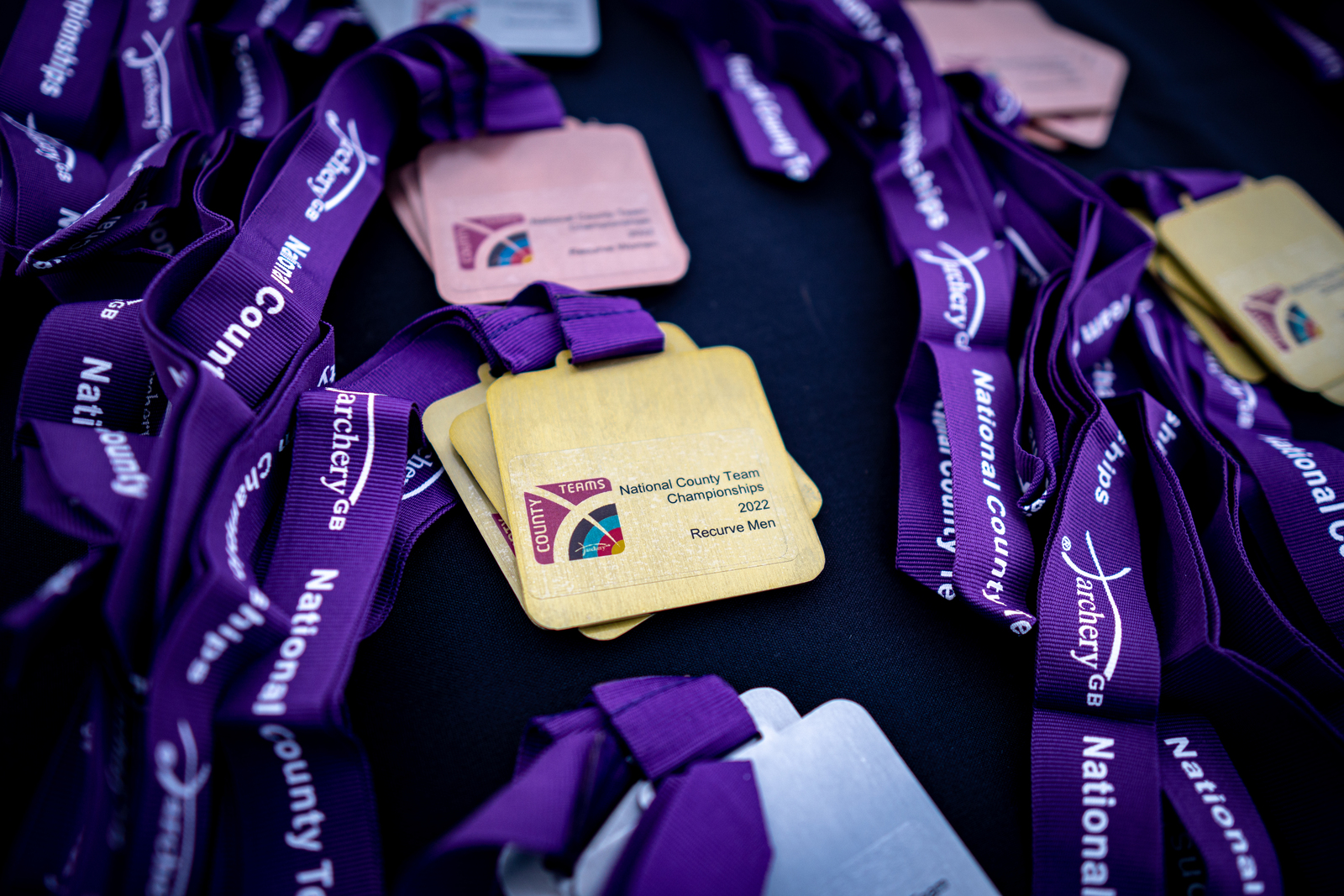 Rankings
Men's Recurve Team:
Hampshire (Christopher Baigent, Richard Buckner and Wayne Goble)
Shropshire (Rob Healey, Ryan Holden and Maxwell Oakley)
Oxfordshire (Yang Pei, David Timmins and Antony Wood)
Women's Recurve Team:
Shropshire (Megan Costall, Penny Healey and Yulia Hinkley)
Lancashire (Heather Hughes, Helen Taylor and Rebecca Stephenson)
Berkshire (Hannah Evans, Celia Stocker and Imogen Sullivan-Bell)
Recurve Mixed Team:
Warwickshire (Emma Davis and Monty Orton)
Shropshire (Penny Healey and Ryan Holden)
Lancashire (Helen Taylor and William Addison)
Combined County Recurve Result:
Shropshire
Warwickshire
Lancashire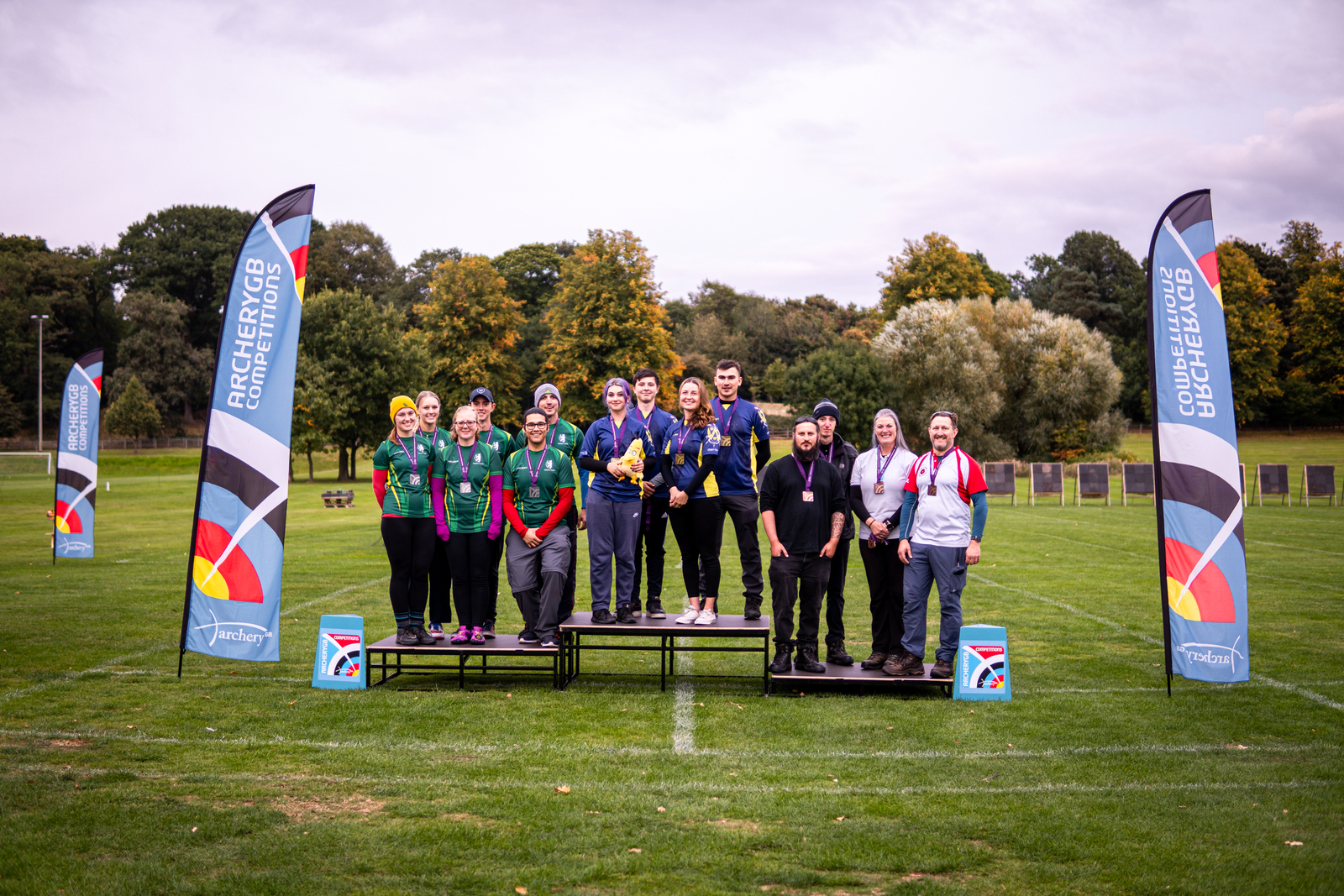 Compound
Hampshire's compound teams brought energy and strong shooting across the weekend. In the Men's compound team Hampshire A beat Hampshire B team to the gold medal.
Lucy O'Sullivan of Hampshire also seeded first in qualification on Saturday and second on Sunday, helping lead Hampshire to a gold medal in the Mixed team with Luke Davis.
Dillon Crow and Elizabeth Foster joined forces for Durham and Northumberland and closed the competition with a silver in the mixed team.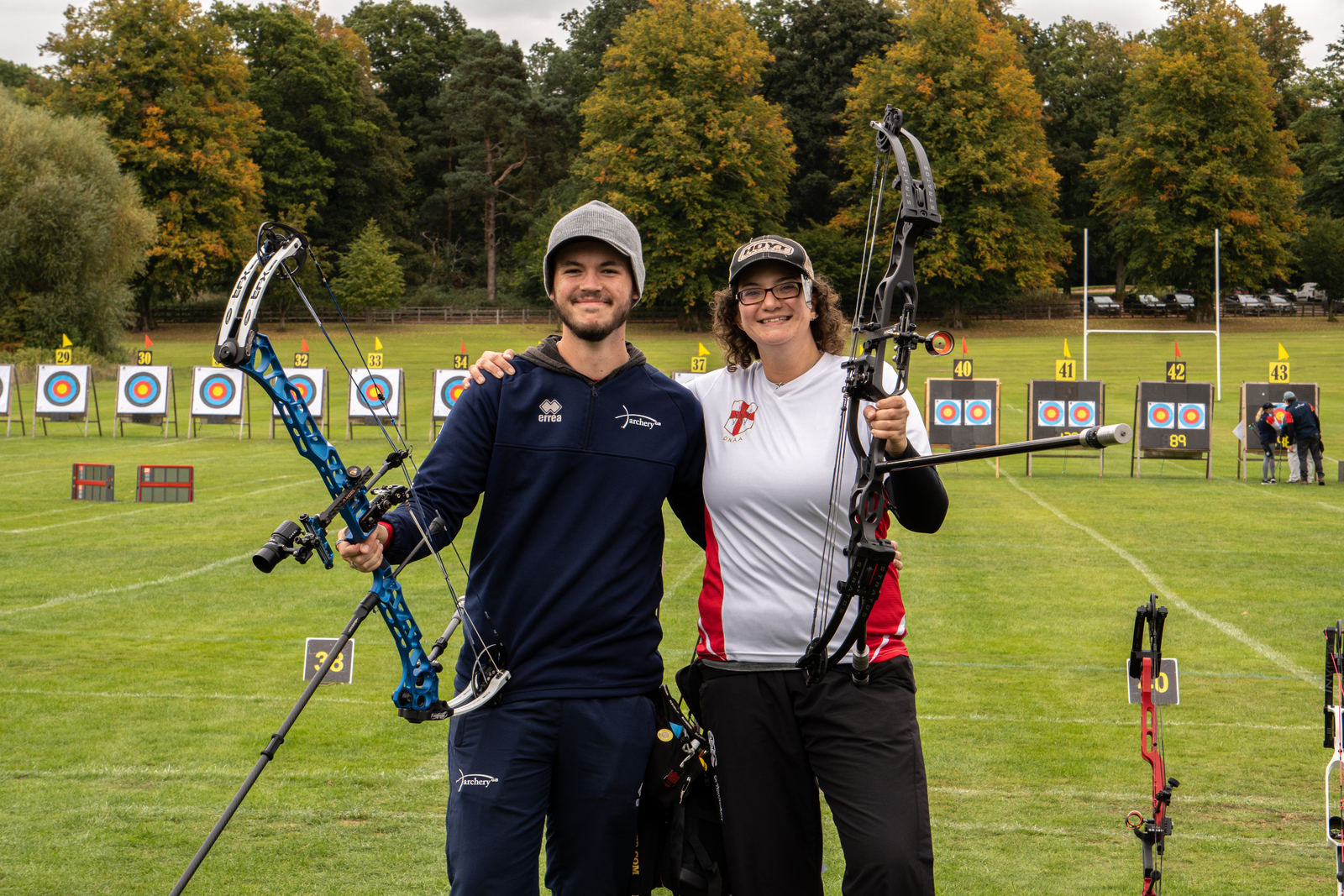 Rankings:
Men's Compound Team:
Hampshire A (James Murfitt, Stuart Reilly and Francis Rocha)
Hampshire B (Luke Davis, John Foley and Andrew Nightingale)
Lincolnshire (Aidan Elves, Colin Elves and Liam Right)
Women's Compound Team:
Cheshire (Sam Hamlett, Kirsty Robb and Patience Wood)
Durham & Northumberland (Pamela Duncanson, Elizabeth Foster and Jessica James)
Derbyshire (Abi Bowler, Jenny Bryan and Amber Short)
Mixed Compound Team:
Hampshire (Lucy O'Sullivan and Luke Davis)
Durham and Northumberland (Elizabeth Foster and Dillon Crow)
Norfolk (Serge Utting)
Combined County Compound Result:
Hampshire
Durham and Northumberland
Cheshire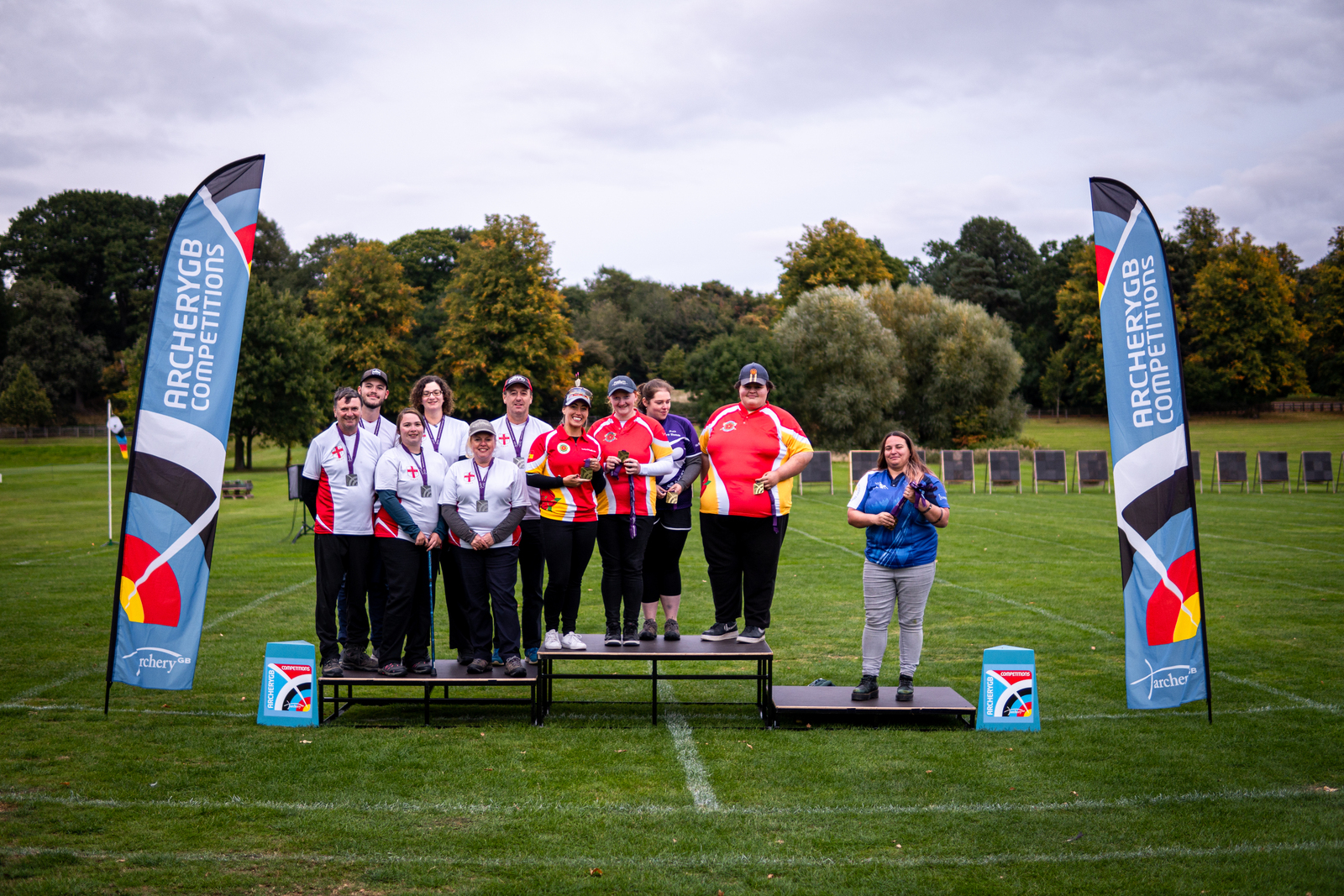 Barebow
The barebow section of the field was filled with laughs, the sharing of snacks and a lot of competitive banter across the counties. Both Men's and Women's teams displayed their flare and love for the community aspect of the sport, cheering each other's counties on through the head to heads.
Sarah Hubbard of Norfolk highlighted her barebow talent with a qualification score of 595 which was 41 points stronger than second seeding, and 87 from third. The Lancashire team went on to dominate in the knockouts to win every match 6-0 which led Lancashire to win both the Women's team gold medal and the overall combined first place result.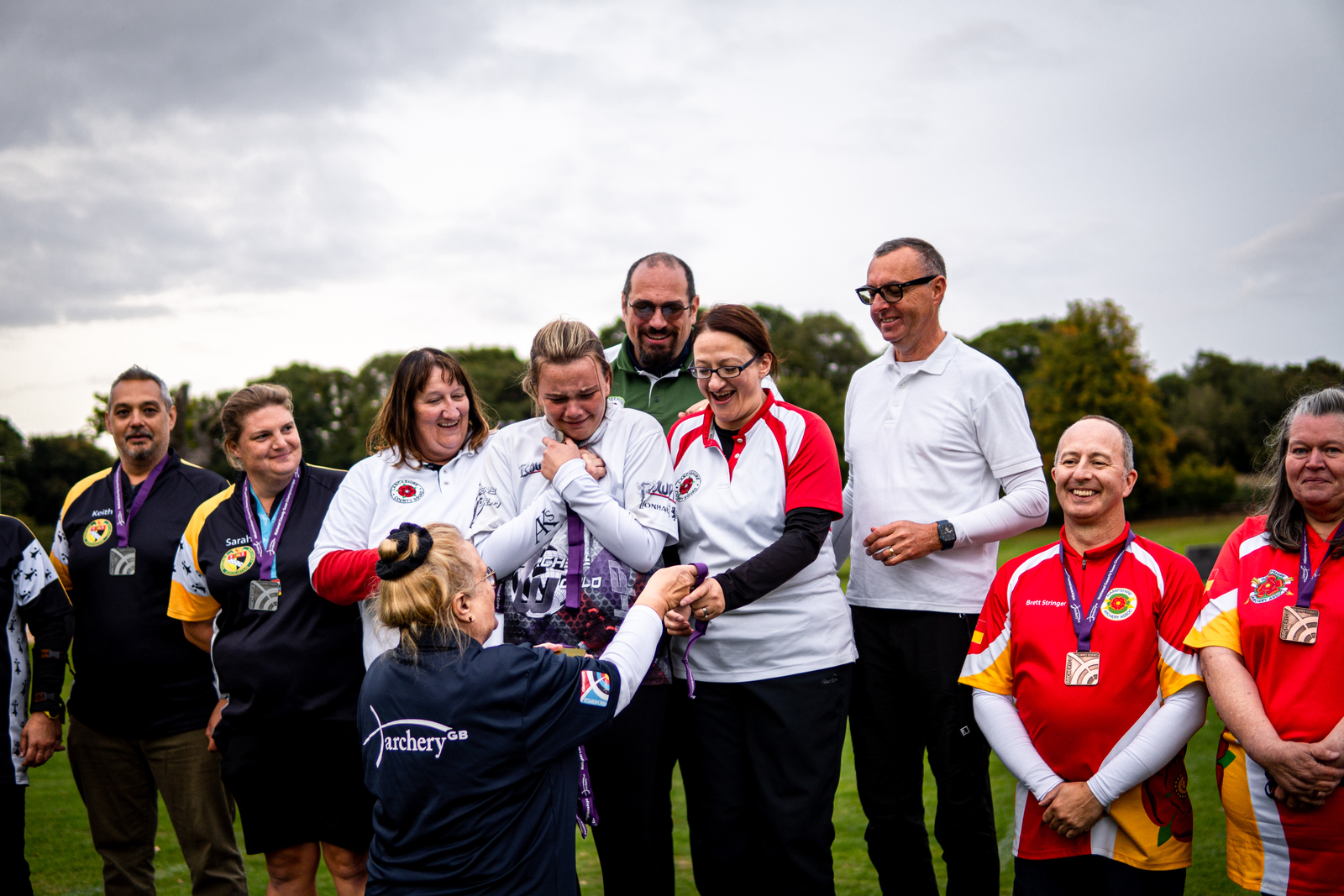 Rankings:
Men's Barebow Team:
Devon and Cornwall (Geoff Crewdson, Steve Fowler and Lonja Selter)
Hampshire (Richard Heathcote, Alan Holder and Brett Stringer)
SAA Northern Area (Colin Allan, Andrew Kelly and Keith Whittaker)
Women's Barebow Team:
Lancashire (Helen Brown, Kim Doherty and Evie Kinnegan)
Derbyshire (Imogen Bannister, Sarah Langdon and Georgie Taylor)
Norfolk (Sarah Hubbard, Samantha Parker and Marian Toomey)
Mixed Barebow Team:
Devon and Cornwall (Karen Grassie and Lonja Selter)
Norfolk (Sarah Hubbard and Keith Macduff)
SAA Northern Area (Keith Whittaker)
Combined County Barebow Result:
Lancashire
Norfolk
Hampshire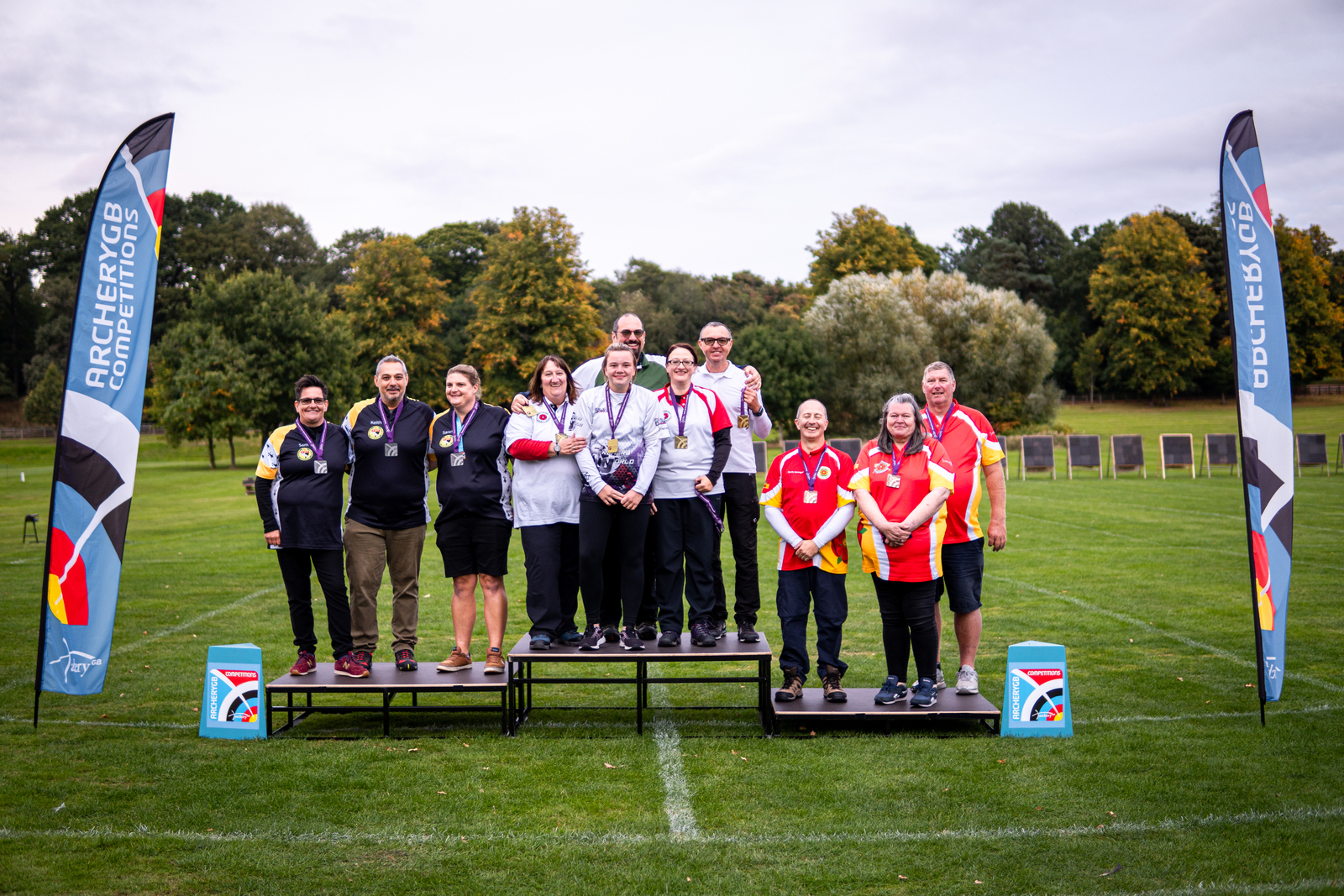 Longbow
The Longbow competition was tough, with only a few points deciding the first and second seeding in qualification. Despite taking the first and second spot in qualification, the Men's Devon and Cornwall team were beaten to the gold medal by the Lancashire Men's team in the head-to-head by 6 to 2.
The Ladies Longbow was also tight and went down to the final arrows in a shoot-off. The 2-point difference between Sheila Hudson (Yorkshire) and Sophie Twigg (Devon and Cornwall) in qualification led to a nail-biting final where Yorkshire eventually took the title.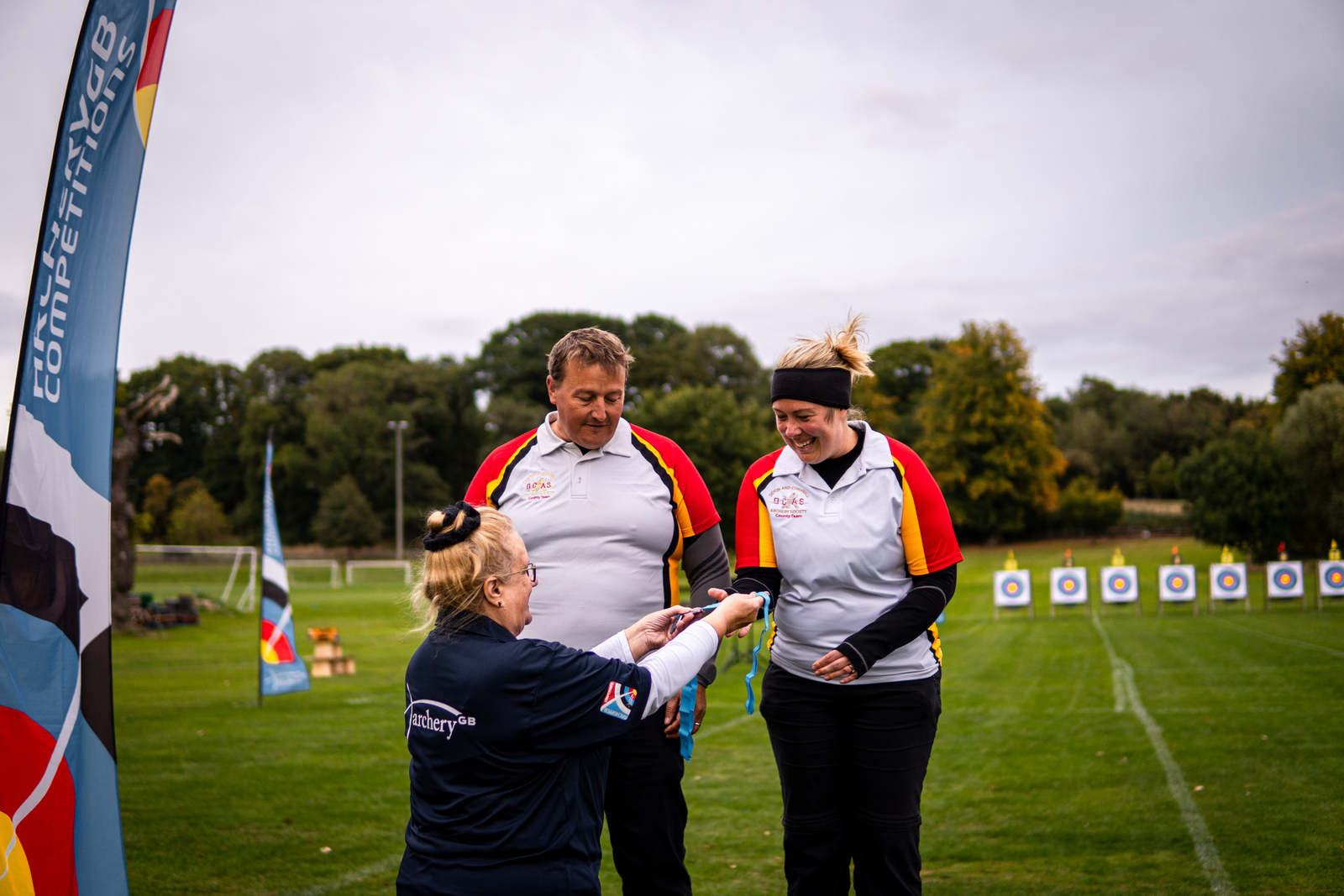 Rankings:
Men's Longbow Team:
Lancashire (Ian Fleming, Hamish Freeman and Dale Message)
Devon & Cornwall (Antony Aplin, Rob Twigg and Scott Williams)
Yorkshire (Richard Hudson, Patrick Revell and David Whitham)
Women's Longbow Team:
Yorkshire (Sheila Hudson, Lorraine Slater and Ano Yorkslw)
Devon and Cornwall (Jane Barrett, Tara Earle and Sophie Twigg)
Oxfordshire (Georgina Cutts, Melanie Dalpra and Antje Frotscher)
Mixed Longbow Team:
Yorkshire (Sheila Hudson and Patrick Revell)
Devon and Cornwall (Sophie Twigg and Rob Twigg)
Lancashire (Hamish Freeman)
Combined County Longbow Result:
Yorkshire
Devon and Cornwall
Lancashire