Christmas can play havoc on anyone's training routine. With oodles of calorific food and drink within easy reach, it can be tempting to overindulge and let your fitness slide.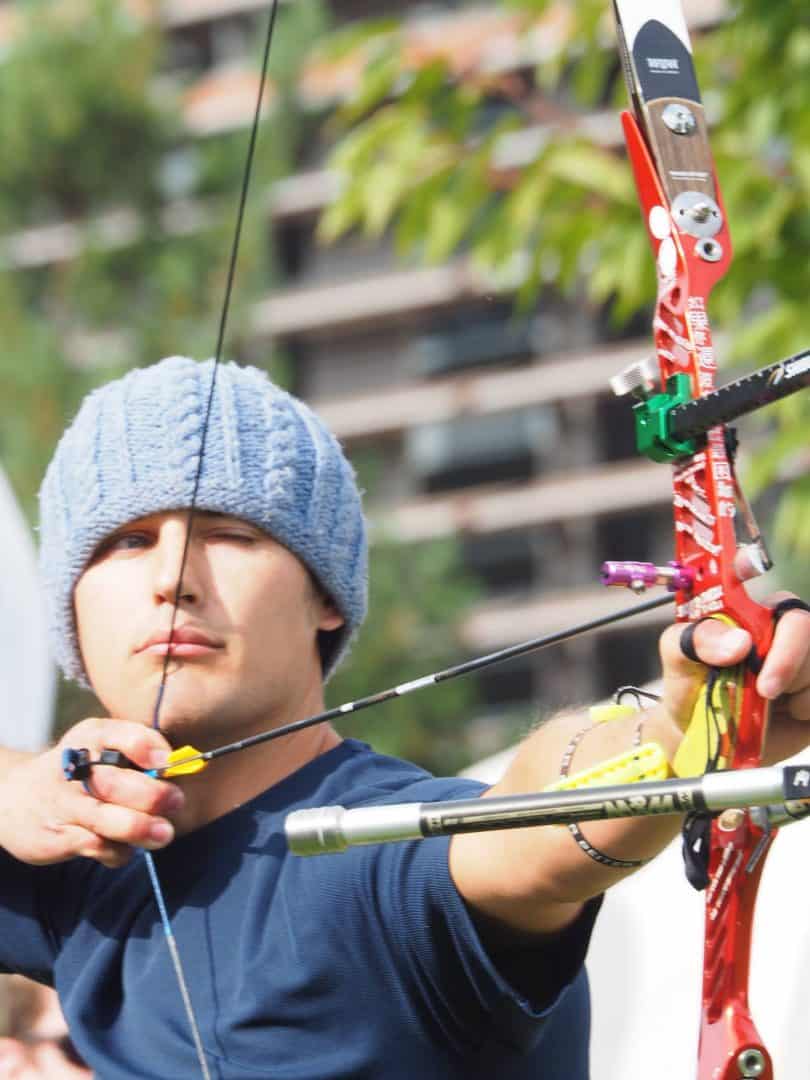 So what can we learn from our performance athletes about maintaining form and fitness? We asked Archery GB's Paralympic and Olympic hopefuls Hazel Chaisty and Keith Harding (pictured above) about their festive training plans.
As much fun as Christmas can be, is it one of the hardest times of the year to stay focused? How exactly does it affect your training schedule?
Hazel:
When it comes to being a full-time athlete, life gets pretty tricky around the festive season. We've plans in place to be in a certain bow fitness and technical readiness each week of the year. But a few lax days visiting family and friends, a Christmas party here and there, and you can find yourself slipping behind. No one wants to be playing catch-up in the new year.
On the other hand, the next eight months leading into the Paralympics are going to be intense and this might be the only quality time I get with loved ones for quite a while.
Keith:
Sometimes it's good to have some down time; personally I'm not very good at resting or having a break! When you're training all the time it's easy to do too much. On the flip side, if you're not training every day then the timing of Christmas can be critical for impacting on your regime; the loss of the two or three days a week which you can train in can derail your training rhythm. In these circumstances I'd recommend the following:
1) Clingy band shooting: it's important to maintain the motion of shooting, even if you can't maintain the loading. Use a clingy-band (Thera-Band tubing is a good choice) to run through your shot routine instead of shooting.
2) Bow drills: if you have a Formaster/shot trainer and a suitable location to use it, do some 'reversals' to load your shooting muscles instead of shooting.
3) Conditioning: don't neglect the gym work. If you can maintain your normal routine then stick to it. If not, figure out a floor routine to keep you in shape.
What advice would you give to other archers wanting to strike a balance between fun and fitness?
Hazel:
My advice for serious archers is to be sensible. You can't expect to fit every training session in when your attention span is pulled in many directions. I normally train for five hours across the day but when life is busy I like to keep my sessions short and intense. I can shoot 100 good quality, full focus arrows at a close blank boss in an hour, or I can get in front of a mirror and do 100 bow drills in 30 minutes. When I visit family, I take a bow trainer and some Thera- Bands with me to keep my arms strong.
Keith:
Why does there have to be a gap between the two? If you're having trouble getting motivated then I'd suggest writing down all the reasons you want to do the fitness work. Then write down a list of reasons why you don't want to do the work; you might find that some of your reasons for not doing the fitness can be summarised as: 'I don't like it'. Starting out is always hard, but there are loads of apps and helpful tips out there to make that first step. After that it's just habit.
How do you manage your diet over the Christmas season? Are you quite strict with yourself - does a nutritionist provide you with a plan/guidelines that are easy to stick to?
Hazel:
Don't get too hung up on the odd small treat here and there, but try to remember that Christmas Day is just that - one day! It's not two weeks long! You want chocolate for breakfast? Have it! Christmas pudding and cheese and crackers? Sure, why not? But don't do it every day from Christmas Eve until 2 January - you'll feel horribly sluggish and your training will suffer.
Keith:
Unfortunately we don't have a nutritionist attached to the team. However, even if there was I doubt they could rewrite Christmas lunch! All I would say at this point is: everything in moderation. Don't drown your lunch in gravy, just have a small piece of Christmas pud, and don't try out-drinking Uncle Steve!
Do you have other exercises/activities that you like to do that are complementary to archery?
Hazel:
Try to get out of the central heating and have a brisk walk here and there with family - you can walk off that chocolate you had for breakfast! And have a look at your club's message board, there might be a Christmas hump shoot on in your area. It also really keeps you motivated to stay in touch with your club mates or teammates. Some of my teammates have a WhatsApp group where we share trials, tribulations, tips and bits of silliness.
Keith:
Sadly there's not much that is complementary to archery, in the direct sense. I enjoy running and gym work, and I enjoy badminton too, all of which is good for your general health and fitness and hence is good for archery.
If you're unable to train daily over the festive season do you practice other things that can be done anywhere, like breathing techniques etc?
Hazel:
Don't underestimate the power of the practice and impact of mental training. Sitting or lying quietly and going over your perfect shot in your head, seeing it hit the gold and repeating it, is one of the cheapest, most effective ways to train when you are away from home with no equipment or facilities. Of course, there's nothing like shooting your normal bow at your normal distance, but this is Christmas. Family are more important!
Keith:
Meditation and visualisation are two practices which I would highly recommend if there is no way to get behind the bow or into the gym. Running through your process in your mind will show you how well you know your shot and is very similar to shooting.