Archery coaches Stephanie Gill and Vlada Priestman have been revealed as UK Coaching Awards 2022 finalists.
The pair have been shortlisted in the Talent Development Coach of the Year category where they will be up against Peter Maliphant from orienteering.
The awards, which are now in their 25th year, recognise coaches and their incredible contribution in transforming lives and communities across their sport.
The night is a celebration of the tremendous impact of great coaches and great coaching – from delivering high quality technical coaching and improving physical capabilities, to supporting people holistically on their journey through sport and physical activity.
For this anniversary year, the awards ceremony will be held on 6 December at The Queens Hotel in Leeds.
From the nominations, an expert judging panel carefully deliberated and selected the finalists across 10 categories awarding coaches and coach developers.
Stephanie Gill is head junior coach of Deer Park Archers and is recognised for her ability to identify and develop talent. Her current archers have medaled at the European Youth Championships, made the national development programme, been selected for Archery GB's youth team and represented England, winning medals at the British Championships. One of Stephanie's archers with a disability continues to represent Great Britain in the able-bodied category.
Steph said: "My career shooting was cut short due to injury, coaching was my only option in the sport but at that time not one that really excited me, however it has proved equally if not more fulfilling!
"Moments like this are special, a chance to share this recognition with my fellow coaches and athletes. Helping so many to develop to their full potential and influencing the development of my amazing club and the performance pathways our sport supports.
"Coaching success can only be achieved through great teamwork, my nomination has given our whole team a fantastic boost. Thank you to everyone."
Vlada Priestman has been a key member of the Archery GB performance pathway team since 2015 and has worked across the full spectrum of archery, from grassroots to elite level. She is also head coach of Lancaster University and Nethermoss Archery Club.
Her coaching journey started in Ukraine, where she assisted her coach with beginners' courses, later with juniors at the club and at competitions.
For the last two years she has been part of the coaching team in European Youth Cups and European Youth Championships where the team had great success, finishing second in the medal table. In the National Talent Development Programme she has helped a number of young archers to improve their archery skills and achieve their potential and progress into the performance academy.
Vlada said: "It was a great surprise to receive an email about the nomination. One of my young athletes nominated me and I didn't expect to be shortlisted. Now I am very excited to represent archery at the event and to meet talented and dedicated coaches from different sports.
"It is also great to see another archery coach, Stephanie Gill, in the final in the Talent Development Coach of the Year Category."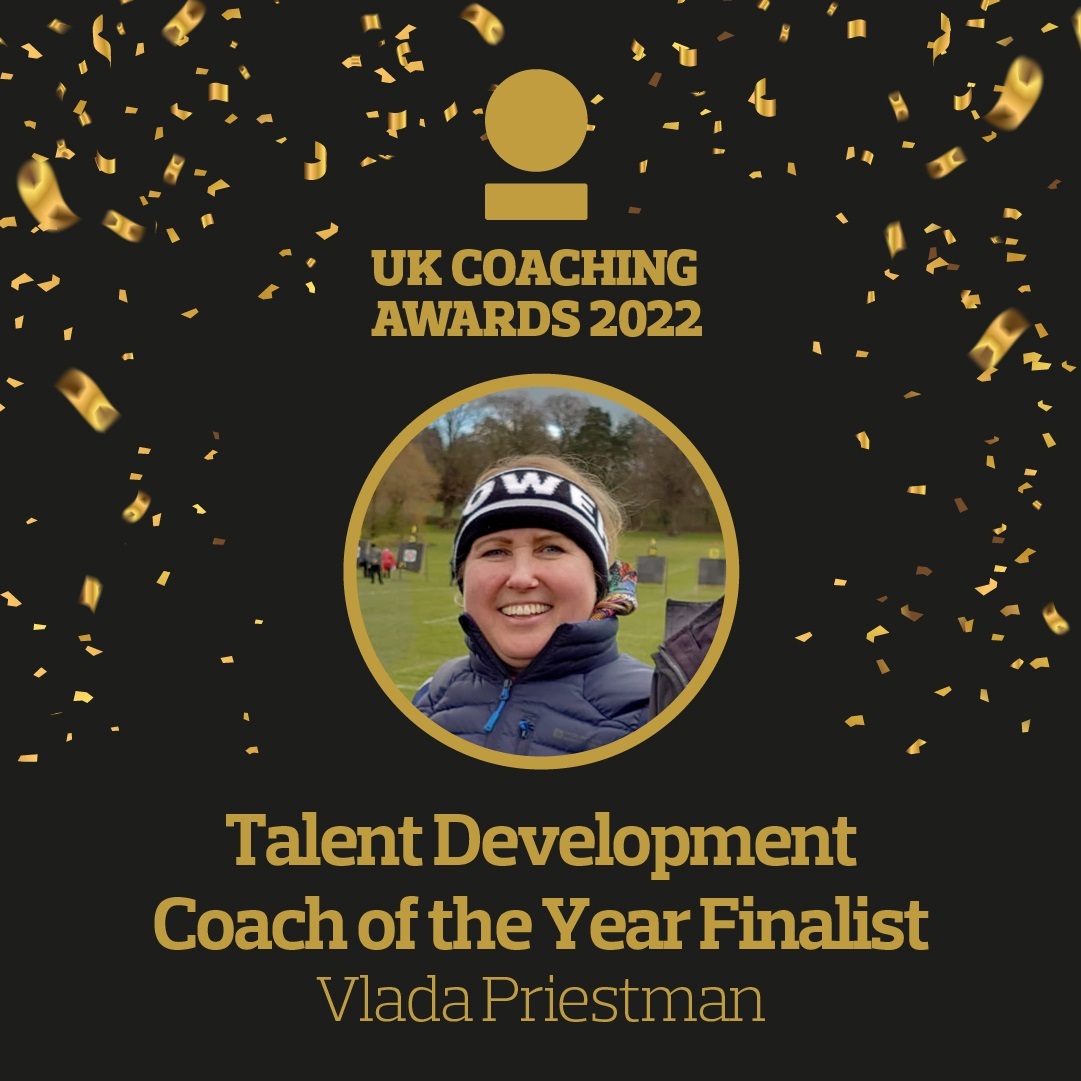 Mark Gannon, CEO of UK Coaching, said: "We are delighted to announce our finalists for the 25th UK Coaching Awards. From over 350 nominations – a staggering amount – this year the bar has been raised once again, and whilst we are fully aware of the power of coaching, our brilliant coaching workforce continues to surprise us and change lives and communities.
"The awards showcase the very best of coaching at all levels and we look forward to celebrating with the nominees and winners on the night.
"It is so important that we acknowledge and thank our coaches as they work tirelessly to support more people into physical activity and sport across all levels - to help build communities, tackle inequalities and inspire people to be the best they can be, whatever their aspirations.
"A huge thank you, to all our coaches across the UK, and to our finalists. We are all looking forward to celebrating your achievements in December."