Day two of competition at the Antalya Archery World Cup Stage 2022 kicked off with the compound team eliminations, followed by the recurve qualification round in the afternoon.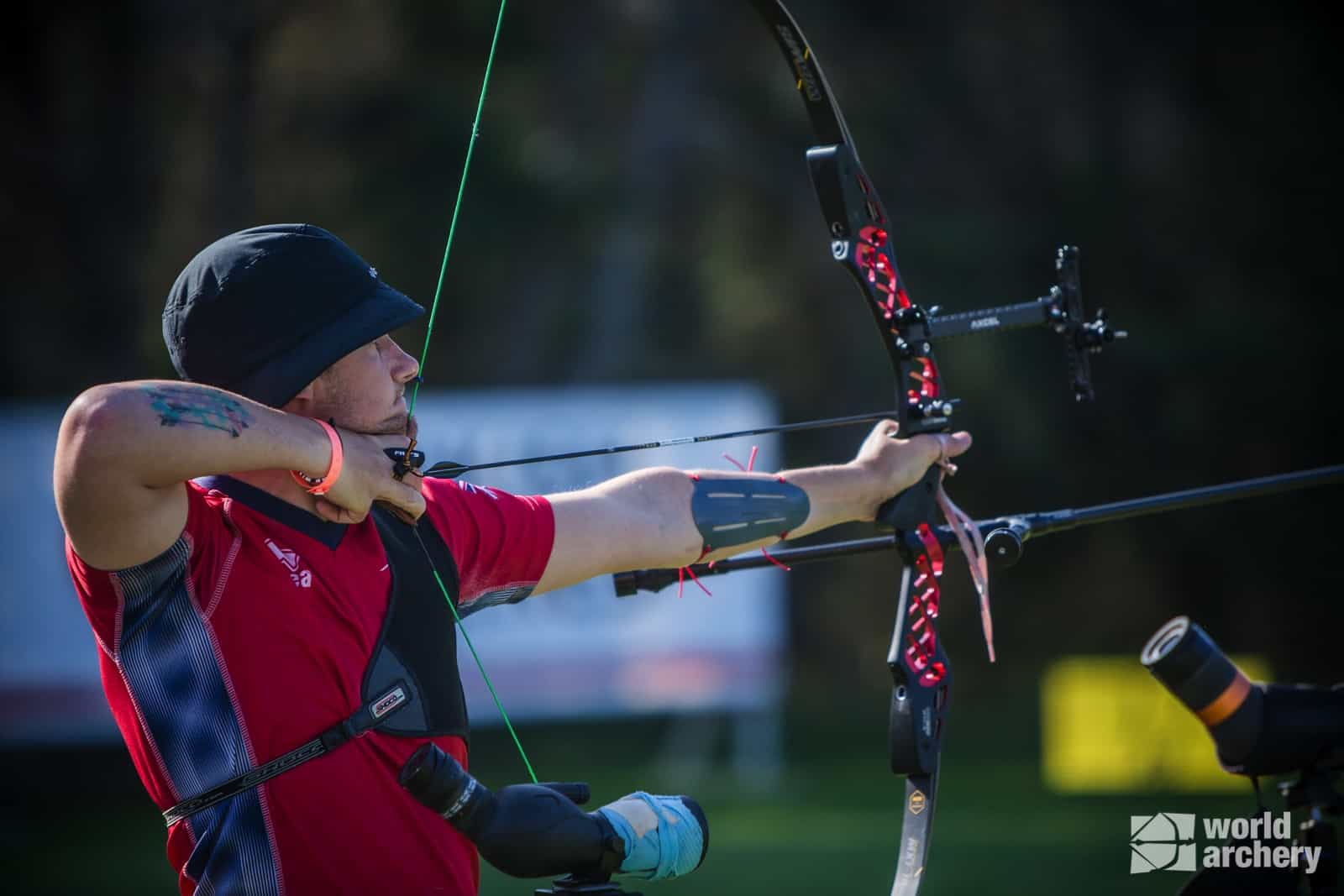 The Antalya sun stayed out all morning for the team round head-to-heads for the compound men and the compound women.
Compound Men
On the men's side of the field, the GB team comprising of Adam Carpenter, Kai Thomas-Prause and Adam Ravenscroft, shot against Slovenia. They took an early lead, taking the match with a three point lead 232-229. Next in the quarter finals, they faced the Austrian team who recently took the bronze medal at the 2021 World Championships in Yankton. GB had the lead after two ends, 115-114 points, but Austria put down a 60 in end four to equal the scores back out. In the final end, GB shot a 57 to Austria's 56, winning them the match 231-230 overall.
"We went into today expecting a hard run of matches, so we knew we had to be on the top of our game. I was nervous in the first match, but I had a great team and coach full of experience to help me get through the nerves which I am very thankful for!" Kai Thomas-Prause said.
The semi-finals proved to be a real nail-biter against the team from India who ranked in 9th position after the qualifying round yesterday. After two ends of 59s a piece, both teams were drawing 118-118. India then had a 60 to GB's 59 just before they went into the final end of the match. Both teams shot a 58, narrowly giving India the win with 236-235.
Finally, the bronze medal match. Ordinarily, gold and bronze medal matches are held at the end of the week, but all team and mixed team bronze matches will be completed beforehand to make space for the top 8 individual matches on Saturday and Sunday. At the 2021 World Championships, the Dutch men came 4th in the team round to the Austrians. End one was a draw on 59, followed by 117-116 after end two in favour of GB. It all came down to the last six arrows where GB put down a 58, however it was not enough to take the win from the Dutch with their 59 end. The GB men have come away with fourth position overall, scarecly missing out on the bronze with 232 points to 232.
"We all wanted a medal today, so it's disappointing not to have got one, but losing the last two matches by one point against great teams shows how hard we fought right to the end," Kai continued.
Compound Women
For the women's team, including myself, Layla Annison and Ella Gibson, our first match was against the team from France. Last year, our opponents won gold at the European Championships here in Antalya. We put down a 59 end to start, and by end three we were drawing with France 173-173. Unfortunately, our 56 end was not enough against their 58, giving them the win 231-229. We came away with 6th place overall.
This afternoon, the recurves competed in their WA720 qualification round.
Recurve Men
For the men, Alex Wise leads for Great Britain with 654, placing him in 38th overall. Next is James Woodgate in 43rd place with 652 points. Just below is Tom Hall also with 652, however he had two less tens to earn him 44th place. And in 73rd place is Patrick Huston with 639 points.
They then had their 1/64 matches immediately following their ranking round. Tom Hall won his match 7-3, and as did Alex Wise, also with 7-3. They will progress to the 1/32 where Hall will face one of the men from Indonesia, and Wise will shoot against Dutch archer Jonah Wilthagen. Unfortunately, James Woodgate lost his match 6-0, and Patrick Huston was also knocked out 6-2.
"I'm pretty happy overall, keeping the groups together with a not ideal technical side of my shot. We're going into the matches with the mindset to shoot stronger and more confident shots, and hopefully shoot a little bit better and get through the match," Alex Wise said.
As a team, the men ranked in 13th position, and their first match in the 1/12 round will be against Portugal.
Recurve Women
On the women's side, Bryony Pitman ranks in 7th place with 650. In the 1/32 Pitman will face an archer from Kazakhstan. Next is Penny Healey in 24th place with 636, and she will shoot against the 41st ranked Indian. Jaspreet Sagoo shot 635 to earn her 27th place just below teammate Healey, putting her against the Italian Karen Hervat in the head-to-heads. And Yulia Larkins came 56th position with 618, pitting her against German archer Charline Schwarz who ranked in 9th position with 649 points.
"Qualification was pretty good. Score could've definitely been better, and I lost an easy point. But I'm happy with how I've placed, how I've done compared to everyone else, and I've got a lot of confidence going into the matches. The weather was tricky at times, the breeze kept flicking and changing directions slightly, so you had to be paying attention so you didn't get caught out," Bryony Pitman said.
"Qualification went alright considering this is my first World Cup. I was a bit excited, but I think the nerves might've got to me a little bit. But overall I think it was good, I could do better next time, but you've always got to learn stuff," Jaspreet Sagoo added.
The team ranked in 6th place, giving them a bye through the 1/12 round. They will then shoot in the 1/8 eliminations against Ukraine.
For the mixed team, GB ranked in 11th place, and they will face Switzerland in the 1/12 eliminations.
Full results can be found here.