With the sixth and final stage of the 2022 National Tour fast approaching, here is a snapshot of some of the archers who are still within a chance of making an appearance at the National Tour Final.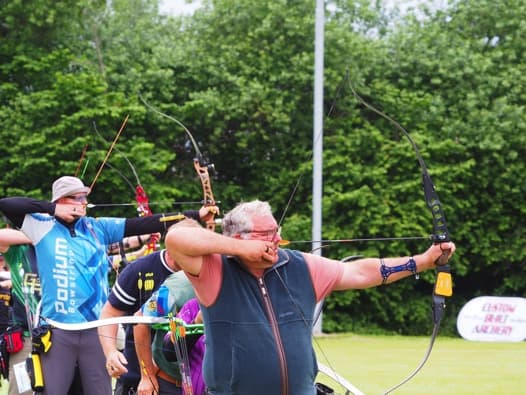 Compound
For the compound women, Phoebe Paterson-Pine is in 8th place in the overall National Tour rankings. As she is currently competing at the European Archery Para Championships, she is not able to defend her 8th place position, giving other women the opportunity to overtake her.
In 9th position just behind Phoebe, Jenny Bryan would need 435 points to make the top 8. At Evesham, she would need to get, for instance, 8th place in qualifying and 4th place in the head-to-heads, or 4th place qualification and a 7th place head-to-head finish. Chloe A'Bear, who is currently in 10th place, is also within a chance. She needs 500 points to make the top 8 which is the equivalent to 3rd place in qualification and 3rd place in the head-to-heads, or 9th place qualification and 2nd in the head-to-heads.
The person to beat in 8th place for the compound men is Matthew Wong with a score of 1179.25. But he is still in attendance at Evesham and is able to fight to keep his place.
Although Stuart Taylor and Nathan MacQueen are very close to the top 8, they will be unable to better their lowest score as they're out in Rome for the European Archery Para Championships. For the archers still at home, a few people are within a chance of making the final 8. For instance, Thomas Lane needs 451.75 points to beat the current score of Matthew Wong. He would have to shoot the equivalent of 4th place in qualification and 5th place in the head-to-heads.
Multiple National Tour finalist Duncan Busby and winner of the Scotland Stage Dillon Crow only have two scores. Dillon needs a third score of at least 244.75 points which is the equivalent to a top 16 qualification and a top 16 head-to-head finish. Duncan needs a 414.25 which he could achieve for example by shooting a 6th place qualification and a 6th place head-to-head.
Recurve
Already in the top 8, three archers only have two scores of the allowed three: Sarah Bettles, Penny Healey and Bryony Pitman. Whatever they are able to shoot at the weekend will make up their third score and possibly move them even higher in the top 8.
Another archer with two scores is Nicole Burdett who is currently in 14th position with 961.50 points. In order to be comfortably in the top 8, people below the top 8 need to aim to overtake Megan Costall in 5th. To do this, Nicole would need 276.25 points which for instance could be done with a top 16 finish in both qualification and the head-to-heads.
In 9th place, just below Sarah Bettles in 8th place is Sophie Meering on 1076 points. Sophie needs 460.50 points to finish comfortably above Megan, which she could do for example with 5th place in qualifying and 4th place in the eliminations.
The 2020 National Tour Final runner up, Keith Harding, is currently in 20th place with 609.50 points. He has the chance of making the top 8, but it would be a tall ask as he'd need 2nd place in qualifying and 1st place in the head-to-heads.
As the standing show now, the person in the coveted 8th place position is the winner of the 2020 National Tour Final, Tom Hall. Michael Judd who is in 9th place at the moment would need 369.25 points to be within a chance of overtaking Tom. This equates to a 9th place finish in qualifying and an 8th place finish in the head-to-heads for example.
Barebow
The barebow archers are invited as a trial this year, and the number of archers invited will depend on the number of entries.
The current top two archers for the barebow women are Amelia Chumber with 1746 and Nikki Ledwick with 1644. They have three scores to their name alongside Kirsten Shoesmith who has 1503. Kim Doherty and Helen Brown both have two scores and can add a third at Evesham to challenge the current top two.
Kim would need 414.25 to overtake Nikki, and Helen would only need 234.25 points. All of these archers are attending Evesham, and therefore the top two spots in the final are still very much all to play for.
For the barebow men, the current top two archers are Brett Stringer and Ralph Barwise. Ralph is in a very strong position, with only two scores he can add a third at Evesham to secure his place. The nearest two archers with a chance of overtaking are Richard Burgess with 1156.75 and Wilco van Kleef-Bolton with 1149 points. Wilco also has only two scores which put him in a comfortable position, as he's able to add a third score to try and snag one of the top two places.
The National Tour Finals will take place on Friday 16th September for the recurves and Saturday 17th September for the compound and barebow archers at Wollaton Hall in Nottingham.
The current National Tour standings can be found here.