It was certainly cold outside when archers met for the National Indoor Championships on Sunday 5 December - but things were heating up on the shooting line as recurve, compound, longbow and barebow archers kept raising the bar throughout the day.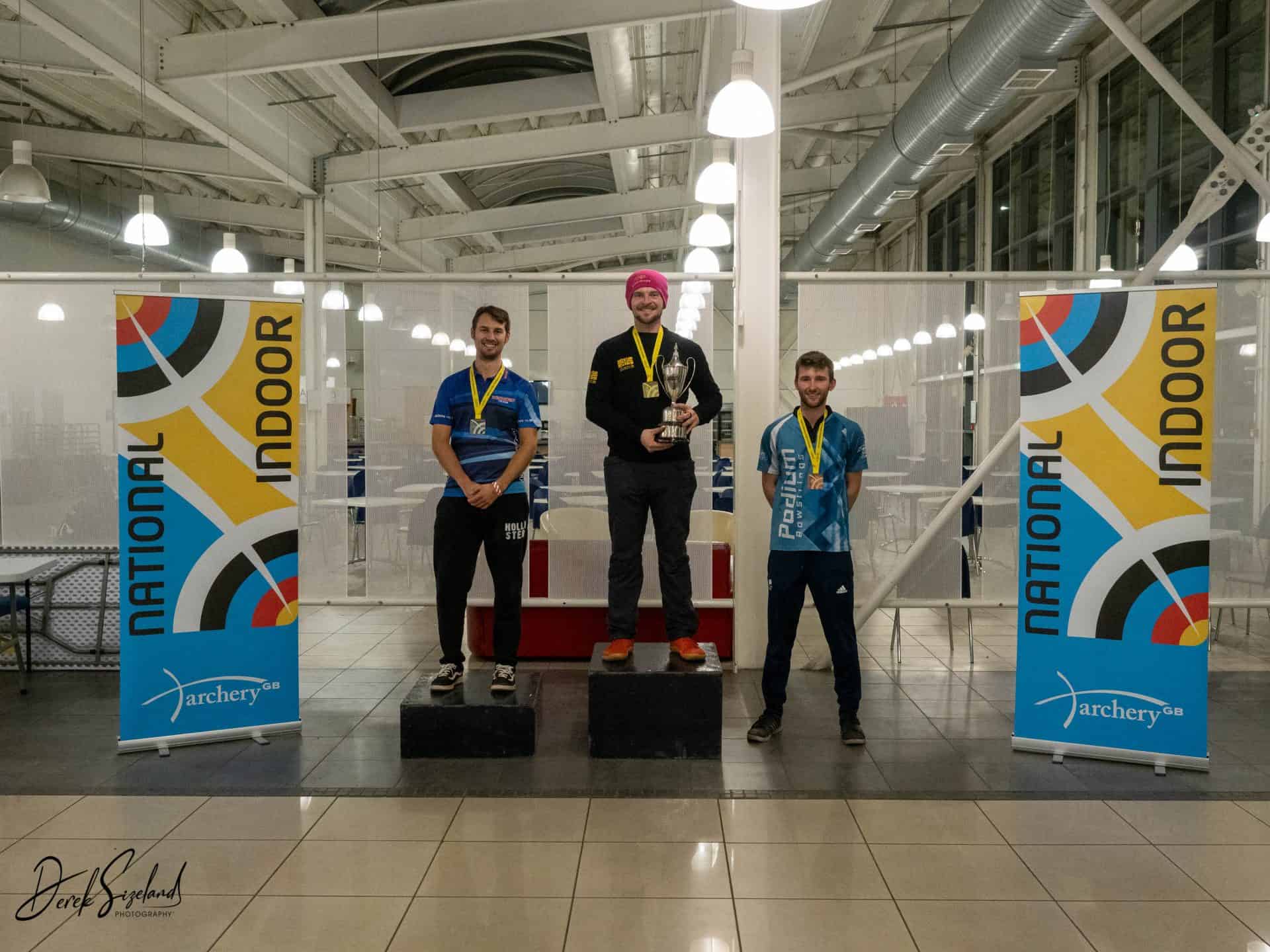 Longbow
Although a smaller contingent than recurve and compound, barebow and longbow were well represented. Longbow women quarter finalists were Sharon Lawrence who won her match against against Michaela Stapleton, 6-0, while Grace Curran took the lead against Sophie Twigg, 6-4, securing her place in the semis. Hannah Porter beat Charlie Semmens 6-4 in the quarter finals, while multi-record breaker Sheila Hudson won the match against Kimberley Neal, 6-0. Skills seemed evenly matched in the semis, as Lawrence claimed a 6-4 victory over Curran, while Hudson finished won 6-4 over Porter. Bronze went to Curran after a 6-4 finish, with gold going to Lawrence after shooting her way to 6-2 over Hudson.
Of the longbow men quarter-finalists: Ben Ledwick, Ricky Munt, Harry Cossey, Kevin Macey, Scott Williams, Mark Turner, Eric Mallet, Mark Lawrence, Noak Hill's club had a fair chance at the medals table with their four talented competitors. Ledwick of Eagle Bowmen of Bedford shot a winning 6-0 in the semis against Deer Park's Macey, while Noak Hill's Turner and Mallet battled it out with Mallet shooting the decisive 6*-5 (9-2). Podium finishes followed for Macey with bronze, and gold for Mallet who ended the match with Ledwick 7-3.
Barebow
For barebow women, semi-finalists Amelia Chumber of Noak Hill met with Sarah Hake of Ballands Bowmen. Chumber was victorious, 6-0, while Mary Louca of St Neots Bowmen, shooting against RSM Archers' Victoria Williams, edged into the gold medal match against Chumber. It ended with a gold medal for Louca, silver for Chumber, and bronze won by Williams.
Barebow archer Oliver Hicks of Bowmen of Warfield (who won the Barebow Junior Men event with an impressive 7-1 on the Saturday) faced Rene Bekker of Eagle Bowmen in the barebow men semis but lost out, 6-2. Meanwhile James Annall of Bath Archers had beaten Lonja Selter of Tamar Valley Archers 6-4 in their semi-final match. Hicks claimed bronze while gold went to Annall after a 6-4 finish.
Compound
It was a busy field for the compound women event with 32 archers in the 1/16. By the semi finals Bayley-Rose Sargeant of University of Kent clinched victory, 145-142 from Jenny Bryan of Derwent Bowmen, while it was a close battle for Sarah Prieels of Edinburgh University AC Alumni and Ella Gibson of Deer Park Archers, with Prieels winning by just a point, 148-147.  Bronze went to Gibson who scored 146, while Prieels and Sargeant gave a tense performance all the way through to their tie of 147 - the shoot-off in the end favoured Prieels who took the gold medal home.
Compound men Adam Carpenter (Barnsley AC) vs Kai Thomas-Prause (The High Weald AC), and Adam Ravenscroft (The Foxes) vs Stuart Taylor (Bowbrook) led the field by the semi-finals. Thomas-Prause won by two points, 146-144, while Taylor had a four-point lead over Ravenscroft, 149-145. The finals equalled the excitement of the compound women's event, again with a tie of 147, but it was Taylor's arrow that finally hit the gold jackpot, while bronze was taken by Ravenscroft.
Recurve
Tokyo 2020 Olympic recurve archer Bryony Pitman (Worthing AC) showed her credentials, winning 6-4 in the recurve women semi-finals against Rebecca Leigh (Aberdeen University AC). Louisa Piper (Woking AC) had also shot well throughout to land her semis match against Ffion Edgeley (Loughborough Students AC). Piper ended Edgeley's hopes however, with a 6-0 ending, but Pitman maintained her form and won the final 6-2 against Piper, with Edgeley claiming bronze after a 6-0 finish.
Competition was always going to be fierce in the recurve men event. Tokyo 2020 archer Patrick Huston (East Belfast AC) was on a winning streak all the way to the semis, where he met Tokyo teammate James Woodgate, ending that match 7-1, with the same clear lead he had shown throughout. Keith Harding (Clickers AC) met Stevie Kent (Bowbrook) in the semis and won 6-0, leading to an exciting battle between Huston and Harding, with Huston emerging as the winner, 6*-5 (10-9), while Kent claimed bronze with a 6-4 lead over Woodgate.
Please see Ianseo for full results.
Thank you to our sponsors for the weekend: