In a drive to reintegrate pupils back into full-time face-to-face education and extra-curricular participation following the pandemic, a school in Wales chose archery to diversify its sports provision and improve the health, wellbeing and fitness of its pupils.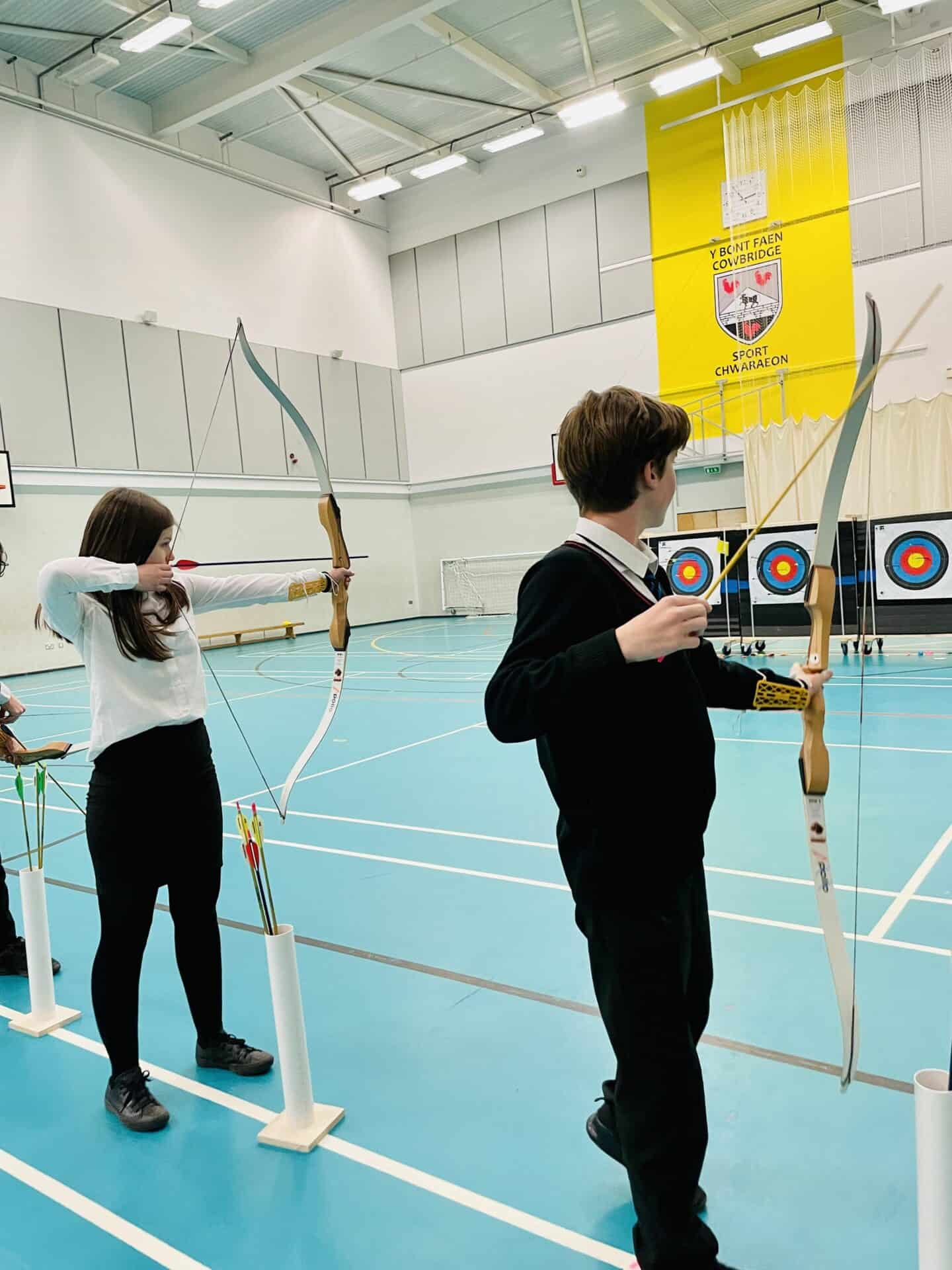 After completing an Archery GB Instructor Award to help out at his local club, Ogmore Valley Archers, Ben Morgan, Cowbridge Comprehensive School's head of Welsh, established an archery club at the school in the Vale of Glamorgan in January 2022.
Ben said: "I started archery in 2019, and have fallen in love with the sport. When our school was on the look-out for  opportunities to engage more pupils in sport and new wellbeing opportunities, I knew archery would be a perfect fit.
"I'm not a particularly keen sportsman myself, and if you told me a few years ago I would be running a successful and popular sports club and training for coaching qualifications, I wouldn't have believed you. Archery is an extremely inclusive sport, and its success at our school is testament to this."
The idea to start an archery club began in October 2021 when Ben asked pupils if they'd be interested in taking part and was overwhelmed by the response.
With over 80 pupils signing up to the initial beginner sessions, it quickly became the biggest sports club in school.
Ben said: "It is particularly satisfying to see pupils disaffected by traditional school sports engage and thrive."
With financial backing from the school and a grant provided by the Active Young People Fund in the Vale of Glamorgan, the school was able to fully equip the club and enroll additional staff on the Archery GB Instructor Award to ensure as many pupils as possible can take part.
Engagement has been a particular success of the club. Achievement is celebrated and learning opportunities concerning technique development are shared with pupils via the club's dedicated Google Classroom and on social media.
"We aim to make archery accessible, we want anyone to be able to come to the club and be able to take part, but above all else, we aim to make archery fun for our pupils. We also take every opportunity to make sure pupils are learning about archery - the principles of autonomy, belonging and competence are fundamental to what we do," said Ben.
"Our pupils have made incredible progress in a very short time, and we've been reaping the benefits of increased focus, patience and confidence all around the school."
The school has also been able to run sessions for staff with great success.
Ben added: "I would love to hear from any other schools who are thinking of introducing archery, it's been an overwhelmingly positive experience for us in Cowbridge, and I'm sure it will be for your school too."
If you're school is interested in introducing archery you can contact Vic Williams, regional development officer for Wales, via email. You can also email Gayle Pink, AGB's head of participation.
Archery GB is also supporting the 2022 School Sport Survey which invites children and young people to share their views in a national survey to help shape the future of sport in Wales.
The survey, which is run by Sport Wales, opened on Monday 28 March and is aimed at pupils aged 7 to 16 (school years 3 to 11).
All schools in Wales should receive an email containing their own unique link to the online survey. They will have until Friday 22 July to take part. The results of the survey will be published in the autumn.
Find out more about the survey here.
Students at Cowbridge Comprehensive School gave their views on the school archery club.
Yolay, in Year 10, said: "I think that having archery in school is a great opportunity for all pupils. In the future I would consider joining an archery club outside of school, that is if I continue to improve which I have no doubt that I will, much credit to Mr Morgan and Mr Gittins who are the teachers that coach the sessions and do an amazing job at it."
Lewis, in Year 8, said: "I decided to try archery as nobody I knew had tried it. I have really enjoyed archery because of the uniqueness of it compared to the popular sports like football and rugby. I would love to see an archery club set up in other schools as it is perfect for schools as not many people can afford archery at home and so school can provide that."
Jack, in Year 9, said: "I didn't realise how addictive archery could be! I've always wanted to have a go, and was so pleased to hear that it was going to start in my school. I've learnt a lot about how to shoot and improve my technique, and I'm getting better all the time. I look forward to every session."
Isabel, also in Year 9, said: "I usually don't like sports, but I can see myself getting into archery. I think it is a good sport for schools because anyone can do it and anyone can get better at it."