Clear your diary, Archery GB clubs are hosting the Big Weekend 2017 from 16-18 June - and if you sign up before 24 April, you can claim free T-shirts and goodie bags!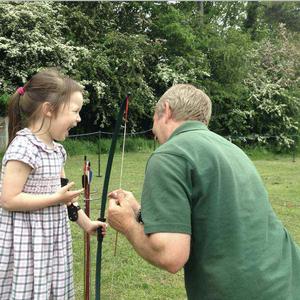 The Big Weekend movement has introduced more than 26,000 to archery and being part of it could not be easier.
The first step is to read our guide on How to Run a Fantastic Open Day. Then check out the Archery GB Code of Conduct for have-a-go sessions to make sure you know what you need to do, including all details such as placing targets on the floor. Next, sign up. All you have to do is complete the online application form or download an application form from the Archery GB website where you will find links to everything you need.
Just before the weekend, we will be sending out goodie bags which include freebies to give to people at your event. Clubs who are members of Archery GB will also receive two free T-shirts if they sign up before 24 April 2017. Plus, extra T-shirts can be bought at £6 each by clubs or other organisations.
Do you need any more to convince you to join in the fun? If so, this is what clubs that took part in 2016 had to say:
Jersey Archery Society: A large turnout surprised us and kept the members busy with a large number of people being added to a waiting list for the next beginners' course
Mounts Bay Archery Club: Over 60 people got to have a go at archery with 25 per cent interested in our beginners' course. They were guided and supported by dedicated coaches and helpers in a safe environment at a well organised event
St Andrews University Archery Club: There was a large turnout, great enthusiasm from club members and the public
Soar Valley Archers: It was very successful. All were very keen and they might not have had any opportunity without this event. Most left considering trying again and or taking up archery. Club awareness was raised considerably
Redhill Archers: It gave the local community chance to try archery. Nearly 100 people took part and offering a choice of have-a-go and taster sessions gave them a more in-depth opportunity
Wolds Archers: It was very successful: a steady stream of people throughout the afternoon
Follow us on:
Instagram: archerygbofficial
Facebook: Archery GB
Twitter: @archerygb