At the 2022 World Games in Birmingham, Alabama, Bryony Pitman secures the recurve women's silver medal.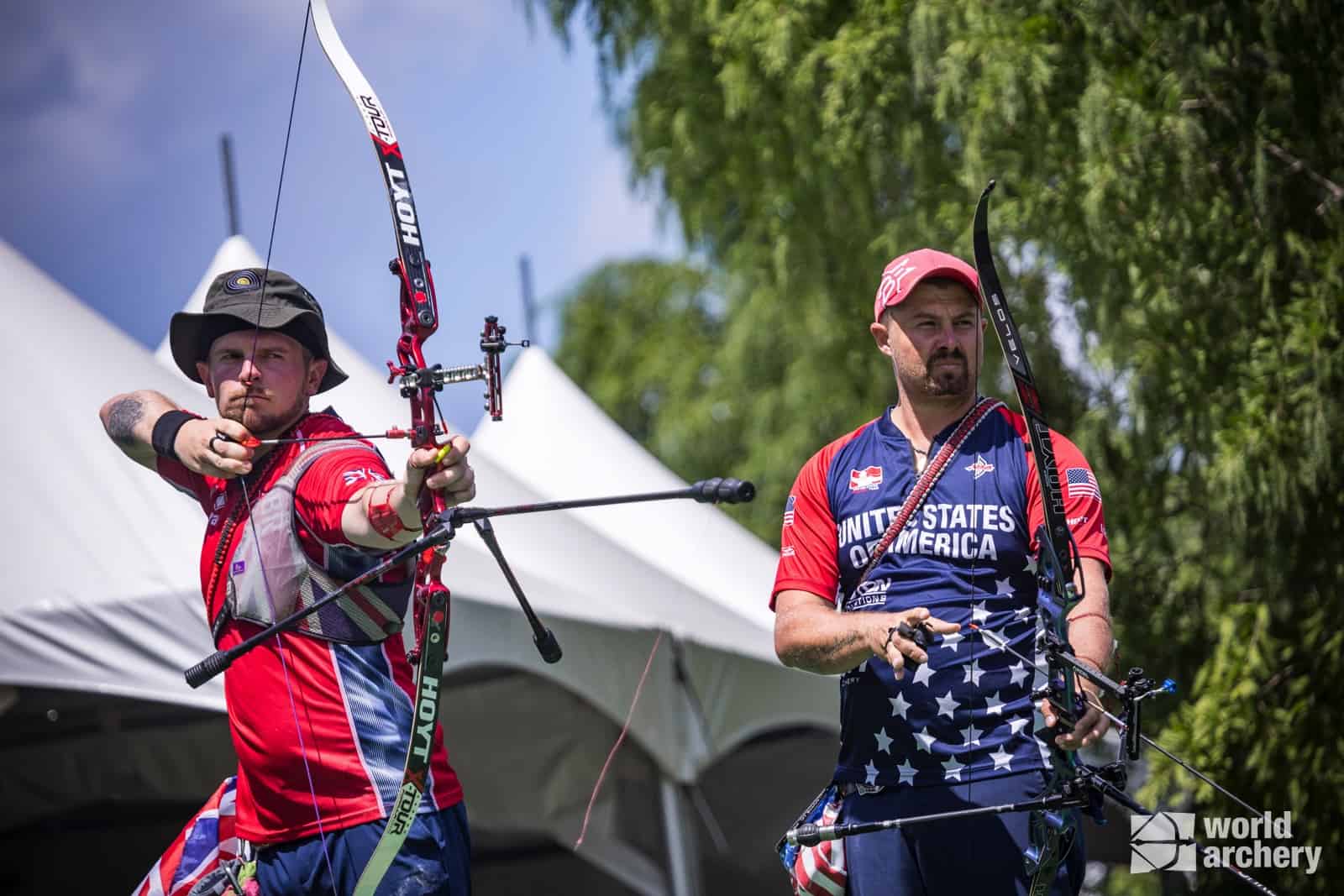 Bryony got to a flying start after the scorching qualifying round at the World Games. She shot 180 on the unmarked round and then 173 on the marked round, giving her a total score of 353 and placing her 2nd position.
In the semi finals, Bryony faced Slovenia's Urska Cavic who ranked in 8th position. The women were tied on 14 points after end number one, and in the second end Cavic gained a two point lead by shooting a 16 to Bryony's 14. In end three, Bryony came back with a 16 end to her opponent's 13, putting her one point in the lead. After the final three arrows, Bryony's 12 was enough to beat Cavic's 10, giving her a total of 56-53 to send her straight into the gold medal final.
The gold final was showdown of the very best, as 2nd seeded Bryony met 1st seeded Chiara Rebagliati of Italy. The first end was close, Bryony shooting a 16 to Rebagliati's 17. In the second end, Bryony dipped to a 12 point end versus her opponent's 16, putting the Brit in a five point deficit. End three was close again, Bryony shooting a 14 end just below Rebagliati's 15. In the fourth and final end, unfortunately Bryony's 11 was not enough to close in on her opponent, concluding the match on 64-53 to the Italian. Bryony is coming home with the recurve women's individual silver medal.
We got the chance to talk to Bryony about her experience at the 2022 World Games.
What was the World Games experience like?
"It was really cool! Being around so many athletes from other sports is quite inspiring and it's nice how interested other British athletes were in each other's events. The humidity was challenging at times and keeping concentration in the heat, especially in the finals with the heat coming off the stage. It was difficult, but everyone was dealing with the same thing. I had an amazing time and it's great to show off field archery more than usual!"
How does it feel to come home with another individual medal this season?
"I'm really happy with the medal, not so much with my performance though. I haven't had the easiest time with shooting recently despite how the results look. A silver medal is great, and I'm proud of it, but I also know I can do a lot better. I guess getting these results when I'm not 100% on it is a good place to be though!"
How will you use your World Games experience going into the World Cup in Colombia next week?
"I knew when I got to the World Games that I was struggling with confidence for some reason. I've been working on that, so I can trust the shot and relax a bit more. Also shooting a finals, whether it's field or target, is always a great experience and learning opportunity. I'll set some goals for Colombia in a couple of days but I know what to do to improve on last week. The next few days will be spent drilling into my brain that I do actually know how to shoot and it's really not as difficult as I try to make it sometimes!"
Recurve man, Patrick Huston, also had a very successful time at the World Games, finishing the week in 4th place overall. After ranking in third place after qualification, Patrick made it through to the semi-finals where I faced the world number 5, Brady Ellison. Patrick shot a 13 end to open the match followed by three consistent ends of 14, and he finished the match on 55 points to Ellison's 64 to send him to the bronze final. Italy's Marco Morello opened with a 14 end followed by an 18 to Patrick's two 11 ends to take an early lead for the bronze. Patrick came back with a 16 and a 14, but the Italian took the win with an overall 61 points to Patrick's 52.
For the barebows, James Annall ranked in 8th position with an overall score of 315. Within James's elimination pool, he faced Alois Steinwender from Austria where he sadly lost 82-71. Victoria Williams shot in the barebow women's category where she placed in 12th with a 242. The 9th unmarked target was deemed void after an appeal, therefore only 69 official arrows were shot to complete their qualification. Victoria shot against Germany's Martina Boscher in her elimination match where the German archer took the win with 72 points to Victoria's 51.