Visually impaired archers took part in the Disability Championships at Lilleshall last month, getting some great scores. We spoke to British Blind Sport VI Lead Coach, Malcolm Higman, and archers Steve Prowse and Nick Thomas for their perspective of VI archery.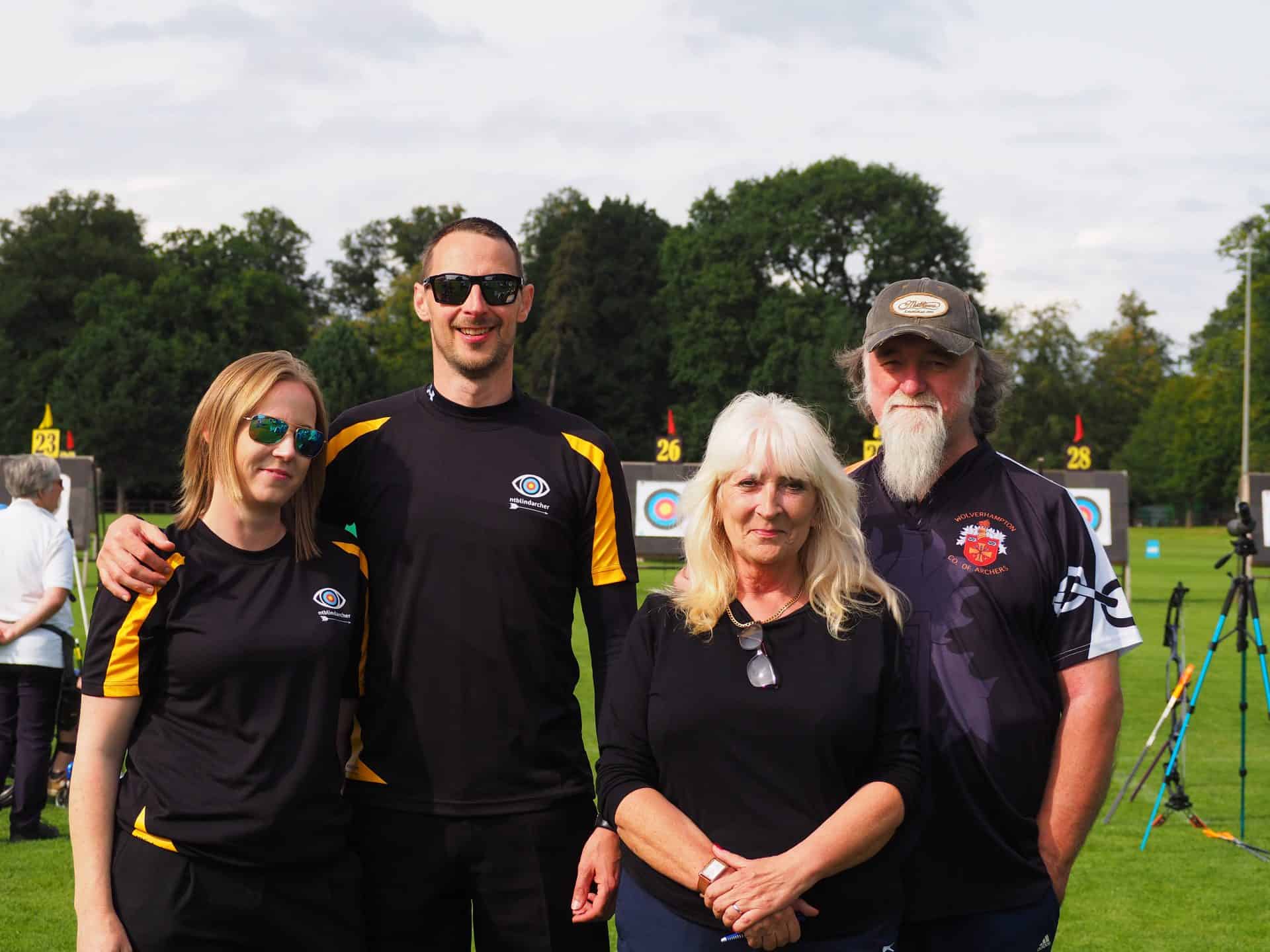 Malcolm Higman, British Blind Sport VI Lead Coach
I've worked with VI (visually impaired) archers for almost 20 years, and communication is probably the biggest challenge in coaching. It's important to take time to get to know the archer first and understand their needs so you can work out a plan to help them. Someone who has been able to see may understand explanations quicker than someone who was blind at birth because they are able to relate to what they can or have seen. Explanations may take longer than in sighted archery as more tactile methods of communication may be required.
British Blind Sport Archery Section receives several enquiries from clubs about how they can help new VI archers get started, and we tend to discourage use of tactile equipment [which helps the archer line up with the target] until the archer has mastered the basics, otherwise they can end up relying too much on it, fitting themselves to it instead of the other way round.
[caption id="attachment_29093" align="alignnone" width="225"] Malcolm Higman - BBS coach[/caption]
Coaches also need to remember to manage expectations and understand that progression could take longer than with a sighted archer. For example, on a typical beginners' course for sighted archers, beginners gain reminders from watching each other's performance as well as from the coach, whereas VI archers can't always pick up those visual clues and so rely far more on memory. But despite the challenges, VI people can and do become phenomenal archers.
Clubs: key considerations for welcoming visually impaired archers
Talk to the archer, not the spotter
Introduce yourself so that they know who you are and address the archer by name so they know that they are being talked to
Ensure that the visually impaired archer knows the whole layout of the facilities, taking them on a tour as necessary. This could be achieved by inviting them to visit prior to a beginners' course
Ensure that the parents of a junior visually impaired archer are included
Make other club members aware and ask them to be careful of leaving trip hazards etc
Warn a visually-impaired person before using balloons on a beginners' course etc. This is especially true if they have a guide dog as they may both be startled by the noise.
VI archers Steve Prowse and Nick Thomas discuss their archery journeys
I have retinitis pigmentosa which means I have no peripheral vision - it's like looking through a tiny hole. I started archery over 20 years ago - a friend used to shoot at a local club and I went along for something to do. I started with a longbow, loved it and went from there.
I can see a couple of colours on the target, depending on the light but it's more about getting your position right. I've held the World no 1 title since 2007 - I've learned that consistency to your grouping is the key to it, and managing your expectations. Since lockdown my local club, Wolverhampton Company of Archers, has opened up and I've been able to return every week - luckily time out of the sport hasn't affected me too badly. I do a lot of air rifle shooting as well and it's a similar process in getting your body positioning and consistency right. You break your shot down into minute parts which you then work on individually to achieve consistent results, and gradually rebuild the whole shot routine.  After time out of the sport through lockdown, muscle memory helps too. My shooting here today [at the Disability Championships 2021] started a bit rough this morning, but it's coming together and my scores are going up.
I don't have a coach. Instead my wife Lesley helps me as she knows my shot inside out. When I first started out there was no one to go to for advice so I had to learn and put the work in myself. I still have things I need to work on. You constantly have to adjust to the surroundings and weather conditions - nothing VI archers do will work without the help of our spotter/agent. All the information I get is from Lesley; she is a key part of the process. Without visual clues, sometimes I do things without realising because I'm so focused on other things like body positioning, so I rely on Les to pick up on the small detail. She has sacrificed so much of her time to help me achieve what I have - she's at the range with me in all weathers.
Lesley added: ┬"Steve and I work really hard together as a team. We've travelled around the world for tournaments, and are hoping to attend the World Archery Para Championships in Dubai next February.┬ö
[caption id="attachment_29094" align="alignnone" width="300"] VI archers and spotters, L-R: Marie and Nick Thomas (archer), Lesley and Steve Prowse (archer)[/caption]
I have a condition called Stargardt Macular Dystrophy which means I have no central vision, so if I look directly at the target it's just a black hole with a blurry outline. I took up archery in 2017 - before that I used to play VI football for England for ten years (even though I'm Welsh!) but due to age and injury I had to retire. I had a difficult time adjusting to normal life after touring with the squad for so long. Without my ┬Ĺfootball family' I started to struggle, so I tried a couple of other sports to find a new focus and archery just felt right. I've poured everything into it and it's going ok so far. You have to be resilient in the early stages and remind yourself that you will get better with practice. For example, today I haven't shot as well as I know I'm capable of and I could easily throw my toys out the pram! Instead I'm just focusing on the things I need to work on so I can do better in the next round.
I don't have an official coach but have a good friendship with Steve [Prowse] and consider him the next best thing, despite the fact he lives in the Midlands and I'm in Wales. We've shot together at international events and we talk a lot on the phone so I feel very fortunate to have his help. We first met when I was put on a target with him at my very first competition at Lilleshall. I'd only been shooting a few months but was on the line with a world champion, which made me really nervous, but he and Les put me at ease straight away and I finished second in the tournament which gave me a real boost. From the outset, Steve's support has definitely helped me get to where I am now.
My wife Marie is my spotter on a part-time basis as she's a teacher, and another family member comes to international events with me when Marie's working. I've been training by myself at a local community centre twice a week, but that stopped during lockdown and I'm now looking to find a club to join as I miss the connection of being around other archers.  I would encourage anyone to get into sport in general, but in my experience the inclusivity of archery is a little better than other sports because the work's already been done to cater for people with different conditions.
More information
Visit British Blind Sport - Archery Section for more about VI archery.
You can also see an article about BBS and VI archery in the autumn 2020 issue of Archery UK.