Compound archer Ella Gibson is no stranger to success on the target archery range, collecting medals wherever she goes. When her usual competitions were cancelled however, she decided to try field archery instead, a discipline way out of her comfort zone. Here, Ella tells us how she found the experience.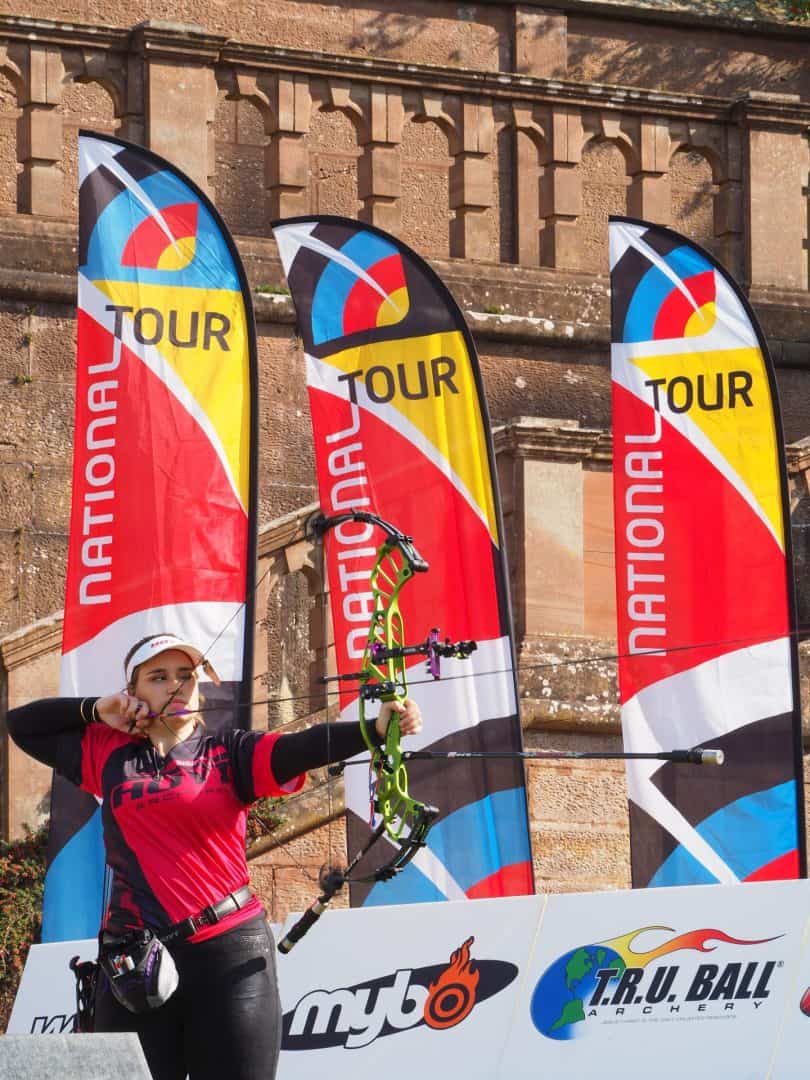 "Like many archers I have found this year really tough. I normally rely on a heavy competitive season to test both my equipment and my technique to know what works. This year we haven't had that, but instead we have had an abundance of time to learn, grow and try new things.
"For a long time I'd wanted to try field archery as a compound, but there was never enough time; I have always been jumping from one competition to another, chasing scores or medals. This year I got the opportunity to learn, try and love field archery. I sought the help and advice of some great people: Archery GB's Events Manager Jon Nott and compound archer Chris White, who taught me everything I needed to know about field archery: how to gauge distance using the edge of my scope and fibre, how and where to get a sight tape (input sight marks and specs into Archers Advantage), and what size target faces are used for which distance in the round we would be shooting this year.
"After a week or two of practice I was ready to try my first competition, which was the pilot shoot at Overton Black Arrows which I then returned to for my second competition in September. Both shoots took place in fabulous weather, and I learned to cope with tricky footing and discovered how steep angles can affect both your score and the feel of your shot - a lot more than I had previously thought. Shooting Overton made me realise I needed to change my stabiliser set-up for field as it was really difficult to shoot downhill without my side rod contacting me, so I decided to remove some of the weight and move it further out and a little higher up, which definitely worked moving forward.
"Then in October I got to do my first two-day field competition, which was at Wharfe Valley Archers shooting a mixed WA24 each day, and wow what an amazing weekend it was! On the Saturday I shot a 415/432 which broke our current women's national record by 18 points. I then followed this up on Day 2 with a 419/432 which broke both our women's records as well as our men's, as well as being the joint highest female score shot in the world. The weekend was an amazing success, but more than that it was a brilliant, enjoyable experience.
[caption id="attachment_24124" align="alignnone" width="225"] Ella on the target range at the National Tour Final held at Lilleshall in September[/caption]
"There is something incredibly calming about being out in the woods all day shooting, and unlike target archery, if you've a bad end you get to move on from it (literally) and recentre yourself for the next target. This was one of my favourite parts of shooting field archery - only getting to shoot three arrows at each target - it put extra pressure on me to make sure every shot I made was the best it could be, but also stopped me getting caught up on a bad end, seeing as I wouldn't get another chance and would have to walk away from it.
"I can't wait to shoot more field archery tournaments next year, and will definitely be including it in my competitive calendar from now on. If you've never tried field archery, I highly recommend you find your nearest course and give it a go!"