Saturday at the Hyundai Archery World Cup in Paris has brought many compound medals for GBR!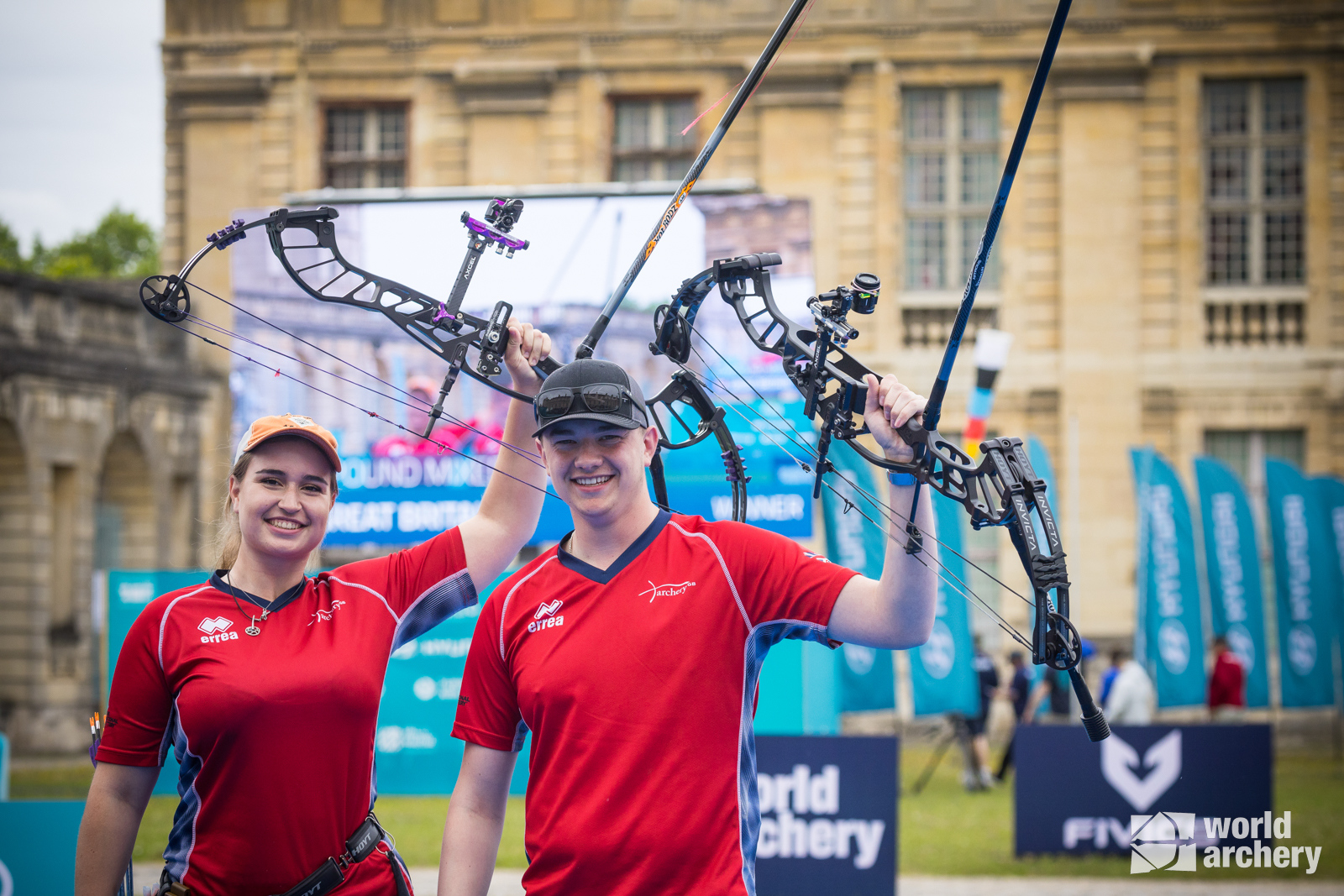 The penultimate day of the Hyundai Archery World Cup in Paris has brought GBR 3 compound medals!
Individual Women Gold medal
Ella Gibson won her second stage at the Hyundai Archery World Cup in Paris. We spoke to Ella after her triple medal-winning day!
"It feels absolutely amazing. I always make goals for the year, how I want to finish in events and my world ranking. Winning gold wasn't even on the list for this year, so to win it twice feels incredible. I am really really happy to take another win in Paris and I can't wait to do some more competitions this year and go towards the World Games.
"To walk away with three medals today is amazing. I am so proud of all of my teammates and how they shot today. Shooting with them this week has been an absolute pleasure. Also a massive thank you to all of the coaches here this week, both here and at home. They have done so much for me, they'll never even know it."
Ella will be heading to the Hyundai Archery World Cup Finals later this year.
"I definitely feel nervous about the Finals, but I always feel nervous. I am just going to try and take it one arrow at a time like I did today and see where I end up. I think it will be a great experience and I can't wait to go and take part in it."
Compound Women Team - Silver medal
GBR's Compound Women Team won silver this week after shooting against Turkey in the finals. Turkey took the gold by just one point, giving GBR the silver medal for a second-year running. Layla Annison, Liz Foster, and Ella Gibson spoke to us after their medal match.
Layla Annison
"It felt absolutely amazing to shoot on the finals field! It is such a wonderful and pretty location! Shooting on the finals field, there were definitely nerves, but I felt I managed them quite well. The shots flowed and felt really nice. I am so pleased with the silver medal. We all shot so well.
"This week in Paris was great! I really enjoyed shooting here. Qualification was so good, team rounds were great and I couldn't ask for anything better!"
Liz Foster
"Nothing can prepare you for how it feels to shoot in a medal match on a finals field at an international. But the National Tour Final is probably the best preparation I can think of for it! Someone once told me that even if you are nervous, you can still put them in the middle - I just stuck with that memory and it helps me keep my focus.
"I really enjoy shooting with Layla and Ella, and I think we have a good dynamic. We are three very different individuals with very different styles of shooting. But we work great with each other. The matches to get to the gold match were incredible. My week was really good. It's tough to have such a gap between world cups, and I need to work on this next year. It can be difficult balancing this with a full-time job, but sadly because of the lack of funding, it's what is required. I feel I've done the best I could, which is all I can ever do."
Compound Mixed Team - Bronze medal
Adam Carpenter and Ella Gibson ranked first after qualification in the mixed team category and found themselves up against Estonia in the bronze medal match. Shooting strong throughout, Ella and Adam came out on top with the bronze medal, 153-152.
Adam Carpenter
"It feels absolutely outstanding. I feel great about it, Ella and I shot amazing. It really worked well. The team dynamic was amazing. I personally struggled a bit to find the middle. My shots were breaking good. Luckily Ella backed me up by shooting 10s over and over again. Overall, first World Cup medal, can't really argue with it.
"My week overall, I am pleased with it. Ninth place overall, third place mixed team. At the age of 19, I can't really argue with that. My first World Cup finals field. Amazing week, amazing people and amazing finals field!"
Watch Penny Healey shoot in the Recurve semi-finals tomorrow.