Day four of the third stage of the Hyundai World Cup in Paris was all about the mixed teams and the compound individual eliminations.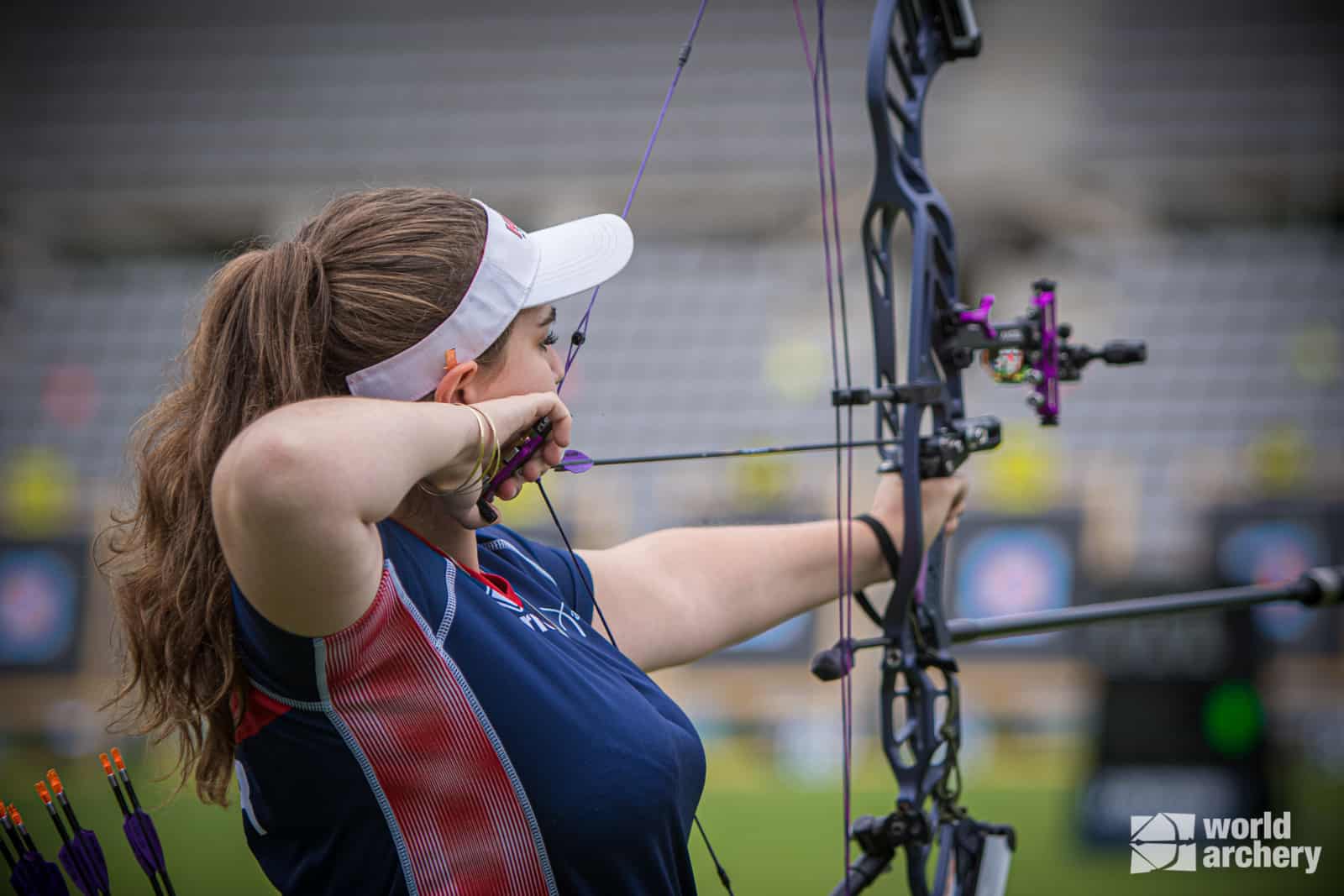 Mixed Team
On the recurve side, James Woodgate and Bryony Pitman went into the matches ranked in 12th position. Their first match in the 1/12th round was against Australia, which they won 6-2. They then went on to face the 5th ranked team from India which unfortunately they lost 6-0. India will compete for the gold medal on Sunday.
With the compounds, the team comprised of Adam Ravenscroft and Ella Gibson who together ranked in 4th. Their high rank gave them a bye in the 1/12th round, and in the 1/8th they came up against the team from Germany which they won 153-152. Unfortunately, they lost in the quarter-finals against the 5th ranked team from Italy 158-154 who now go on to compete for the bronze medal on Saturday.
Compound Individuals
For the men, all four archers unfortunately lost in the first 1/24th round. The closest match to a win with just one point in it was James Mason against Swedish archer, Alexander Kullberg's, with 148-147. Throughout the week, the standard of shooting within the compound men's division has been extremely high and as competitive as it has ever been. The GB men have shown their mettle and they will get the chance to show their skill again in the team matches. They will shoot their first match in the 1/8th round against the team from the Netherlands.
The compound women put up a fight in their individual matches with some very close calls and nail-biting scoring. In the 1/16th, Ella Gibson won Russia's Natalia Avdeeva 147-145. Layla Annison also knocked out another of the Russian team members with a 142 to their 141. Bayley Sargeant faced Spanish archer Andrea Marcos and both women shot 145. In the shoot-off, Marcos shot first with a low X, and Sergeant followed with an arrow which almost took out the X, earning her the win.
In the next round, Annison lost with only a point to spare, 146-145, and Sergeant also just came short of a win with a 145 to her opponent's 147. There was yet another one arrow shoot-off, this time for Gibson. She and the world ranked number 9 archer, Toja Ellison, both shot a 147, but Ellison's ten measured closer to the middle than Gibson's ten. The GB women's team will also shoot again for the chance at a medal against the winner between the French and the Indian teams.
To see how far our archers get and to cheer them along, follow their progress on Ianseo.