The second official day of the European Para Archery Championships 2022 has taken place with the doubles and mixed teams eliminations.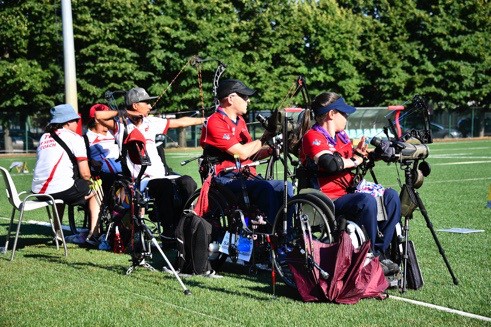 Recurve Open
The recurve men's open doubles pairing, David Phillips and Cameron Radigan, had a bye in the quarter finals. In the semi finals, they faced the 2nd ranked team from Italy. GB took the first set with 36 points to 31, and then the second end was tied on 33 apiece. In the third end, Italy shot a 32 to GB's 29 to take the set points all equal at 3-3. The fourth end saw GB shoot a 36 to Italy's 34 to take the match win 5-3. They will face the team from 1st ranked team from Turkey in the gold final on Friday.
In the recurve open mixed team, David Phillips and Hazel Taylor shot their quarter finals against the 2nd ranked Polish team. Poland took the first end with 32 to GB's 25. In the next end, GB came back strong with a 32 but Poland stepped up their game and shot a 34 to take the match 4-0. A 30 from GB in the last end was not enough to take back some points, and Poland had the win 6-0.
"We agreed to have fun and enjoy the moment. This way no pressure is felt and it really does work," David said.
Compound Open
Nathan MacQueen and Jamie Harris had a bye in the 1/8 round for their compound men open doubles eliminations. In the quarter finals, they shot a tight match against the 5th ranked team from Romania. After the first end, GB were down one point 37-38, but then they brought it back to 76 apiece by shooting a 39. Another 39 from GB versus Romania's 35 gave them a four point lead going into the last end. Romania shot a 38 with the final arrows, but it was not enough to overtake GB. Nathan and Jamie shot 151-149 to send them into the semis.
Next up were the semi-finals against Spain who ranked in 8th. Both teams shot a 38 in the first end as well as the second end, tying them on 76 points apiece. Spain shot a 39 in the third end versus GB's 37, putting a two point difference between the two teams. GB brought it back with a 38, but it was not enough to take Spain's lead away, finishing the match on 153-151. Nathan and Jamie will shoot in the bronze final against 3 ranked France on Friday.
For the compound open mixed team, Nathan MacQueen and Jessica Stretton shot their quarter final match against 8th ranked Romania. The first three ends for GB were very consistent with 38s all round. Their opponents had a 38 and a 39, however their very first end of 25 points set them back from the get-go. A 39 from GB to finish versus Romania's 31 won them the match 153-133.
GB then faced 5th ranked Poland in the semi-finals where they took an early start, leading 75-73 after two ends. The Brits then capped off the match with two consecutive 39 ends to Poland's 35 and 38 to end the match 153-146. Nathan and Jessica will shoot in the gold final on Friday against 3rd ranked Italy.
"It still hasn't sunk in really if I'm honest. I came out here to have fun and just enjoy my archery after missing the last two international events, but I guess that has put me in a good place and allowed me to shoot at my best. Going into the finals I'm just going to enjoy it soak it up and the rest should take care of itself," Nathan told us.
W1 Open
Martin Saych and Victoria Kingstone shot their semi-final W1 open mixed match against the top ranked team from Turkey. GB got to a flying start, gaining a 12 point lead after just one end, 21-33. The Turkish came back from their rocky start to shoot a 36 and a 35 to GB's 34 and 32, clawing back their deficit from 12 points to 7. In the final end, Turkey shot a strong 38 to GB's 34, however it was not enough to catch up to the Brits. Martin and Victoria finished the match with 133-130, sending them into Friday's gold final to faced the team from Italy.
"It so exciting, but I know we just need to stick to process until the end! The biggest takeaway through the eliminations is that we can compete in heat. We just need to be prepared and follow the plan," Martin said.