The 2022 European Para Cup Final is taking place on UK soil this week in Nottingham, where the best athletes of para archery will compete to name the overall champions.
W1 Open
W1 woman Victoria Kingstone shot her semi-final match against Tereza Brandtlova from Czech Republic. Victoria shot a 25 end to her opponent's 24 in end one. Brandtlova then shot a 24 to Victoria's 21. Victoria stayed consistent with ends of 26, 23 and 24. However, Brandtlova shot 28, 29 and 26 to take the match win 131-119. Victoria has finished in 3rd place overall, therefore earning herself the individual bronze medal and GB's first medal of the event.
For the W1 men, Martin Saych shot his semis against Italy's Paolo Tonon. Martin opened the match with two 28 ends to the Italian's 26 and 23. Tonon then came back with a 27 and 26 to Martin's 26 and 25 to bring back his deficit to 5 points. A 26 in the final end from Martin won him the match 133-127, securing his place in the gold final where he will face Tamás Gáspár from Hungary.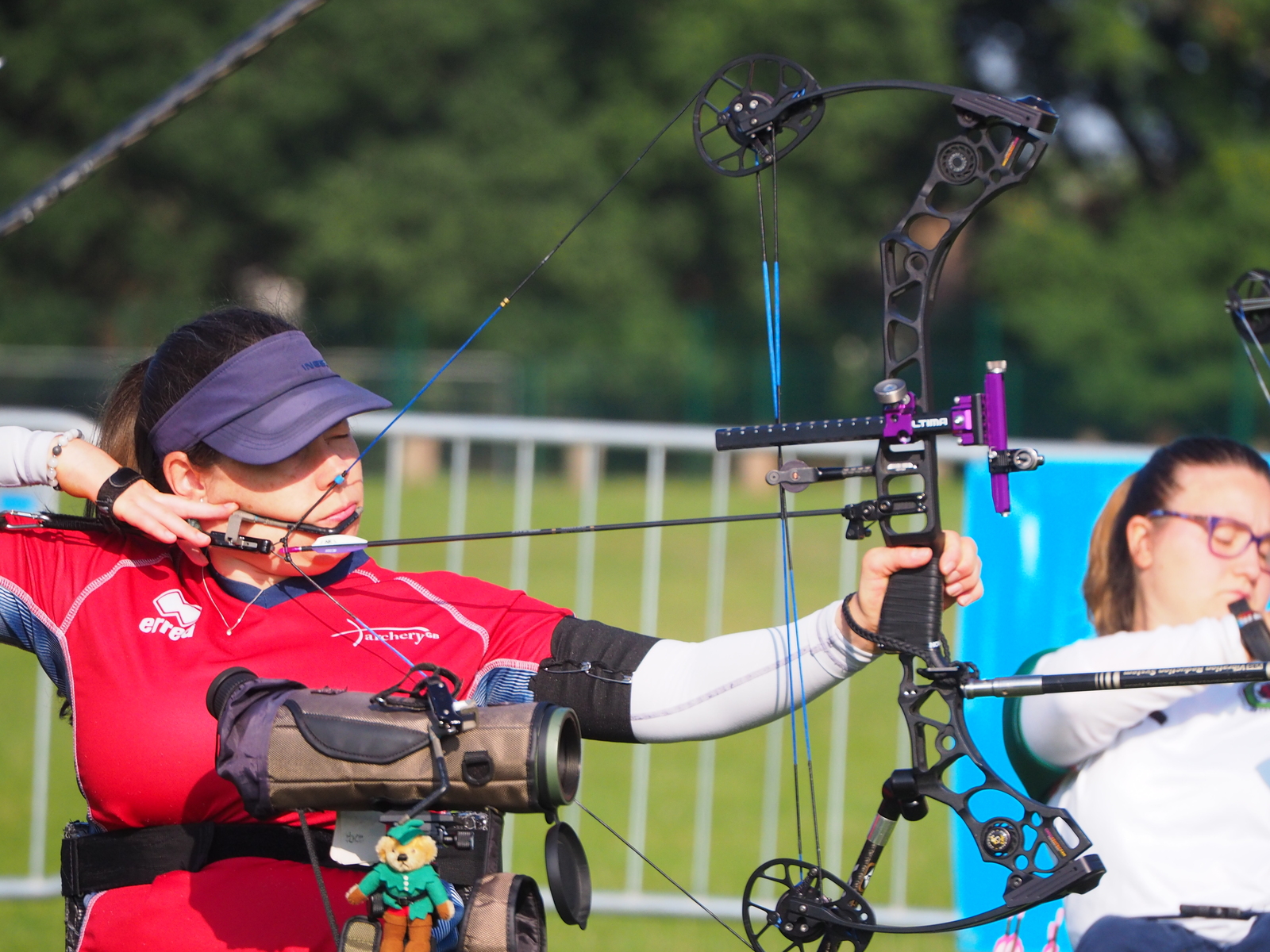 Compound Open
In the compound women open category, Phoebe Paterson Pine faced Eleonora Sarti from Italy. The Italian opened with a perfect 30 to Phoebe's 27 to take a 3 point lead after end one. Both archers then shot 29 apiece on end two. Sarti then shot another 29 to Phoebe's 27 to take her lead to a five point advantage. Phoebe shot a 28 followed by a perfect 30 to finish, however a 27 and 29 were all the Italian needed to win the match 144-141.
Teammate Jessica Stretton shot against Maria Andrea Virgilio from Italy in the semi finals. Jessica took a one point lead after end one with a 29 to her opponents 28. Virgilio then shot a 29 to Jessica's 27 to overtake the Brit by one point. For ends three and four, both archers shot two consecutive 28 ends. In the final end, both archers tied once again, this time on 27 each. Unfortunately, this was not enough for Jessica to overtake the Italian who won the match by only one point, 140-139. After the results of the semi-finals, teammates Jessica Stretton and Phoebe Paterson Pine will face each other in the fight for the bronze on Friday.
Jamie Harris shot against the 1st ranked archer from Slovakia, Marcel Pavlik, for the compound men's open semi finals. Jamie opened with a perfect 30 to the Slovakian's 28 in the first end. Pavlik shot another 28 for end two versus Jamie's 27. Both archer's then shot 29 apiece for both end three and end four. In the last end, Jamie shot a 28 to his opponent's 26 to take the match win 143-140. He will shoot in the gold final on Friday against Belgium's Piotr Van Montagu.
In the mixed team competition, Phoebe Paterson Pine and Jamie Harris shot in the compound open against the team from France. The Brits took a one point lead after the first end with 36 points to 35. They then shot an almost perfect end of 39 points to 34 to extend their lead to 75-69. Both teams tied the third end on 38 apiece and then the fourth end on 39 apiece. GB took the win with 152-146, earning them their gold final spot on Friday against Italy.
"I'm super happy to have made it into the gold medal match with Jamie, we have both worked really well together and I'm excited to see what we can produce! I know I didn't perform well in my individual semi final and that made me upset but all I can do is my best and that's all I can ask of myself too," Phoebe said.
Recurve Open
Hazel Taylor shot against Italy's Vincenz Petrilli in the recurve women's open semi final. The first end was narrowly taken by Petrilli with 25 points to Hazel's 24. Petrilli then shot a 26 followed by another 25 to take the last four set points from Hazel, winning 6-0. Hazel will shoot for bronze against Latvia's Ieva Melle.
For the recurve men's open division, David Phillips faced Stefano Travisani from Italy. David shot a strong 27 to take the first end's set points. The Italian responded with a 28 end to David's 26 to bring the scores equal on 2 apiece. Travisani then shot a 27 to David's 29 to take the lead 4-2. In the last end, David shot a 26, however it wasn't enough to beat the Italian's 29, who won the match 6-2. David will shoot for bronze against Poland's Lukasz Ciszek.
Hazel Taylor and David Phillips shot their recurve open mixed team final against Italy. Both teams opened with a tie on 31 points each. The Italian's took the second end with 33 points to GB's 29. In the final end, the Italian's finished with a 34 to GB's 32 to take the match win 5-1. Hazel and David will shoot for bronze on Friday against the team from Latvia.