The Great Britain compound teams have made three out of a possible four team medal matches on home turf at the European Youth Championships.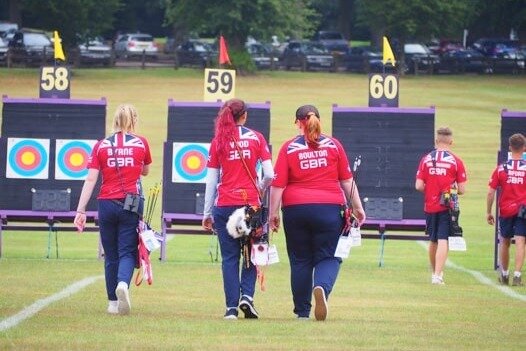 Compound Under 21
The trio which makes up the compound under 21 women's team, Layla Annison, Grace Chappell and Chloe A'Bear, went into the eliminations in first place after Tuesday's qualification. They had a bye in the quarter finals, and then their first match was in the semi-finals against Spain. Both teams equalled the first end with 57, and then Spain shot a 59 to another 57 from GB to take a two point lead. GB shot a 56 in the third end to Spain's 55, bringing the match back to only one point between them. Another 55 end from Spain and a strong 58 from GB gave the British women a two point advantage to finish up. 228 to Spain's 226 will send them into the gold final against Italy on Friday.
"Today was great! It was the first time we have all shot together as a team, and we worked really well. Everyone was feeding off each other's determination to be the best and it got us to the gold medal match! I'm so so proud of us three!" Layla told us.
Compound Under 18
For the under 18 compound men team, Finlay Clark, Jay Saunderson and Oscar Orford faced Slovakia in the quarter finals. GB got to a shaky start with a 54 to Slovakia's 57, but then swiftly brought it back with strong 59 to their opponents' 53. Slovakia responded with a 59, and GB shot a 58 to bring the points to 171-169. In the final end, the Brits shoot a 57 to wrap up the match with a win, 228-225.
The semi-final was where the men met the team from Türkiye who ranked in 1st position. Türkiye opened confident with a 59 to GB's 57. In end two, GB shot a 59 to Türkiye's 57 to bring the scores all square on 116 apiece. GB then shot a perfect 60 to their opponent's 59 take take a one point advantage going into the final end. Unfortunately, a 54 from GB was not enough to take the match from Türkiye, who took the win with 232-230. The men will shoot in the bronze final on Friday against the team from Israel.
"We found shooting really fulfilling as we progressed as a team throughout our matches, and found that we could bounce back from behind well. The conditions were good and our scores were too, and we're very happy to be shooting for bronze on Friday," Oscar said.
On the women's side, Hallie Boulton, Patience Wood and Sinead Byrne shot their semi-final match against the 3rd ranked team from Spain. GB kicked off the match with a 58 end followed by a 59 end to Spain's 55 and 50, taking twelve point advantage. In the third end, Spain was able to claw back one point from the Brits, shooting a 55 to their 54. A 59 from GB earned them the win over the Spanish with 230-215. They will face 1st ranked Türkiye on Friday's finals day.
"I found the conditions on the field were pretty calm compared to the usual Lilleshall weather, however at times it would get gusty and unpredictable. But we handled it well as a team and kept our shots strong throughout. The semis match was the first match we've ever shot together as a team so we made sure to practice and perfect our timings and how we can best support each other. The atmosphere during our match was honestly amazing and it's safe to say I've never felt anything like it before. We came together as a team and you could feel that hyped energy all around us. I have honestly never felt so good whilst shooting!" Patience said.