Great Britain win two gold medal titles at the European Youth Championships in the recurve division on home soil.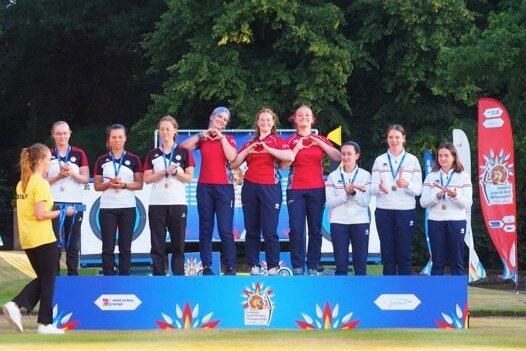 Recurve Under 21 Women
Great Britain's Penny Healey, Louisa Piper and Megan Costall faced the team from Germany in the bid for gold. The very fist arrow of the match from Germany missed the target entirely, resulting in an end total of 38 points to GB's 54, putting GB up 2-0. The second end was much tighter, GB shot a 52 to Germany's 50 to earn them enough lot of set points, taking the match to 4-0 in GB's favour. This was Germany's last chance to stay in the game, however nerves likely played a factor as they only shot a 46 point end. A strong 55 from the GB women took them to straight sets wins 6-0 to win the gold medal match.
"I don't think it's quite sunk in for us yet, but we're feeling really really good. I won my first ever gold medal at the first European Youth Championships I went to, and this event is my last European Youth Championships and we won the gold team medal. So a nice full circle," Louis Piper told us.
Recurve Under 21 Men
In the match straight after their teammates, James Woodgate, Monty Orton and Charlie Medhurst stepped up for their chance at a gold medal. They faced the team from Italy who ranked in 5th place to their 3rd place. GB took an end to find their feet, shooting a 47 to Italy's 54, taking the match to 2-0 in Italy's favour. The Brit's then responded well with a 54 to the Italian's 47 to equal the match out at 2-2. In the third end, a call from the target judge knocked down the value of one of the Italian's arrows that was close to the line. This took their score from a 55 to a 54 instead, resulting in a tied end on 54 apiece, giving both teams a single set point. With the points at 3-3, the next end would be the decider. At first glance, both teams scored 51 points with one of GB's arrows being precariously close to the line. After a closer inspection, the judge called GB's 4 to a 5, giving them a total of 52 points in order to win the set and take the match win with 5-3. The GB men earned themselves the top spot on the podium and the title for 2022.
"I feels great. It's been a long time coming. The past three years I've been working really hard, and I'm really glad that I could come and perform like we did just now with these two guys," James Woodgate said.