The European Youth Cup (2-7 August) in Bucharest was an exciting chance for young archers to safely experience competition overseas once more. Finlay Clark and his dad Ian created a diary of their travels - here's how they got on at Fin's first international event.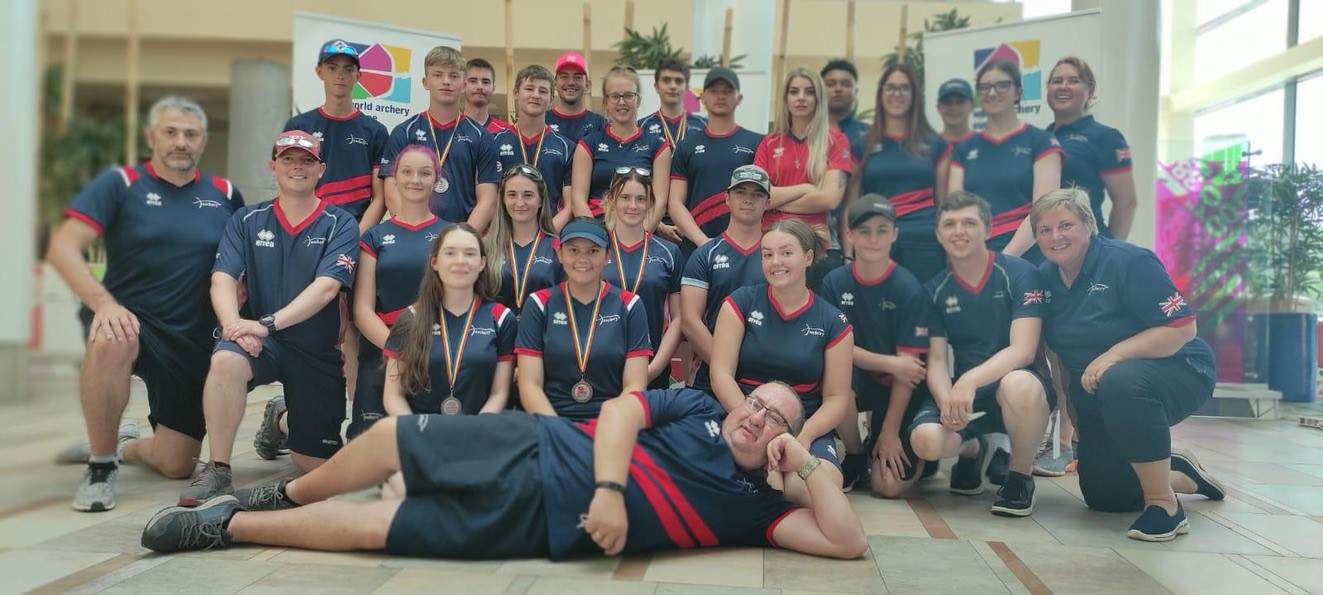 With Covid-19 restrictions allowing outdoor shooting to commence, Fin Clark of Wyke & York Archers Society returned to competitions in spring 2021. Fin, aged 15, lives with autism and finds the structure and routine of archery to be agreeable with his additional needs. He really enjoys the competitive nature of the sport, regularly attending junior and senior national events.
During spring 2021, Fin attended two rounds of selection shoots with a chance to represent GBR at either the World Junior Championships or European Youth Cup (EYC). In an incredibly competitive field, Fin's consistent scoring and success in head to head matches secured him a place represent at the EYC in Bucharest.
Preparing for competition
In the lead up to the event, Fin's routine-based approach to strength and conditioning, technique and competition training saw him gain success at Junior National Outdoor Championships (1st), Yorkshire Championships (1st) and during the recent Youth Festival represented Scotland in the international matches becoming Commonwealth cadet champion. All in all, the Youth Festival was great preparation for his first international event.
Post-selection for EYC considerations were made by Archery GB on how best to support Fin to enable him to perform on the international stage in a pressurised situation. It was decided that I should attend the event in the position of team chaperone to all athletes but as a parent I could advise the GBR coaches on what works and hinders his condition. Personally, I have received great support from my employer (Renewable Energy Systems) who allowed me to travel and classify the time involved as volunteering leave.
Travel time
After a long week away attending the Youth Festival, we had 24 hours to drive home (Lilleshall to East Yorkshire), unpack/pack, ensure all archery equipment was ready then travel to Luton for an early flight on 1 Aug.
[caption id="attachment_28466" align="alignnone" width="232"] Arriving in Romania - Finlay pictured right[/caption]
Travelling with such a large team was a logistical challenge at both airports - Luton was incredibly busy due to lifting of travel restrictions and in Bucharest, language barriers plus additional Covid checks prolonged the security process. Once clear, we met our transport for transfer to the hotel when all athletes and staff completed event registration and accreditation. Fin coped admirably with the challenges of a busy and noisy airport.
2 August - Acclimatising
The second day was official practice at the competition venue with the cadets shooting in the morning and Juniors in the afternoon in 2.5-hour sessions. The weather was incredibly hot ~40 degrees in the afternoon session so it was essential for all to stay hydrated and take advantage of the shade whenever possible.
Away from the venue it has become very evident that the athletes are bonding as a team with the older athletes looking after the younger and less experienced ones. It was really satisfying to see everyone accepting Fin as a team-mate, I think the whole team will be experts on all things Star Wars and Avengers by the time they return to the UK!
3 August - Qualification
Today was qualifying rounds for the cadets (am) and Juniors (pm), another early start for Fin with 06:00 breakfast then a bus ride to the venue which is located in the shadows of Steaua Bucharest's stadium.  Temperature was a little more bearable in the morning session, but the athletes had to cope with an ever-changing tricky side wind.
All the cadets performed to a high standard and Fin qualified 11th with a score of 666/720, it should be noted that most countries attending had sent their 'A' team athletes who will be attending the World Archery Youth Championships in Poland.
4 August - Mixed teams
Another early start for the archers today for the mixed teams. Unfortunately Fin did not qualify for the team but attended the venue in support of those archers who had qualified. Some great performances by the GB athletes but all fell just short of medal matches.
5 August - Head to heads
Thursday saw all athletes shoot their head to head elimination matches. Fin being seeded 11th overall saw him unfortunately drawn against fellow team-mate Jack Wood. After a close battle Fin eventually won through with a score of 141-136. Next brought a formidable opponent and number 3 seed A Aslim from Turkey. Both scored fantastically well and the match ended in a draw 144-144 each ensuring a one arrow shoot off that Fin won with a perfect X - it seemed I was more nervous of the situation than Fin! The semi-final brought a draw against another Turkish archer and eventual gold medallist E Kirca. Fin initially took the lead, but his opponent won the close match 146-144, so Fin will shoot on Saturday in the bronze medal match.
Fin coped really well today in some high stress situations, he did however get upset with himself for shooting an 8 in the fourth end of the semi-final. He initially thought it was a 9 but the match judge called an 8 which triggered him to get incredibly upset. Fin however continued and scored 29 in the last end whilst crying. It took some management to bring Fin down from his upset state to eventually congratulate his opponent. Also, the judges learned a lot regarding autism and reactions to stressful situations; they were understanding and allowed me on the field of play to assist Fin to score his arrows on the last end.
6 August - Elimination and medal matches
The shooting schedule for Friday was ladies and gents team competition for both recurve and compound archers with elimination matches (am) and medal matches (pm).
[caption id="attachment_28468" align="alignnone" width="300"] GBR's Compound Cadet Women[/caption]
Some really close matches for the GBR archers resulted in the compound cadet women (Beth Rhodes, Isabella Bruguier, Patience Wood) securing a place in the bronze medal match. The ladies proved too strong for the Romanian archers, winning the bronze medal 213-195. I was incredibly proud to witness our ladies comfort one of the Romanian archers who suffered with nerves and struggled with the pressure during the final - fantastic sportsmanship and a credit to GBR!
7 August - Bronze medals, fantastic sportsmanship, and an emotional end
The athletes had a well-earned and very well received 30 -min lie in! The bus transfer to the competition field was a lot quicker due to lighter weekend traffic. Last day of competition brought individual finals for three archers: Ajay Scott, Sinead Byrne and Fin Clark all shooting for bronze medals.
Fin was competing against a strong Italian archer Andrea Marchetti, in the build up to the match Fin was supported by fellow teammates Jay and Jack who simulated practice matches. Although nervous, Fin prepared well and along with his coach, Stuart, they put in place coping strategies for the match. Five minutes before the start both archers were called into the waiting area to be briefed by the judge in charge. What occurred next was one of the best examples of positive sportsmanship I have ever seen. The match judge discussed Fin's autism and sensitivity to noise with the Italian coach; she then disappeared and it transpired had instructed the famously passionate Italian supporters not to cheer during the match as it would affect Fin, which they followed impeccably - a truly great gesture.
[caption id="attachment_28469" align="alignnone" width="300"] GBR's Compound Cadet Men[/caption]
During the match both archers battled hard in gusty conditions with the lead switching multiple times. With Stuart's support, Fin managed to stay focused throughout winning the very close match 137-136 securing the bronze medal and initiating an outpouring of relief. Tears flowed from teammates, coaches and even judges! I was overwhelmed - it was the proudest moment of my life and proves disability is not a barrier. The proof of just how much Fin had progressed and adapted over the week was evident as he doffed his hat to his supporting team mates as he left the field - something that would have been beyond him earlier in the week.
8 August - Homeward bound
Another early start with transfer to the airport. Check-in was easier than expected even though there was a requirement to provide additional PCR and travel locator information before boarding cards were issued. On arrival back in the UK, all bags were successfully recovered before a tearful reunion with some very excited parents.
The experience will live with me forever. I thoroughly enjoyed my time supporting the team and it was a privilege to witness the young athletes perform and gain international experience. They all behaved impeccably throughout and were a credit to GBR and Archery GB.
Many thanks to Ian Clark for writing this article.