Archery GB has been working with Overton Black Arrows to get a pilot competition up and running, and last weekend it went ahead in the July sunshine at Hampshire's beautiful Watership Down.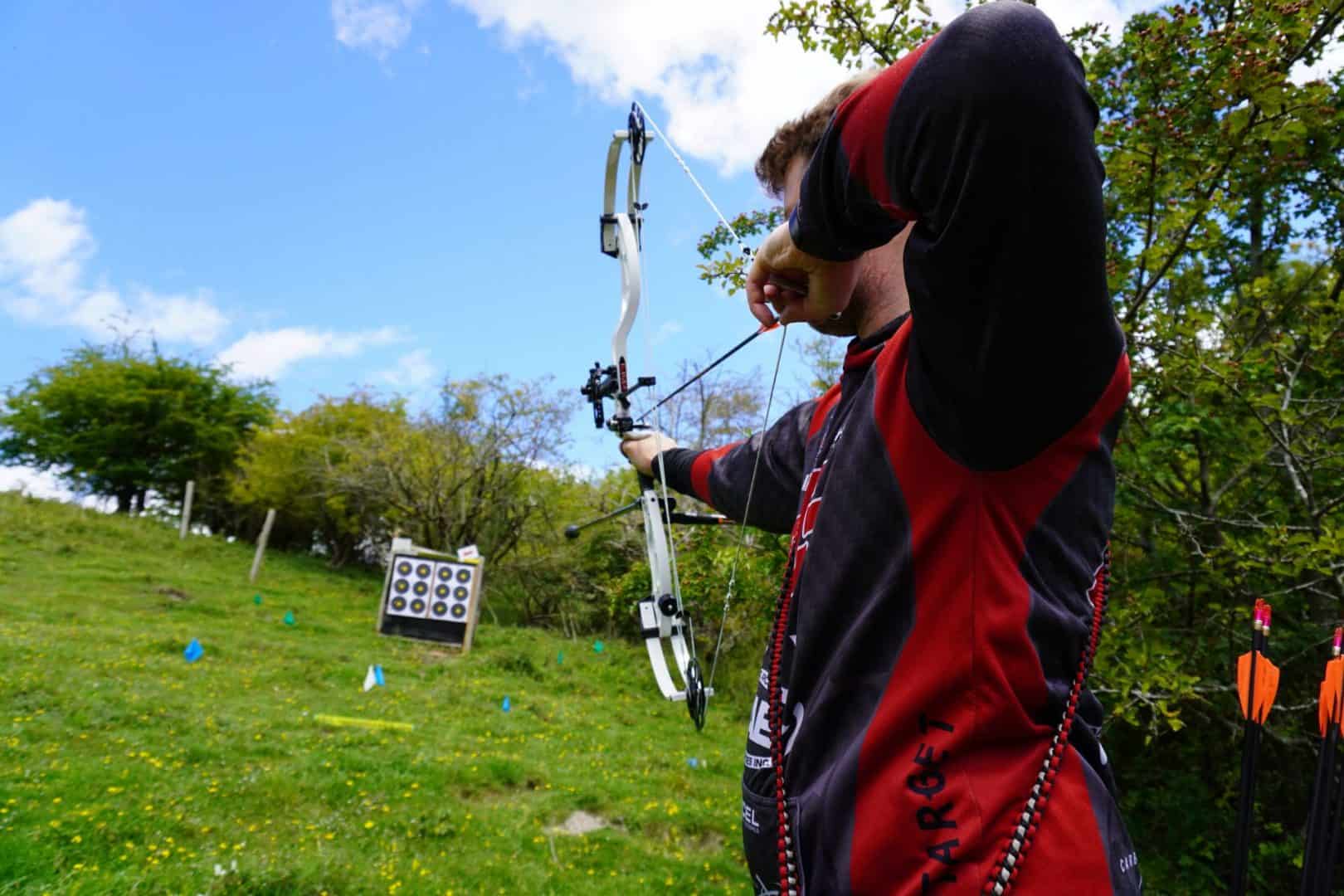 Last weekend was the first pilot competition in the UK since lockdown began in March. Archery GB and Overton Black Arrows have been working closely together to get the pilot competition together, and it was a great success!
Social distancing was a key factor in staging the competition. In order to abide by the rules, Overton put safety measures in place. You had to arrive at a specific time, only socialise with your group (distanced), go to the practice targets when your group was called up and only shoot on the practice targets allocated to your group.
Upon arrival, we were greeted by a club member who had a mask on and took our names and group numbers. We were then directed to the car park and told to park by our group number. As you can see below, there was plenty of space for each group to comfortably distance once parked up.
Once our group was called up to the practice targets, we had a visual equipment inspection and a run-through of how the day was going to go. We were told to go to practice targets B where a bunny and 80cm face were set up with all of the distances marked out. Around the target were four green flags, one for each person to stand on whilst collecting arrows. It was explained that when we got out on the course that targets would be set up with the green flags for distancing as well.
Each group was given 30 minutes of practice before being told to head out to the course. Unlike normal field, groups were all starting either at targets 1, 9 or 17 and once you got out to your target, you could start shooting straight away. There were judges out on the course, as per usual, and all normal field rules applied for the day.
Our group started at target 1, which was the start of the marked half; there were 12 marked and 12 unmarked targets on the course. For those who know Overton, the majority of the marked targets were in the wooded area, so had to compete with the light and dark variances. Each peg was marked out with a middle flag showing the distance and then two flags at the end of 2m where the archers should stand.
Scoring the target was still done with two scorecards, as normal. As for pulling arrows, as with the practice targets, you could only pull your own and stand on your green flag by the target to make sure you were distanced from one another.
Normally on a field course, you will have a break and sit and socialise with different groups, chat about your day, and have a cup of tea or coffee. However, due to current circumstances, break points were spread out with limited numbers of people across the course, and were pretty much kept to just your group.
Once finishing, the score cards were signed by the archer and scorer, then posted into a box at the organiser's tent just before the archers went home.
Steve Allam, the organiser from Overton Black Arrows, commented: "The hardest part was the staggered starts, when you have three different start groups, and making sure you can get them all on the course before the first group gets round to their loop - but overall, it worked."
After being asked if anything would be changed, Steve confidently said they would keep it the same as the Overton event, so it definitely was a success!
Archery GB look forward to working with other field clubs in the very near future to get competitions started again as soon as possible, and as safely as possible.