Colin Simpson, Bowmen of Warfield, shares his experience of getting back to the range!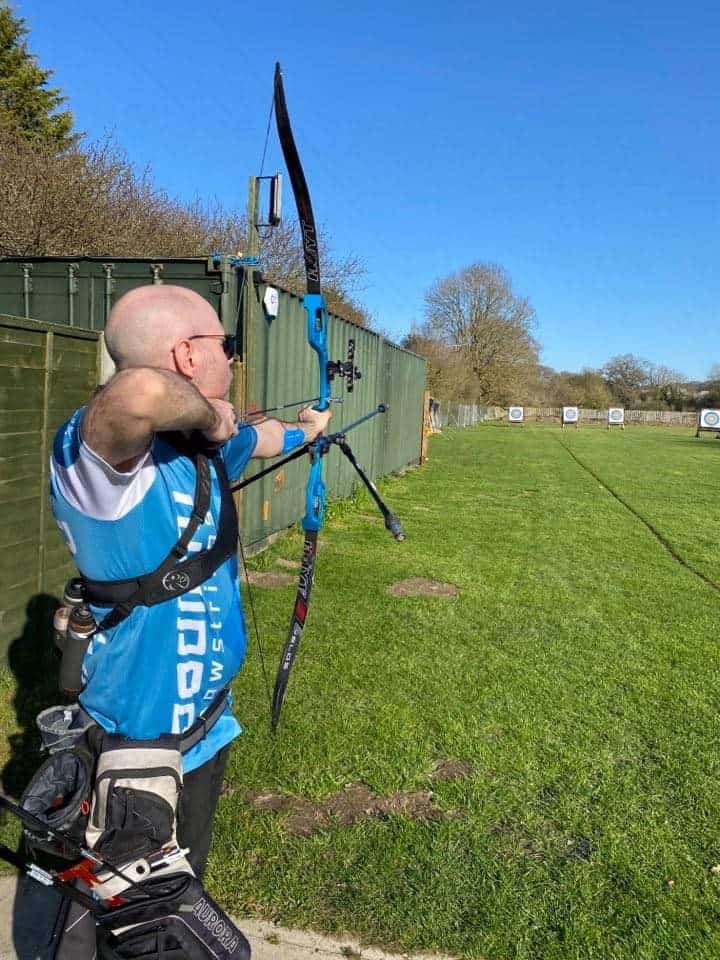 While we appreciate that some clubs have not got back to the range, we want to share positive experiences of some that have.
Getting back to the range might seem a bit daunting to begin with, after all this time. However, it's getting back to the sport that we all love, that we want to do. So let's get to it!
Colin Simpson, from Bowmen of Warfield, shares some of his experiences of getting back.
[caption id="attachment_26367" align="aligncenter" width="344"] Colin Simpson shooting at Bowmen of Warfield on the first day back to the range[/caption]
How does it feel to be back at the range?
Excitement is what I felt about the return to archery and the range. I couldn't wait to get back to the shooting line and do a sport which I am so passionate about.
The excitement wasn't only about doing the sport, but seeing other archers, catching up, and having a good chat about archery. Whilst doing a sport that is naturally social distanced and safe.
How did you keep bow fit?
The challenge I saw during lockdown was maintaining bow fitness and motivation. I didn't want to return with a lack of strength.
My bow fitness was maintained by doing the usual exercises, we all know and love, such as reversals and seven-twos. I used a homemade device consisting of a weight lifting handle, latex bands, and an elbow sling to maintain strength without needing a bow. I wanted to be ready for the return of archery, that was my motivation.
What was the first day back at the range like?
Monday 29 March came, perfect weather, the club was open. It was the first time back; I felt a mix of huge excitement and a little nervousness. Once that first arrow landed, only excitement remained. I was back doing archery!
All the reasons why I do archery were still there and came back.  Yes, the form needs work, like always. The strength isn't fully there yet, but will come.  The enjoyment, fun, and challenge are all still there. That's more than enough reasons to get back to the field.
What is your advice to those who are hesistant about getting back to the range?
Getting back to the range has improved my mental health. The past lockdown was hard for many, including, me.
Its reinvigorating to participate in the sport, be outside. Along with being part of the archery community again. While being naturally socially distanced and safe, and where I can to focus my thoughts and energy positively.
What are the rules in my area?
There are still restrictions in place to ensure archery can return safely. Have a look here for the restrictions in your area.