Day five here at Yankton, South Dakota for the Hyundai World Archery Championships with the individual elimination rounds.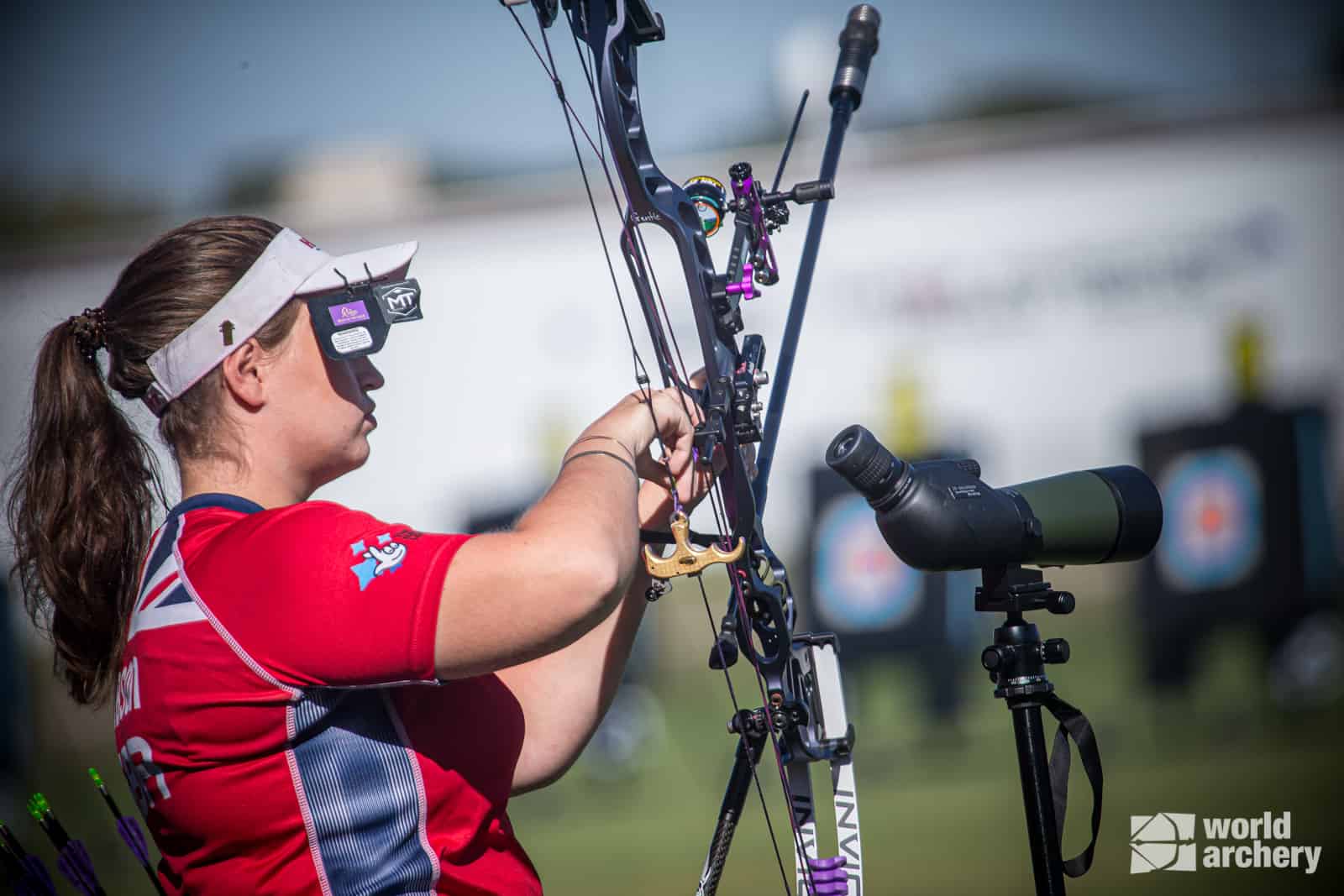 Compound
The GB compound men competed in the first round of eliminations with the 1/48. Against the Mongolian archer, Adam Ravenscroft scored 146-143 to take the win. Adam Carpenter won with an impressive 149, one point away from a perfect score, gaining a 33 point lead over his opponent's 116. Down the line, James Mason also won his match with a 145 to the 143 points shot by his opponent from Kazakhstan.
In the 1/24 round, Adam Ravenscroft lost to the French archer, Jean Philippe Boulch, 149-144. Adam Carpenter's 146 was not enough to beat the 149 shot by the archer from Israel. James Mason was also beaten with a 149, this time by the Italian Elia Fregnan, to Mason's 147.
For the compound women's 1/24 round, I [Izzy Carpenter] was leading my match by a point, however lost in the final end to Muskan Kirar of India 144-142. A few targets down, Layla Annison narrowly missed out on a 1/16 round spot with the German woman beating her 144 points to 143. Having had two bye rounds, Ella Gibson's first match was the 1/16 against Yun Soo Song of Korea. It came down to the last end where the Korean shot a perfect 30 to take the match 146-144.
Recurve
In the 1/48 round for the recurve men, James Woodgate lost to his Turkish opponent, 6-2. Tom Hall shot straight sets 6-0 to take the win from the Hungarian archer. Patrick Huston also won  his match 7-1 against the archer from Saudi Arabia. Up next in the 1/24, Tom Hall beat Ivan Kozhokar of Ukraine 7-3. Patrick Huston took his match to a shoot off against the archer from Puerto Rico, shooting a 10 to his opponent's 7. In the 1/16 round, Tom Hall unfortunately lost 6-2 to the 5th ranked archer from Spain. Patrick Huston was able to beat Weckmueller from Germany 6-4 to take him to the 1/8 round. Huston then met Olympic champion, Mete Gazoz, where unfortunately he lost 6-2.
For the women's 1/48, Penny Healey shot straight sets against her Austrian opponent to take the match. Bryony Pitman and Yulia Larkins joined in the next round for the 1/24. Unfortunately, Healey lost her next match to Marie Horackova from Czech Republic 7-3. Bryony Pitman won her match 6-2 against her Brazilian opponent while Yulia Larkins won her match 6-4. In the 1/16, Pitman shot straight sets 6-0 against her Canadian opponent to take her to the 1/8 round. Unfortunately, Larkins lost 6-0 against 6th ranked Lisa Barbelin of France. In the 1/8 round, Pitman faced 3rd ranked Korean archer Minhee Jang where she sadly lost 6-4.