All this week, communities have been coming together to celebrate Inter Faith Week and the benefits that come from inter faith connections. Here, members of Leicester Archery Academy talk about sport and faith.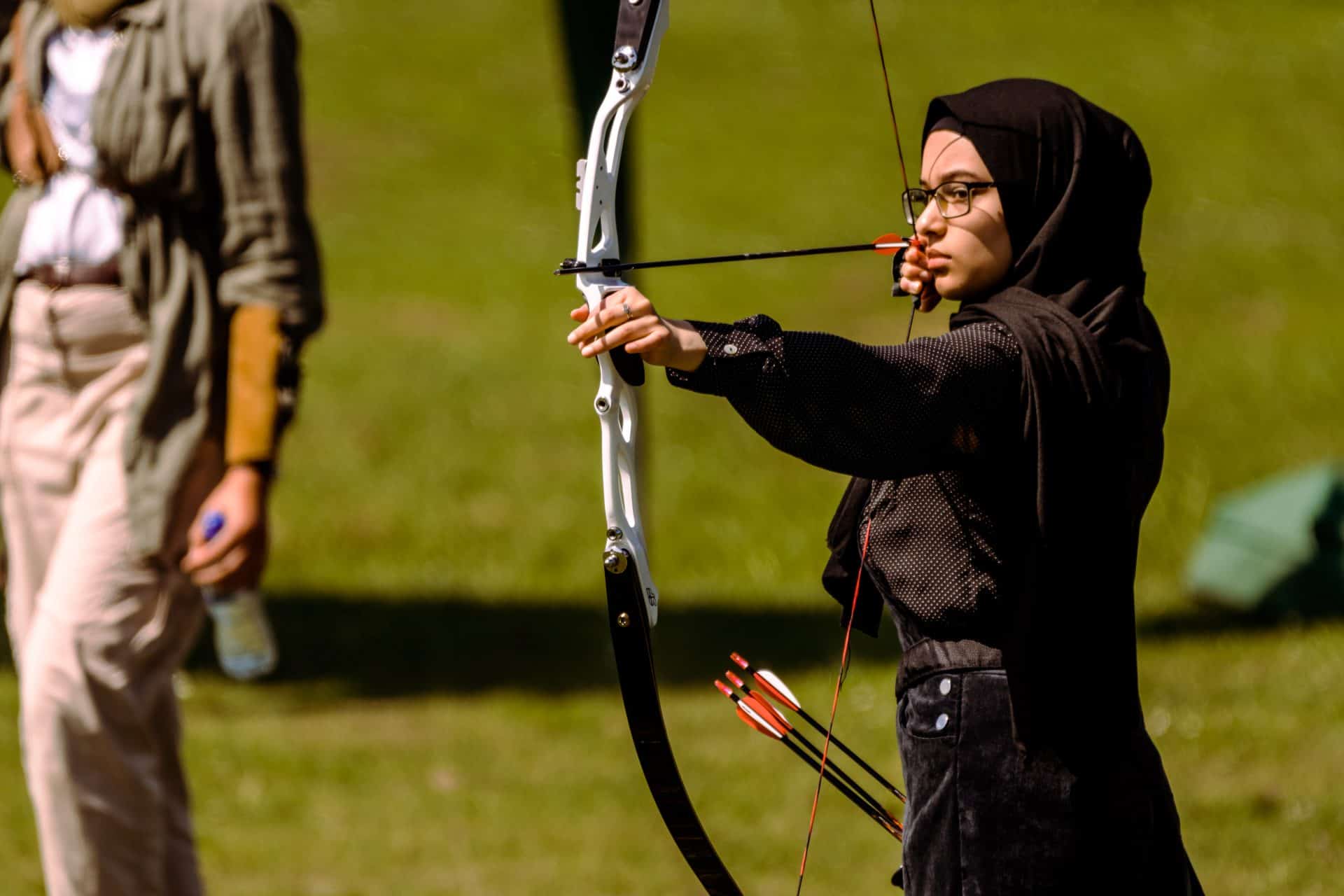 Inter Faith Week's aims are to:
Strengthen good inter faith relations at all levels.
Increase awareness of the different and distinct faith communities in the UK, in particular celebrating and building on the contribution which their members make to their neighbourhoods and to wider society.
Increase understanding between people of religious and non-religious beliefs.
Mohamed Patel, archery coach and AGB Mentor (pictured above)
I set up Leicester Archery Academy (LAA) in 2005 following encouragement from my brother-in-law in Yorkshire, who had set up a similar club. I managed to get seven others interested to form our initial team of coaches and committee members.
Archery is successful as a community hobby because it appeals to all types of people and abilities. It's a great way to bring people of different communities together and enjoy the sport and the company. We are a very friendly, welcoming club with current members ranging from seven years old to 76!
The academy encourages new people through regular beginners' courses, word of mouth, through the website and also through close contact with local schools.
We have indoor and outdoor facilities (summer only), equipment, soft archery sets for kids, regular coaching etc. We have 10+ coaches including a County Coach, two Level 2s and several Level 1s, including five female coaches. All equipment is provided which is suitable for all ages 7+.
As an AGB mentor, I'm keen to get as many people into the sport and try and develop them to their full potential. But what I find most rewarding is people having fun and enjoying themselves.
Aneesa Khan, club member
I did my beginners' training course with Leicester Archery Academy in the autumn of 2018 and have stuck with it since. I like the club because of the environment. Everyone is really easy-going and perhaps a little bit odd, in a good way! My intention was never really to make new friends because it was an old friend who roped me in at first, and I was satisfied with seeing her every week. However, it's still a nice environment to make new friends because of how approachable everyone is. From a practical point of view, prices are very reasonable and it's located in a central-eastern part of Leicester city.
There's quite a few people who shoot traditional horse bows and we do bounce off each other. Most clubs only seem to focus on the Olympic recurve style of shooting from what I've seen, and a few county clubs also have a spot for longbow shooters so I think that's what makes LAA a little bit different. It's actually what makes me nervous about ever leaving the club: will I ever find others out there who will drop tips for my horse bows?
[caption id="attachment_29558" align="alignnone" width="300"] Aneesa Khan[/caption]
Practising at the club is different because you're constantly chatting with other archers and picking up new tips as you shoot. I really like the concept of how the grouping of arrows is more important than how many times you hit centre. It forces me to be consistent and maintain focus for longer. I also like how the poundage of the bow doesn't matter so much as what you do with it. In this way, archery reminds me of a tradition which is narrated in Ibn Majah: 'Take on only as much as you can do of good deeds, for the best of deeds is that which is done consistently, even if it is little.'
Also, when you do quite well in a round, you end up reflecting on what you did so you can hopefully recreate your success. This forces me to both develop a level of self-awareness and focus on the positives. However, getting to success may take some time so practising archery teaches me how to respond to failure and success. I can do spectacularly well at one distance of shooting and absolutely rubbish my arrows in another. In a way, I do feel archery is deeply spiritual as it reminds me of another line: 'So truly with hardship there is also ease; truly where there is hardship there is also ease.'
After lockdown, I felt so out of shape but felt huge relief at finally being back. I didn't do anything to keep archery-fit. I did however start doing a few exercises at home after the first session back.
I don't really have any grandiose ambitions. I just want to be good enough to coach my family and get others into it too. For this I want to master the traditional Turkish and Korean styles of shooting and slowly work up my strength to pull a 45lb bow for long sessions. I am a small-framed female so to get to 45lb would be an achievement for me. However, these are long-term goals and it'll perhaps be a while before I reach any of them.
Fazila, archery coach
I started archery about ten years ago, and have been a Level 1 coach from 2015. Since then, my daughter, Husna, has also joined me at the club. The academy forms a firm part of our social life. Over the years we have made some good friends and it is always a welcoming place for new starters and for experienced archers.
[caption id="attachment_29559" align="alignnone" width="300"] Fazila[/caption]
After a busy family week, it is always nice to be able to do something relaxing. Also more recently I have found that it is something I can really enjoy alongside my daughter. After lockdown, I had been eagerly looking forward to getting back to archery, and when we did, the familiarity of the routine really helped lift any anxieties. It was wonderful to get back to some sort of normality and to see old friends again.
LAA run friendly club competitions and also take part in some county competitions. This is about the right level for me in combining both the social and competitive aspects, although my daughter would like to enter more competitions for herself.
[caption id="attachment_29560" align="alignnone" width="300"] Husna[/caption]
It's a very inclusive club and always welcoming to newcomers. There are some very talented coaches, and members can progress as quickly as they feel able to. It is easy to fit in and make new friends alongside learning a very enjoyable sport.
Find out more
Click here for more information about Leicester Archery Academy.
Inter Faith Week is on now - see how you can get involved here.
Archery GB's Project Rimaya
Archery GB's Project Rimaya is key to changing attitudes and opening doors for ethnically diverse communities and female archers. The SportsAid-funded initiative, launched in 2018, started at Eden Girls' School in Coventry, an Islamic faith institution for which archery has a strong cultural significance. As a result, encouraging Muslim females across the country to take up the sport recreationally has been a focus for Project Rimaya [the Arabic word for archery] and its success to date is spreading.
The project's initial objectives were modest: to introduce the sport to a new audience and environment; increase participation within schools and their communities; increase awareness of archery as a worthy pastime; create a sustainable training environment and develop individuals from ethnically diverse communities' self-worth, health and lifestyle.
Pre-pandemic, three schools in Birmingham and Coventry were involved in weekly archery sessions. This has inspired new volunteers in the local communities to train as Level 1 coaches at facilities that have been specially created to meet the requirements of the Islamic faith. As the project gains momentum, with new partnerships coming on board and the expansion of the project into other areas of the country, it is hoped a wider range of people will seek out the benefits of archery.
Find out how Project Rimaya is helping to empower Muslim communities here.
For more information about Project Rimaya, please contact gayle.pink@archerygb.org