Lilleshall NSC hosted the Junior National Outdoor Championships 2022 this weekend, with a lot of excitement and national records!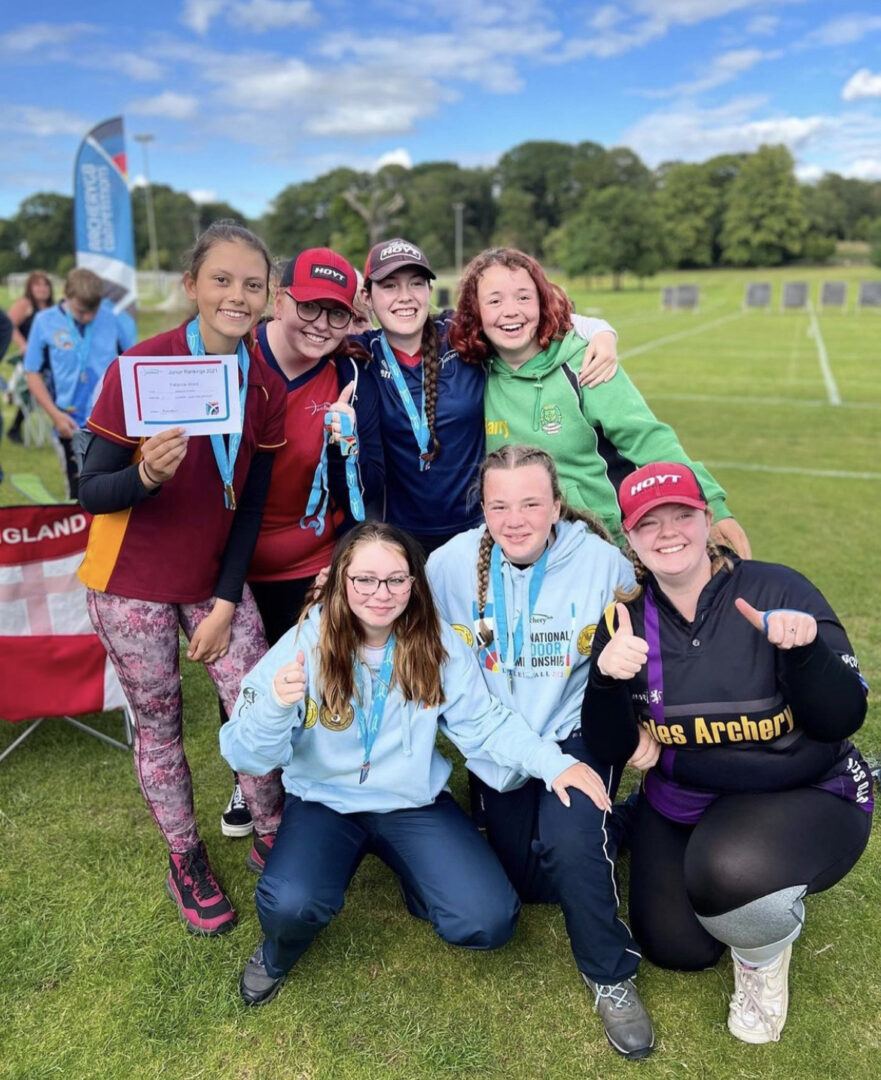 This weekend was the Junior National Outdoor Championships 2022, and it did not disappoint! Fletch the lion even made an appearance ahead of the European Youth Championships next month.
From first-time competitors to international archers, the Junior National Outdoor Championships 2022 was a fantastic weekend. Even with a power cut, footballs rolling behind targets and footballers running behind the targets. The sun even came out to shine on Sunday afternoon!
Wales Archery - Youth Competitions Partner
Kevin Weller from Wales Archery, the Archery GB Youth Competitions Partner, spoke to us about the event;
"We love supporting this event. We have met a lot of people by attending it over the years. There were a lot of new faces this time around, which is always great to see."
We managed to catch up with a couple of the youth archers who competed throughout the weekend on how they felt and what they achieved.
Patience Wood at the Junior National Outdoor Championships 2022
Patience Wood is the Bristol 3 Ladies Compound Under 16 Champion for 2022. While that is an impressive achievement in itself, the way Patience achieved this is even more impressive. Shooting a perfect score of 1296 out of 1296 is the way to make a national title that bit more impressive.
We caught up with Patience after her win.
"I never follow scores, so I didn't know how anyone else was shooting. So, I just focus on my own shots and try to beat my own targets. I wanted a clear round, so it was just head down and push!
"To be honest, I just had to take each arrow at a time, as it is so easy for your focus to slip when shooting the shorter distances. The under 16 category is amazing, as all the archers are good friends and we push each other to shoot better. It could have been any of us getting gold, but my shots just worked well on the day.
"It was fabulous to see Bella and Mia take bronze together, as they both pushed so hard. The event was so much fun, so big thanks to Jon Nott and everyone who made it such a great day."
Daisy Simpson - 3rd place U18 barebow women
Daisy Simpson spoke to us about her weekend at her first Junior National Outdoor Championships.
"I had a great experience at my first Junior National Outdoor Championships. It was so much fun! I was quite nervous at the start, but everyone there was so lovely and supportive. By the time we started shooting, I felt prepared and really excited to compete as my coach has been helping me work up to junior nationals for a while.
"Everyone there was incredible and did really well, so I was so happy to get the opportunity to shoot with them. I had a brilliant time and I'm hoping I get to do it all over again next year.
"My favourite part was getting to meet lots of the other archers. I follow a few on social media, and I've heard of some others through all of their success. So it was great to properly meet them. Everyone there was really kind and helped to show me the ropes so that I didn't feel quite so much like the 'newbie archer' at their first junior nationals. I got to have some great conversations with people about their archery journeys as well. There weren't many archers there that I knew from my county, so it was a really good opportunity to meet new people!
"I was really shocked to walk away with a medal! I'd decided to go this year to gain some more experience at bigger, higher-pressure competitions and just to have a good time. I've not quite been shooting for two years, so a medal really wasn't something I'd even considered.
"I wanted to do my best, and although the nerves made my score a bit lower than I'd have liked, I felt okay with how I shot. When I saw that I'd got third place, I kept refreshing the page because I was sure that it would change. I am really proud of myself for achieving it and getting to stand on the podium with Emily and Amelia. It was incredible as they are two archers I've admired for  a while"
Congratulations to all of the competitors throughout the weekend. Full results of the weekend can be found here - Day 1, Day 2.
Photographs from Saturday can be found here.