The second and final day of medal matches took place today in Antalya for the Hyundai Archery World Cup Stage one 2022. The GB recurve women's team came away with the gold, the recurve mixed team got the silver, and Bryony Pitman took individual gold.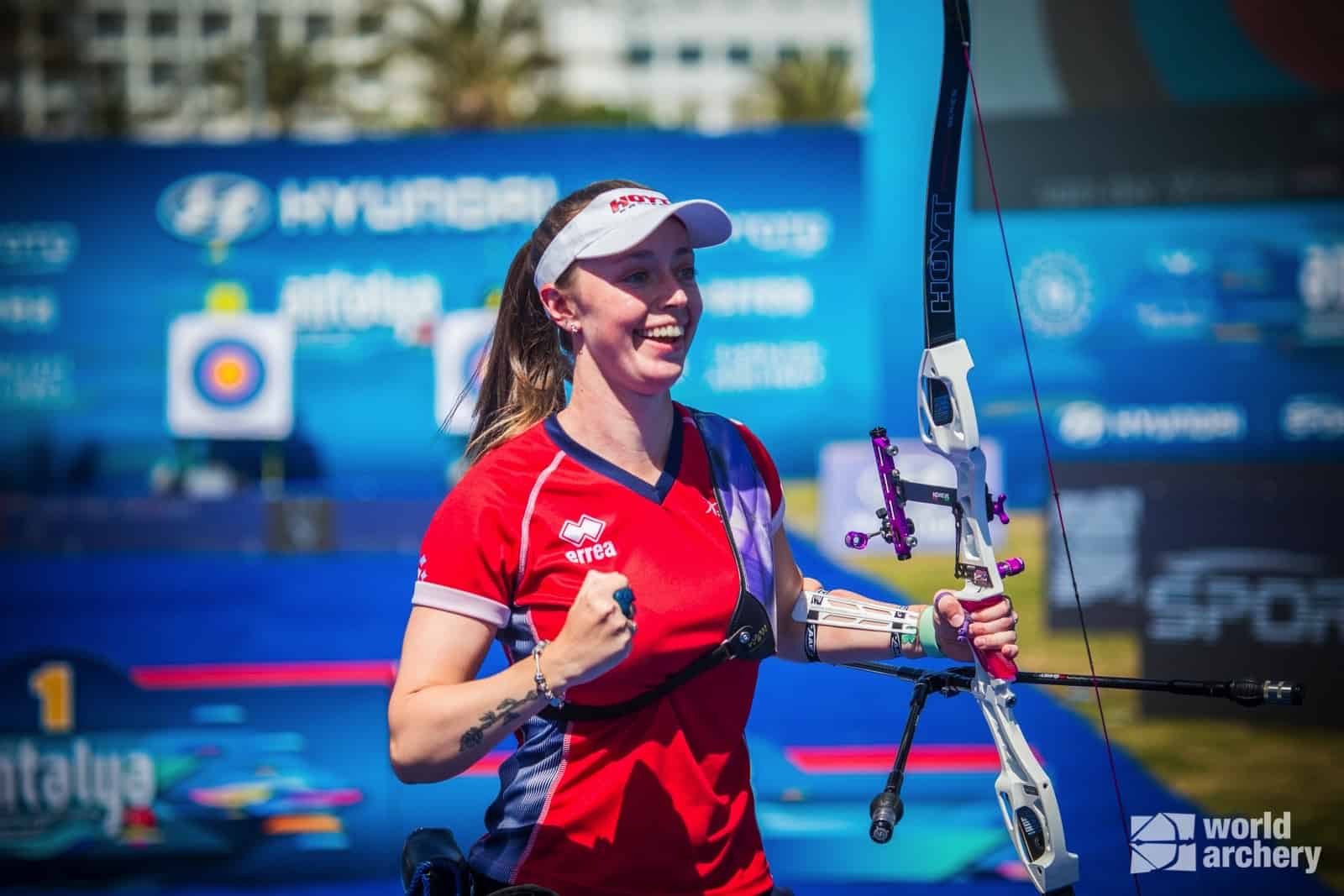 The morning began with the team and mixed team rounds. Up first was the recurve women's team, Bryony Pitman, Jaspreet Sagoo and Penny Healey. They faced the team from Germany in the battle for the gold medal.
GB started off strong with a 55 to take the first set, quickly followed by another two points with a 56 end to Germany's 53. 4 set points to 0, GB only needed a draw in the next end to secure their victory. Germany put down their best end so far with a 55, but the GB women matched them arrow for arrow, also scoring a 55, giving them the final point they needed to take away the gold.
"It feels amazing to have won this medal. It shows how competitive we are as a team as well as individually. It shows how all of our hard work is starting to pay off and it's great to be able to show that internationally," Penny Healey said.
In the next section fo matches, we saw Bryony Pitman return to the stage with teammate Alex Wise for the recurve mixed team gold final. They faced the 5th ranked team from India. GB had a flying start, opening the match with a 37 to India's 35.
In end two, India came back strong with a 36 to our 33 to take the next lot of set points. GB responded with a perfect 40 to take back the lead, but India didn't give them an inch, taking the fourth end with 38-37. This meant the match and the title all came down to a shoot off. India's 28 narrowly beat our 27, meaning Pitman and Wise came home with the mixed team silver medal.
"So pleased to have been on the podium this week, it's been a while since I've been able to show what I can do on a finals field. Bryony and I shot great in eliminations, missing out on the gold in a shoot off hurts, but it isn't bad for my first mixed team experience. The team did brilliantly!" Alex Wise said.
In the individual semi finals, Pitman made her third appearance on the stage in the hopes of coming away with another medal to add to her two from the morning. She met first the 3rd seed German archer, Katharina Bauer. Pitman opened with a 27 to Bauer's 24 to take the first end set points. The German archer responded quickly with a 29 to Pitman's 25 to bring the match back to all square.
Bauer then lost her footing a little, putting in a 26 to Pitman's 29 in end three, putting Pitman back in the lead. Two points was all Pitman needed to take the win, and she did just that, shooting 28 to Bauer's 26 to send her straight to the gold final.
"Today, I just wanted to go out there, have fun and get on three podiums. I didn't shoot my best in the teams, but I found the ten a lot more in the individuals. I've never been so full of adrenaline and it was the biggest test of my mental process. Most of the time it worked, but I've definitely got some more to learn," Bryony Pitman told us.
The last match for Great Britain saw Pitman face Dutch archer Laura Van Der Winkel who ranked 5th after qualification. This match was a nail-biter from start to finish. Van Der Winkel took the lead after the first set, 28-24. Pitman quickly retaliated, shooting a clean 30 to her opponent's 27 to take end number two.
The roles reversed again with the Dutch archer taking two more set points to take her total to four. The fourth end was very close, both archers shooting a 27, resulting in a tie with one point awarded to each of them. Pitman needed to win this set to stay in the game, which is exactly what she did.
29-26 to take it to a shoot off to decide the champion. Van Der Winkel shot first, her arrow scoring eight wide. Pitman shot next, knowing a nine is all it would take to win. In the end, she also shot an eight, but hers was closer to the centre, meaning that she became the new Antalya World Cup Stage winner for the recurve women.
"I feel on top of the world right now! One medal would've been cool, but three is just crazy! I felt pretty calm and confident during the week. I definitely could've scored better at times, but the set system worked in my favour this week, and it's so good to see my hard work paying off," Pitman said.
Pitman will join Ella Gibson in Mexico at the World Cup Finals at the end of the year, which has not happened for Great Britain since 2012. Collectively, Great Britain has also topped the Antalya World Cup medal table ahead of India in second and the Netherlands in third position.