It's time to introduce you to another of our brilliant new junior ambassadors, letting them tell their story in their own words of who they are, what they love and why they chose to become an Archery GB ambassador. This month, we hear from Liam Ford.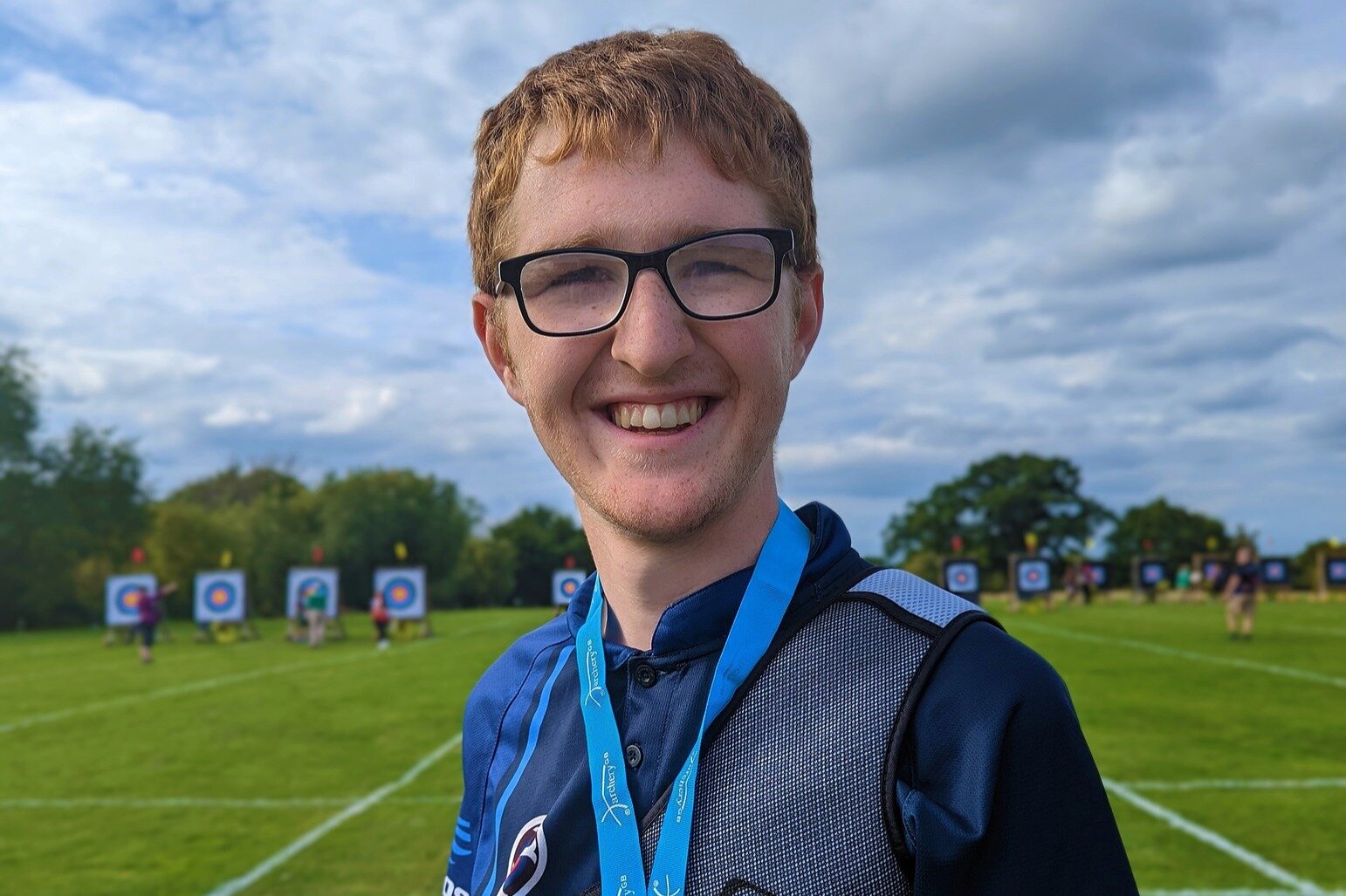 I first attended a beginner's course with my family in April 2018 at Norton Archers. We really enjoyed it and signed straight up with the club. I decided to shoot barebow as I much preferred it to recurve and when I entered my first competition at Norton in September of 2018 I broke four county records, so I think I made the right choice!
I have entered many other competitions since then and have enjoyed a lot of success. I have broken seven national records and came first in the National Rankings in 2019 and second in subsequent years. I also hold a lot of county records and have represented Durham and Northumberland Archery Association twice at the Junior Northern Inter-Counties Shoot, where I was the Barebow champion both times. I have competed in a few national tournaments too, like the National Indoors (I came second 2nd), and the Junior Masters where I came 4th in 2021 and which I was very pleased to win in 2022! I want to attend more tournaments and keep trying for awards. I am always working on my technique and aim to keep getting better!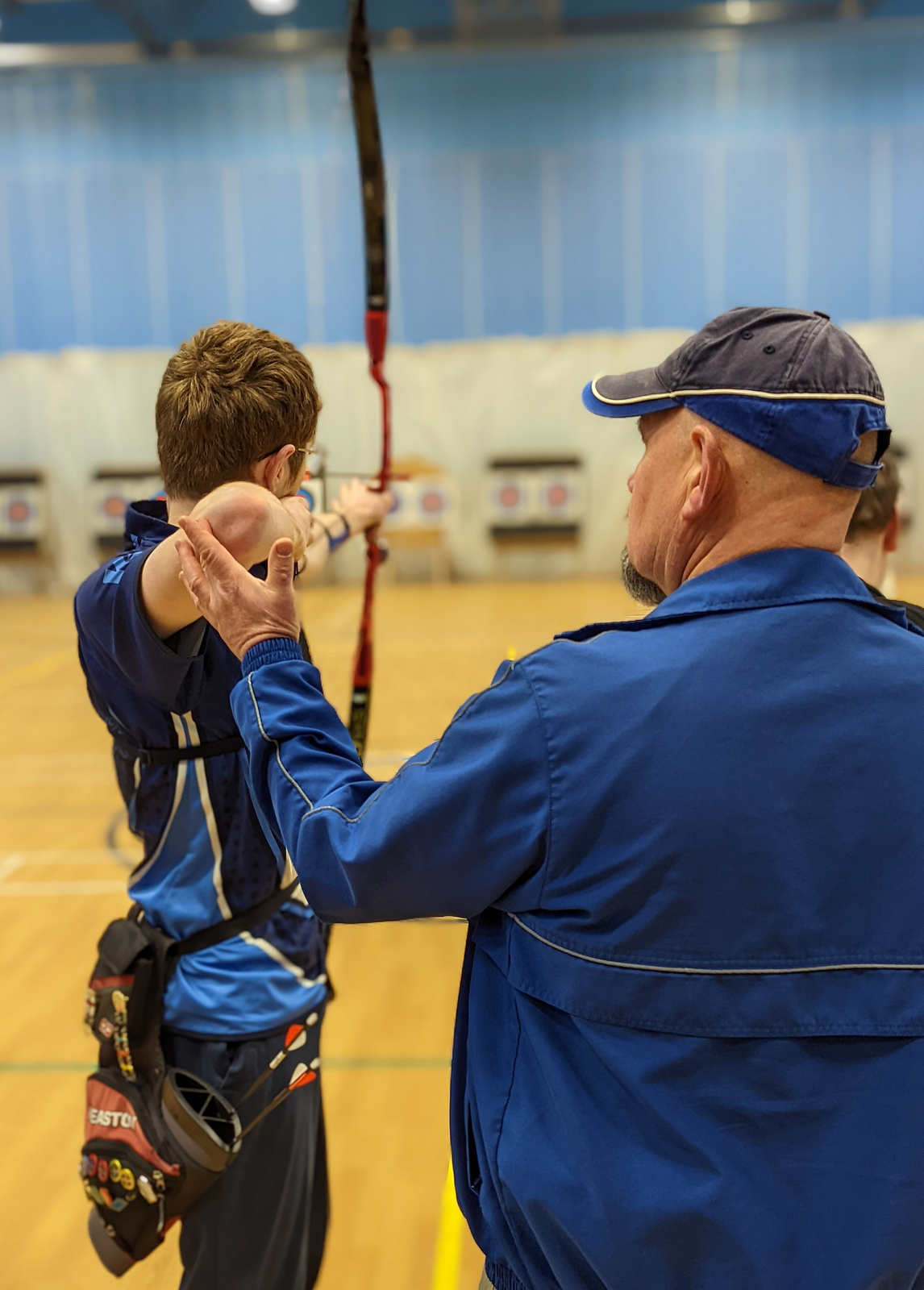 One of my best moments was achieving my Junior Master Bowman score. It was at the last shoot of the outdoor season so was my final opportunity to qualify that year. I was suffering from a major technique issue at the time, so I was really struggling to make the score. Luckily, I pulled it out of the bag when it mattered and cleanly broke the score. My major archery achievement last year was achieving 1st place in the UK Junior Masters, winning 3 head to head rounds, as this is my first National competition win. I was especially pleased as I was studying for my GCSEs last year so archery had to take a bit of a back seat, and I hadn't been to many competitions. I also felt very proud when my brother (who has learning difficulties and really struggles with archery) managed to achieve his own county record.
I am also very proud that I have been selected to attend the World Scout Jamboree in South Korea this summer as a representative of Cleveland Scouts. I am hoping to meet some South Korean archers on my trip, which will be amazing.
I often get frustrated by non-archers' lack of knowledge around the reality of archery, as most of their experience is limited to have-a-go sessions at five yards with incredibly low accuracy or from terrible films. I hope to use my position as an ambassador to increase awareness of what the competitive sport of archery really looks like.
One of the other main reasons that I like archery is just how amazing the community is. Everyone is just so welcoming and friendly towards everyone of all skill levels or commitment. There are always people to talk to, whether you are going to your first competition and want a friendly chat or you're an experienced veteran asking for more coaching. I want to share that with the world!
I really want to improve the visibility of archery in our area, so I plan to try and organise some have-a-go sessions with the Scouts and, hopefully, a local school as well. Last year I ran an archery session at a local special needs school, and one for my NCS program where we were fundraising for a Ukrainian charity, as well as helping at my club's Start Archery event.

Archery is a really engaging and interesting sport with lots of options for everyone. If people want to just go and shoot casually and have a good time, that's perfectly fine. Or, if they want a challenge, archery also offers one of the most brilliant competitive environments of any sport I've seen. There is definitely something for everyone and I want to show people that.
I attend a lot of competitions in the Northern region and I'm quite visible, so I'd like to use my position now to help represent juniors in the north as currently we have very little representation. I am very committed to and enthusiastic about archery so will be able to effectively spread my joy for the sport.
Find out more about the Ambassadors programme here.