What is the one thing everyone will remember from stage four of the Archery GB 2017 National Series at Kingston University, Surrey? The shoot-offs that decided two golds and one bronze medal.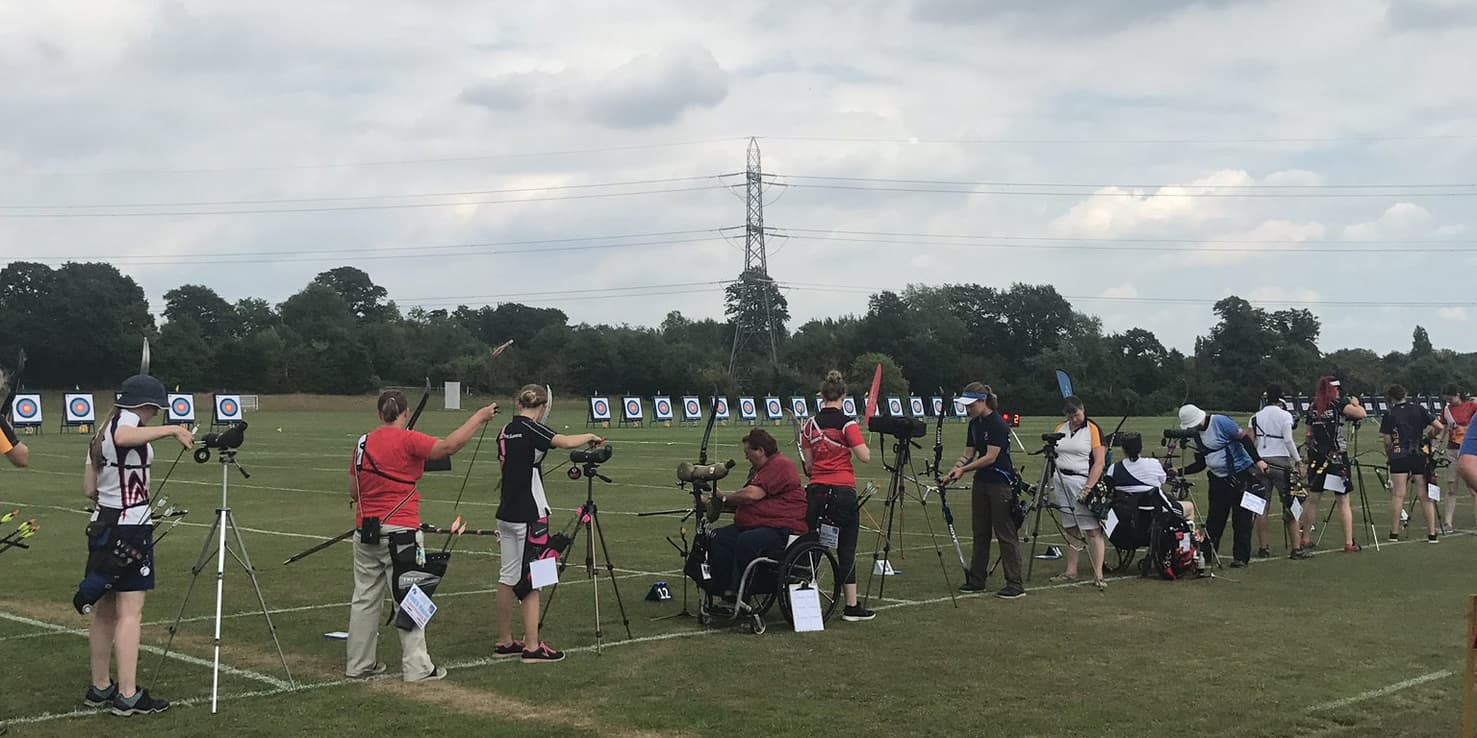 That, and the form that gave recurver Sarah Bettles her third stage victory.
The gold medal shoot-offs both came in the compound finals. Fourth seed Chris White went head to head with Adam Ravenscroft for the men's title. Chris had defeated Paul Pinder 145-136, Neil Gunstone 143-139, James Howell 143-142, stage three winner Daniel Tompkins 142-136 and top seed Duncan Busby 144-143 to reach the final. Adam, ranked second, overcame Samuel Giles 148-134, Lewis Haslam 148-134, Tapani Kalmaru 144-140, stage one winner Carl Richards 145-144 and Michael Kells 146-140 to earn his place.
Both archers were on top of their game and it showed as they tied on 146. That meant a shoot-off. Adam shot a nine - but Chris clinched the title with a 10. Michael beat Duncan 141-139 to take bronze.
There was just as much drama in the women's competition where top seed Hope Greenwood faced Nat Merry, ranked 15th, in the battle for gold. Hope swept past Jo Frith 138-124, Pauline Burfitt 142-131, Sarah Prieels 144-138 and Lucy O'Sullivan 145-142 to earn her finals spot while Nat defeated Vicci Flack 137-134, second seed Kirsty Robb 141-135, Rebecca Blewett 134-133 and Abbie Spinks in a shoot-off.
It was a taste of what was to come. Hope and Nat tied the final on 145 points each - and Hope clinched gold by shooting a nine to Nat's eight. Lucy took bronze with a 144-129 win over Abbie.
Recurver Sarah Bettles had been in fine form, winning stages two and three. And that form continued as the top seed saw off Lauren Bann 6-0, Eleonore Cossade 6-2, Susi Atkinson 7-3 and Emma Davis 6-0. That brought her face-to-face with Sally Gilder who had beaten Amy Bode 6-0, Kate Dunnighan 6-2, Sarah Smith 6-2 and Rebecca Martin 6-0 to earn her shot at gold. But it was Sarah that had the edge, winning the title 6-2. Rebecca beat Emma 6-0 to take the bronze medal.
And the final medal shoot-off - for bronze - came in the men's competition. But it was plain sailing for top seed and defending champion Patrick Huston who defeated Alex Newnes 6-0, Marc Charlesworth 7-3, Stuart Barby 6-0, Michael Judd 7-1 and Sonnie Emeney 6-0 to earn a showdown with 15th seed Guy Matzkin. He had seen off Alec Hodgkinson 6-0, Joe Fairburn 7-3, stage one winner David Timmins 6-0, Kieran Slater 7-3 and Keith Harding 6-4 but could not overcome Patrick and had to settle for silver.
The drama came when Sonnie and Keith went head to head for third place honours. It was neck and neck all the way and had to be settled by a single arrow. Sonnie shot a nine but Keith hit the 10 to claim the medal.
You can find all the results here:
Follow us on:
Instagram: archerygbofficial
Facebook: Archery GB
Twitter: @archerygb