British talent is shining bright at Nimes after the second day's shooting, which began bright and early. After a further two qualification sessions, shoot-offs began...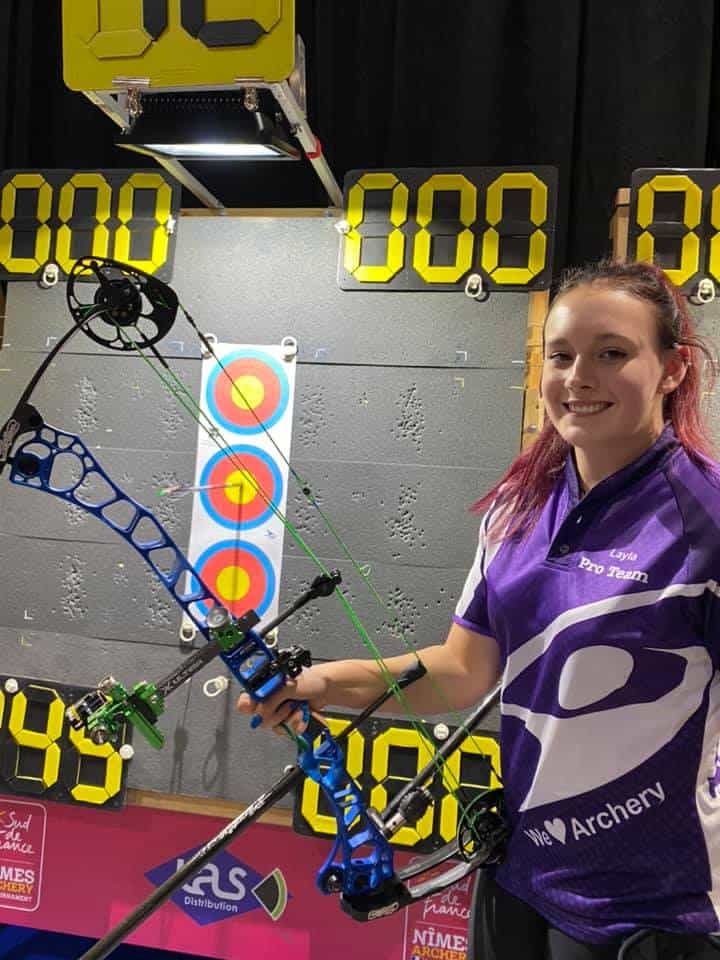 It was set to be a good day for Britain when Debbie Geddes won bronze in the Recurve Master Women category with a 526 score, and there was more to follow.
Other headline news was in the Compound Junior Women category, when Britain's Layla Annison was all smiles (pictured above) after leading with a 582 score, placing her in the gold medal match! Grace Chappell also ranks 5th  with a 567 score. Grace was shooting against France's Kristina Mosievskaia in the 1/8 phase, with an outcome of 144-138, and against the USA's Savannah Vanderwier in the 1/4 final which ended 144-146. In joint 7th position were GBR's Chloe A'Bear and Iulia Petre, both on 569. Chloe was up against Turkey's Begum Topkarci in the 1/8 phase and the score ended 143-142, and also against Estonia's Meeri-Marita Paas in the 1/4 final with a score of 139-145. Iulia took on Estonia's Hanna Liina Lippand in the 1/8 round with the scores at 143-141, and then met with Italy's Elisa Bazzichetto in the 1/4  which ended 139-144. Finally, Robyn Geddes was ranked 26th with a 549 score.
For Compound Junior Men, GBR is holding its own with great performances from Adam Carpenter in top position with a score of 588 and from Kai Thomas-Prause, ranked 4th on 582 points -guaranteeing a bronze medal for Britain! Louis Perkins took 9th position with a 579 score. He was up against Sweden's Marcus Arlefur-Wallstedt in the 1/16, with a 147-146 outcome, and Robin Jaatma in the 1/8 stage which ended in a 146 tie (9-10). Also in the 9th spot was Jake Walsh with 588 points. His opponents were France's Remy Albanese in the 1/16 round (147-146) and the USA's Austin Hall  in the 1/8 (146 tie - 9-10). Three British names held 17th position: Archie Crawford took 581 and in the 1/16 phase was competing against Slovenia's Tim Jevsnik with a 141-144 score; Ajay Scott earned 575 points and in the 1/16 phase found himself shooting against fellow Brit Adam Carpenter, ending with a 144-146 score; Matthew Wong was on 592 and in the 1/16 phase shot against Turkey's Ata Deniz Kumbasar with a 143-146 score. Ranked 33rd, GBR's Lewis Haslam took a score of 570 points, and finally for the Brit line up, in 59th place, Alex Parker finished on 553.
In the individual final rankings for Recurve Men, GBR's Tom Hall landed 9th place on 583 points, shared with Italy's Yuri Belli and Mauro Nespoli; France's  Emilien Cheneau, Thomas Chirault and Ferdinand Delille; Germany's Florian Kahllund and Felix Wieser. In the 1/16 stage, Tom Hall took on Spain's Daniel Castro with the outcome score of 7-1. Then in the 1/8 round Tom met Cedric Rieger of Germany with a result of 4-6.
Keith Harding was the only Briton to be placed 17th along with 15 other archers, with a 580 score. Keith's opponent in the 1/16 round was Italy's David Pasqualucci - the score ending 0-6. GBR's Joe Becker finished the afternoon in 91st place on 543 points, while fellow Brit, Scott Stanbury, was further down the table in 101st position on 539. Of the 167 competitors, British contenders Ru Barlow ranked 129th with 509 points and Daniel Sanchez Pombrol came in 163 with 370.
For Recurve Women, the top four spots were held by Koreans Jin Hye Chang (569), Chaeyun Kim (588), Yeji Sim (583) and Nayeon Wi (580). For Great Britain, Bryony Pitman gained 8th place with a 579 score shooting against USA's Crystal Gauvin in the 1/16 round, Casey Kaughold in the 1/18 round and Korea's Jin Hye Chang in 1/4 final. GBR's Rachel Moon was 17th on 553 shooting against Korea's Surin Kim; Emma Davis made 37th place with 548; Kate Dunnighan ranked 41st with 544; and Sophie Meering took 51st place on 526 points.
For Recurve Junior Men, GBR's James Woodgate was placed 9th with 571, after facing down Slovenia's Timej Jeras in the 1/16 and Spain's Yun Sanchez in the 1/8 matches. Further down the table, Dan Thompson took 94th position on 507 points. In the Recurve Junior Women category GBR's Lauren Rawlings finished in the 88th spot.
Compound Men was a popular category, with GBR's Simon Scott settling into 62nd place on 584 points. Meanwhile, John Stubbs ranked 107th on 574 points. Craig Thompson took 146th place on 563 points. For Compound Women, Britain's Ella Gibson ended 17th with a score of 587. She was up against Brazil's Jane Karla Gogel in the 1/16 phase, which ended in a close run 142-144 score. Also in 17th position, Sarah Moon was on 573 points after shooting against the USA's Paige Pearce with an outcome of 143-146. Bayley Sargeant was the third Briton to take the 17th spot with 576 points after shooting against France's Sophie Dodemont with a 142-148 score. GBR's Isabelle Carpenter shared the 33rd spot with Spain's Maria Gomez and France's Jocelyne Jouve, with all three on 573 points. Further down the table were GBR's Phoebe Pine in 62nd place with 562 points, Amy Bode in 63rd with 561, and Maria Collins in 87th place with 249 points.
Check back here for shoot-off results on Sunday evening.