GBR has secured not one medal match, but three medal matches at the European Championships!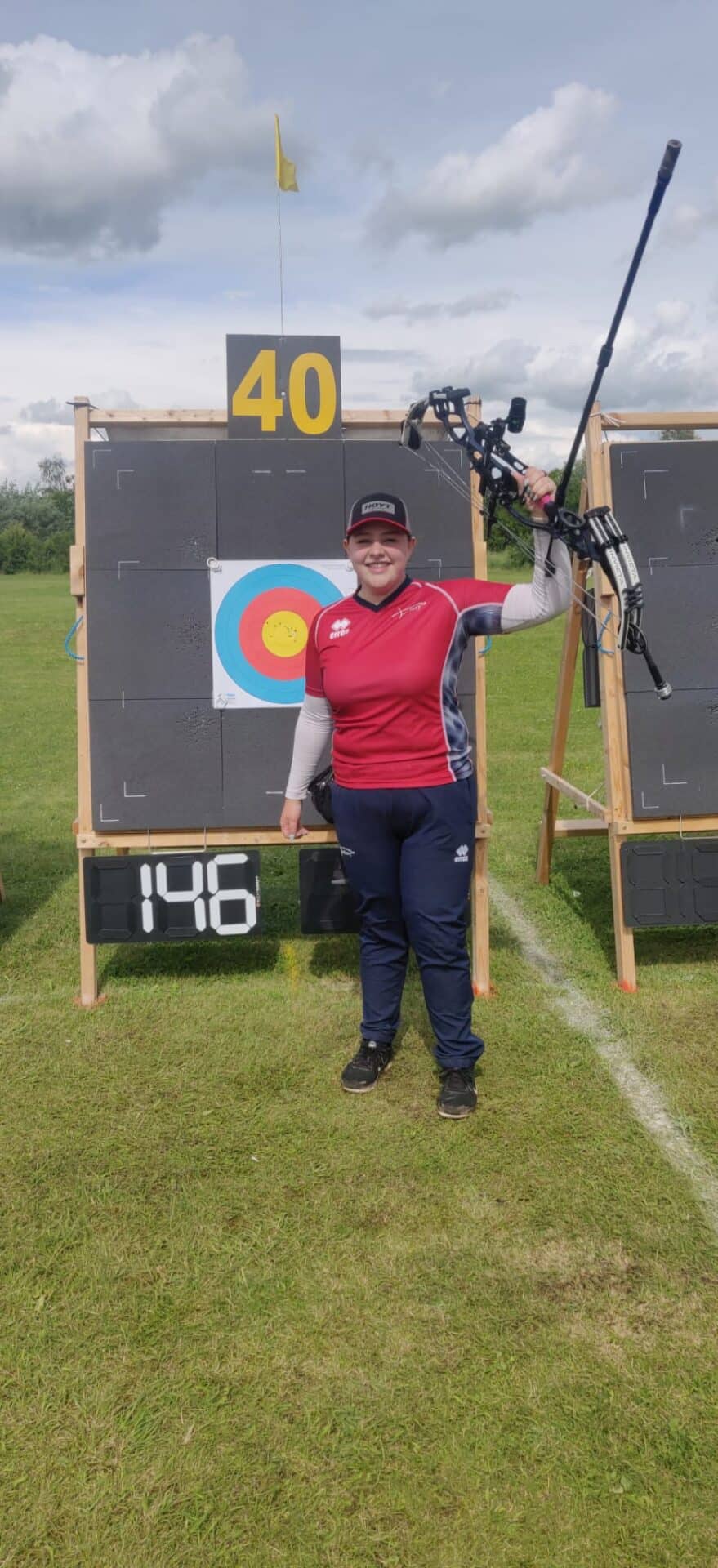 Medal match after medal match today for GBR!
This morning was the team rounds, with European titles to fight for and European Games quota spots to be won on the recurve side. With a lot of rain and mud, GBR came away with three medal matches for the weekend and two shots at the European title.
Izzy Carpenter - gold individual compound women medal match
Izzy Carpenter secured herself a shot at the European Champion title on Saturday. Match after match came and Izzy won again and again. Now she will be shooting for gold at the European Championships on Saturday in Munich.
We caught up with Izzy after her semi-final match:
"Knowing I was shooting for team gold was already amazing, but to be going for a second gold is unbelievable. I can't wait to get out there and shoot and give it everything. I knew that my first match against Lisell was going to be hard. Given how well she has been shooting this year, and so I tried to focus solely on my shots and making tens.
"I kept these thoughts going throughout my matches, and after I won against Sarah, it finally hit me that I could do it. I just needed to keep that momentum going and try not to overthink it too much. I'm shocked in the best possible way. Before now, my best result individually was at Antalya this year where I finished 9th. So to come here, and to not only make top four, but the gold medal match too. I can't express how happy I am. I'm still waiting for it to set in that this is really happening!"
Compound Women - gold medal match
The Compound women will be shooting for gold and the European Championship title in the team division. This is the first time this specific team, Ella Gibson, Jessica Stretton and Izzy Carpenter, have shot together as a team.
We managed to catch them ahead of their individual matches this afternoon.
Jess told us, "It's been really fun shooting with Izzy and Ella. It's a new experience and I always enjoy shooting with new people because it's just a different challenge. Find out quirks about each other and it's just really fun in general. I think that showed when we shot our matches together today.
"We all had fun and it was just a really enjoyable experience. I am excited and really nervous at the same time to shoot in the finals. I haven't done very many able-bodied competitions. It's always been able-bodied and para separate, so to be able to sit up there with Izzy and Ella is amazing. I am very nervous and excited but I think it's going to be great!"
Izzy told us, "Getting to shoot alongside Jess and Ella was such a great experience. We have never shot together as a team before, it's always the element of not knowing what to expect. But we did our preparations before the event and I felt really confident going into it. So I think that really helped us when it came to our matches today.
"We shot so well and we gelled perfectly as a team, which I think really contributed to our format and scoring and it flowed really well. We all really enjoyed the experience. In terms of getting to shoot for the championship on Saturday, this is my first ever European Championship. So to know I am coming home with a medal one way or another, feels amazing. It's really nice to see all the hard work paying off and showing on an international scale."
Ella told us, "It was really amazing for our first time as a team to shoot as well as we did and be able to win. Not just win, but to win on some really reasonable scores. I think we worked really well together as a team and it really showed in our performance today. It feels great to go for the European title on Saturday. I didn't get a chance to do that last time as I was here on my own. It's amazing to have my team back here at this event again. And for us to come out and go for that gold, I can't wait for it!"
Recurve Men - bronze medal match
The recurve men, made up of Tom Hall, Patrick Huston and Alex Wise shot their way from 10th ranked to shooting for bronze on Sunday. Having to win a shoot-off against host nation Germany to secure the top four spot, they did just that. Not only placing themselves in the medal matches but also securing a full Recurve Men's quota for the 2023 European Games.
We caught up with the men after their semi-final match.
You had to fight hard in the matches, what were the turning points?
Tom Hall told us, "It was a really tough bracket, but I think the turning point was actually the end just before we started. The last practice end was a bit big and we were all over the place. Then we switched it on and at the first end we hammered in a 57. And we just didn't look back from there. I think at that point we believed we could beat everyone and we just held onto it."
What was your favourite part of those matches?
Alex Wise told us, "I definitely think the shoot-off against Germany. We had to win the shoot off to win the European Games spaces. As much as it was really nice to know that we were then into a medal match, it was even nicer to know that next year we have a full men's team place going into the European Games in Poland. So that was really good."
You've qualified spots for the European Games, how does that feel?
Patrick Huston told us, "The European Games is like the Olympics for Europe. It feels fantastic that we have qualified for another run at that level of tournament. The thing I am looking forward to the most is the fact that I have been to two Olympic Games and one European Games, I am running low on suitcases. I will be fully replenished with that next year representing the British Olympic Association."
You've been in this team before, how does it feel to be back together?
Patrick Huston told us, "It's great shooting with my buddies. We've been together quite a long time, we know how we all work. We've got a good and positive dynamic. There's a good flow, good communication and some strong friendships that we have developed over a long time together."
Coaches' comments
Naomi Folkard told us, "The men's team fought through their matches with energy and determination to the bronze medal match, having secured their team quota for the European Games. They should be proud of how they supported each other and performed throughout.
"Unfortunately the women did not quite make it to winning the team quota. Despite some brave shooting in tough conditions. They have won an individual quota for the European Games and will have the opportunity of competing for one of two team quotas at the European Grand Prix at Lilleshall next year. So we will have a home advantage.
"With the spaces that we currently have, we will be able to compete for the mixed team Olympic quota place available which will be won by the gold medalists in Poland. So it is a very positive position to be in."
Results
Full results can be found here.