Archers from the Olympic and Paralympic national squads visited The Bear Grylls Adventure today (9 October) at the NEC Birmingham in celebration of Archery GB's new partnership with the indoor and outdoor activity centre.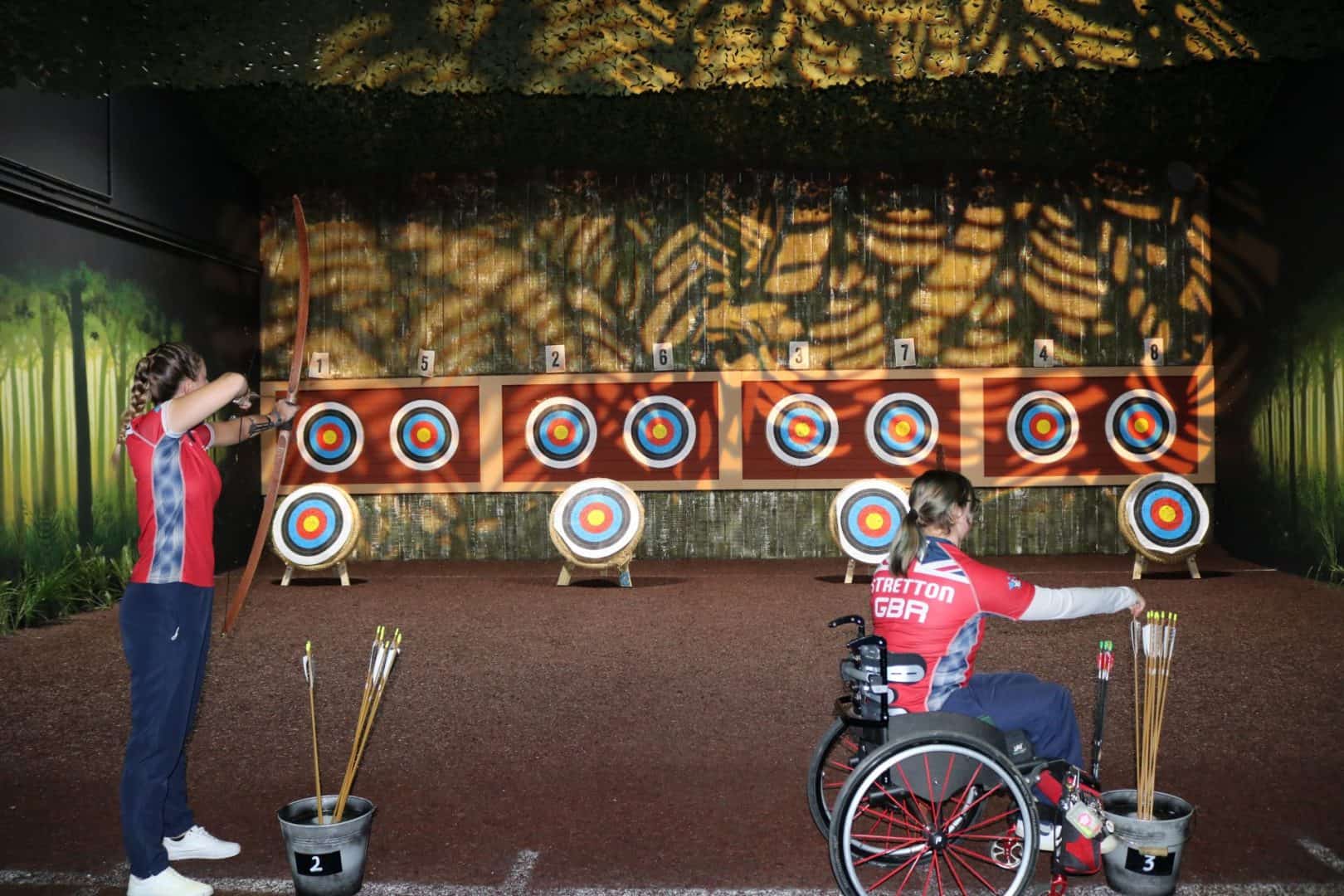 A thrill-seeker's paradise, The Bear Grylls Adventure at the NEC Birmingham, offers a host of exciting pursuits, from indoor skydiving and high ropes to shark diving and an assault course. Somewhere in between lies the archery range, where, we like to think the biggest thrills are!
The Bear Grylls Adventure celebrates two years of bringing epic experiences to the public on the 16 October, and will be giving back to its loyal adventurers who visit on the date. All guests who visit on the attraction's anniversary, 16 October, will be given a birthday gift of a complimentary archery session, just in time for October half term's 'No Tricks, Just Treats' archery promotion, in partnership with Archery GB.
Don't miss the 'No Tricks, Just Treats' Halloween promotion: 24 October to 1 November
For a second bite of the cherry, The Bear Grylls Adventure visitors can head to the centre's archery range and set their sights on some fantastic victory prizes during the October half term holiday - 24 October to 1 November. Visitors will load their bow, take aim and fire, but where their arrow lands will determine the treat rewarded. With archery tickets at up to 50% off online until 1 November 2020, adventurers will not only get to try something awesome, but also take home a piece of their experience. Gifts for sharp shooters range from souvenir badges to the ultimate treat of an exclusive coaching session with athletes from our national Olympic and Paralympic squads.
[caption id="attachment_23739" align="alignnone" width="300"] Left to right: Olympic archer Bryony Pitman and Paralympic archer Jess Stretton[/caption]
Visitors will be able to compare their results to our Archery GB athletes who all gave it their best shot at the centre today (pictured above), as well as their own teammates, and prepare to race to the top of the leader board. Olympic squad archer Tom Hall set the standard today by scoring 259, so that's the one to beat! Don't forget, the top scoring archers who visit between 24 October and 1 November will get the chance to land the exclusive training session with Archery GB's expert team.
The perfect way to experience archery for the first time, The Bear Grylls Adventure's expert instructors will guide archery newbies through their briefing and onto the archery range, where they can test their aim and try their hand at landing a treat as part of The Bear Grylls Adventure's 'No Tricks, Just Treats' promotion.
Just a few minutes' walk from Birmingham International Train Station, The Bear Grylls Adventure boasts an array of activities to challenge adventurers of all ages, abilities and experience levels, and is open for thrill-seeking guests to try something new this October half term. The attraction has reopened with new social distancing measures and additional health and safety procedures to ensure the wellbeing of all guests and staff. More information can be found at beargryllsadventure.com
The Bear Grylls Adventure's 'No Tricks, Just Treats' promotion offers 50% off archery tickets purchased online for visits between 24 October and 1 November. Head to www.beargryllsadventure.com to secure your next adventure.