During the lockdown-enforced closure of Lilleshall National Sports & Conferencing Centre, our GB athletes had to find safe ways to train from home, so were thrilled when unexpected opportunities arose to shoot outdoors once again.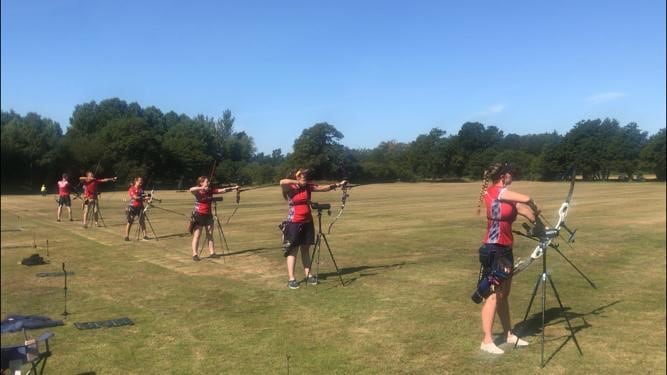 The gradual reopening of some archery clubs as lockdown measures have eased, has allowed our athletes to begin to ramp up their training and shooting as they reset their preparations for the Olympic and Paralympic Games in Tokyo 2021.
The Olympic squad has been particularly well supported by Woking Archery Club in Surrey and Bowbrook Archers in Shropshire, with both clubs allowing Olympic archers to use their sites (keeping all necessary social distancing and cleanliness practices) in conjunction with Archery GB's National Coach Richard Priestman. These have been invaluable opportunities for Richard to observe the athletes' technique and bow-fitness and has helped rekindle team spirit and motivation in these challenging times.
At Bowbrook, Richard has been able to work with Patrick Huston and Eleanor Piper on a regular basis, while at Woking Archery Club, archers Bryony Pitman, Sarah Bettles, Yulia Larkin and Louisa Piper, along with James Woodgate and Tom Barber, were even able to take advantage of a virtual team competition with the Turkish team, which gave them and Richard great insight as to where the archers are with their shooting, and their physical and mental standards.
Sarah Bettles, (women's recurve), said: Â"The two Woking Archery Club days have been very useful. It's been really nice to shoot again with other high performance athletes. The matches against the Turkish team worked well and were great fun. It was a nice setting to start building the pressure."
Both Richard and Sarah commented on the excellent facilities at the club and appreciated six targets being made available, with ample space between them for social distancing, and with no disruption to club members shooting at the other end of the field.
The GB Olympic archery squad is very grateful to Bowbrook and Woking club committees and members for making them feel so welcome and assisting the GB team on their Olympic journey.