Oxford Archers has taken its third ontarget Club Competition title in a row, beating Six Town Company of Archers in a thrilling final.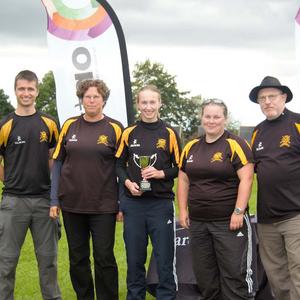 Four teams - Oxford, Redhill Archers, Bowmen of Walker and Six Towns - were at Lilleshall for the final stages of the competition, where teams of two compounders and two recurve archers go head-to-head. They shoot three rounds of two-dozen arrows with archers scoring points in a team round, a pairs round and an individual round.
Oxford's David Timmins, Antje Frotscher, Nat Merry and Brian Perry beat Redhill 12-9 to reach the final and Six Towns beat Bowmen of Walker 13-8 in the second semi. Recurver Amaryllis Barton replaced Antje Frotscher in the final.
Arran Coggan, Development Manager (Participation), said: "I would like to the archers, clubs and the judges involved in this years' finals, and also all the clubs involved throughout the year.
"As the person in charge of delivering this competition, it is great to see that clubs are keen to take part and to see the number of clubs involved increase year on year. I hope more get involved next year."
Sixty-two clubs took part in the competition, an increase of 37 per cent on 2015.
A junior version was also piloted, with Redhill taking on Six Towns. The format was the same, except the archers shot 30 rather than 50 metres. Six Towns took the honours.
For more information on the ontarget Club Competition click here.
Archery GB is sponsored by Foresters Friendly Society www.forestersfriendlysociety.co.uk
Follow us on:
Instagram: archerygbofficial
Facebook: Archery GB
Twitter: @archerygb