As part of our series of stories for Volunteers' Week, Paralympic archer Hazel Chaisty tells us why volunteers are vital in helping the elite squad achieve their goals.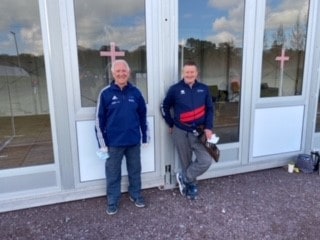 ¬"It takes a certain kind of person to be a volunteer. I mean, these days, who has time and physical energy to give to complete strangers on a regular basis, sometimes at the drop of a hat?
¬"Disabled archers rely heavily on people to set up a field, pin target faces up, help with getting equipment out of our cars and pull out the hundreds of arrows we shoot each day and bring them back to be shot again. It's not an overstatement to say that without our dedicated volunteers, we just couldn't do archery.
¬"At Goldcrest, my archery club, there is a core team of archers that not only get up that bit earlier to help with setting out the archery field, but during these strange Covid times, have even gone all out with the PPE and helped me to retrieve my arrows so that I can continue to practise in a safe environment.
[caption id="attachment_27207" align="alignnone" width="300"] Archery volunteers Mike Bunce (left) and Jeff Marshall provide much-needed help for the Para squad[/caption]
¬"It's the same here at Archery GB headquarters. Week in and week out, through all kinds of weather conditions, we have people like Mick Bunce (above left), a retired design engineer, and Jeff Marshall (right), a retired mental health nurse in the army, who among many others, give up their free time to keep the GB para archery team moving and working hard.
¬"Over the years, these guys and the rest of the volunteer team have become good friends to us all. Without them, we couldn't be us!¬Ē
United through volunteering
Inspired? Check out our volunteering page here for more information about finding a role that's right for you.
And if you already volunteer in the sport, please spread the word to friends and family and encourage others to join us in rebuilding archery.
Archery GB volunteer awards 2021
Don't forget to nominate a Volunteer of the Year and Young Volunteer of the Year in Archery GB's Awards 2021 - nominations are open until 31 July. Find out more on our dedicated awards page here.
Volunteering survey
Are you an archery volunteer? Please complete our survey, below, which will be used to showcase the roles filled by our different volunteers, highlighting how they got into volunteering and why they enjoy it. This will give us a better understanding of our volunteering community. Why do you volunteer? survey (surveymonkey.co.uk)
Volunteer at archery's Big Week and Big Weekend
This summer, Archery GB will once again be leading the Big Weekend event (9 - 11 July), which this year will be preceded by The Big Week (5 - 9 July), encouraging even more people to have a go at the inclusive sport. Why not get involved in volunteering by organising a Big Week or Big Weekend activity at your club to encourage other people to try archery? More information is available here.
Main photo: imagecomms