The team, mixed team and individual finals have taken place in Czech Republic for the 2022 Para Archery European Cup leg 1, naming this event's champions.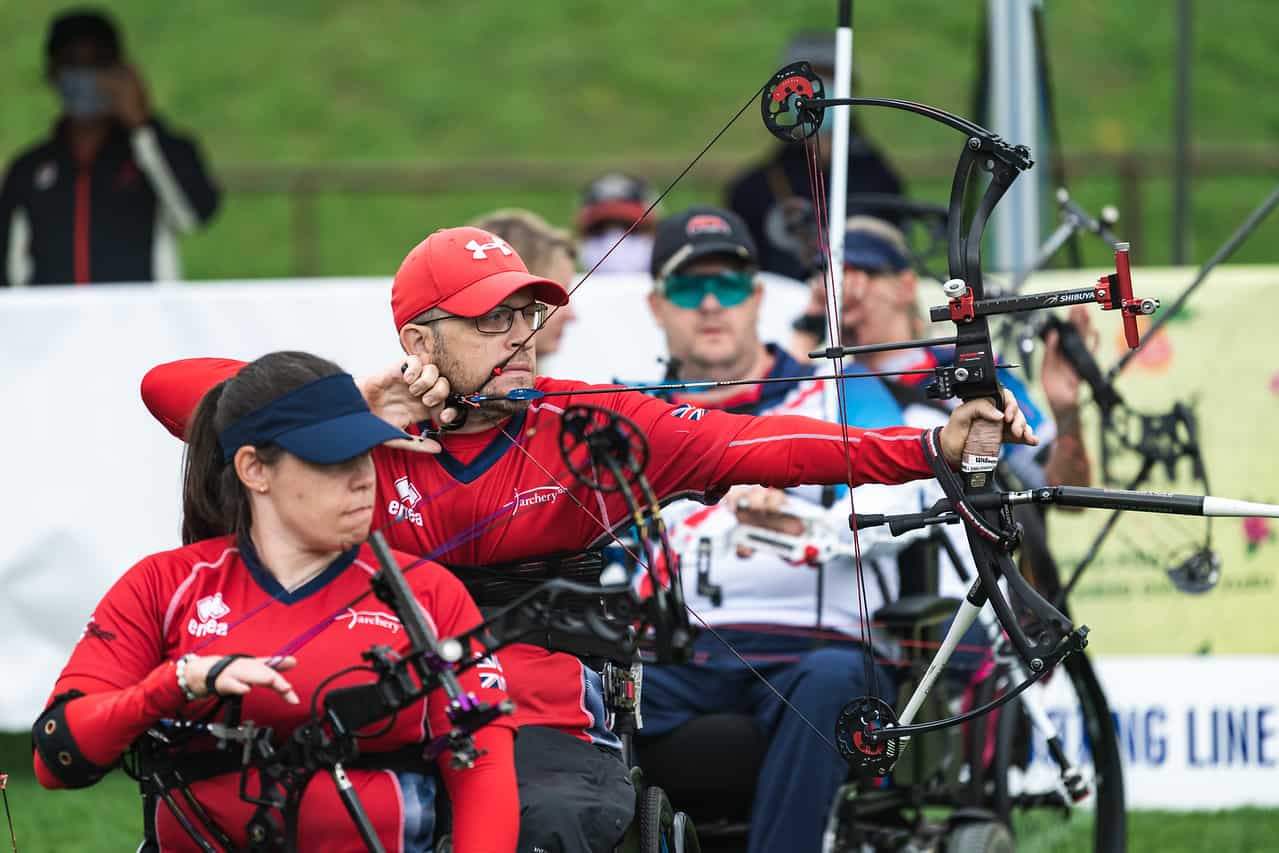 Recurve Open Teams
Hazel Taylor and David Phillips shot their gold medal final for the recurve open mixed team this morning. Their opponents, the team from Italy, opened the match strong to take the first two ends. GB shot a good 35 in the third end to the take the set points to 4-2 in Italy's favour. Unfortunately, a 31 from GB in the last end was not enough to stay in the game, as the Italians took the match to 6-2 with a 36. Hazel and David will return home with the silver medal.
For the recurve men's open team bronze final, David Phillips and Cameron Radigan faced Thailand. GB got to a flying start, taking the first four set points after two ends. Thailand came back and managed to equal GB with 34 points apiece. However, a tie was all that was needed for GB to take the match 5-1 for the win. David and Cameron will bring home the bronze medal.
Â"It's more exciting that the whole team is coming home with at least one medal each. I'm truly honoured to be a part of something so special," David said.
W1 Open Teams
The W1 open mixed team gold was up next with GB archers Victoria Kingstone and Martin Saych facing the team from Czech Republic. The first end was tied on 33 point each, and then the Czech team over took by two points in the second end, 66-64. 34 and 32 points in the last two ends was sadly not enough for GB to take the win from Czech Republic. Victoria and Martin finished the match on 130-137 to come away with the silver.
Â"It feels wonderful to have won my first ever medal with Martin. The fact that everyone medalled today is testament to the hard work that the staff team and athletes have put in since the World Championship. Tomorrow will be another day to challenge myself and learn something new about my archery, and if I have fun, all the better!" Victoria said.
Compound Open Teams
The first compound final match Great Britain proved to be a real nail-biter. Phoebe Paterson Pine and Jamie Harris competed against Italy for the bronze for the compound open mixed team. Both teams shot a 37 in end one as well as in end two, drawing on 74 apiece. Italy stayed consistent shooting yet another 37, however GB put down a 38 to take a one point advantage. Coming back strong, Italy shot a 39 end to finish the match. Unfortunately for them, GB matched their score arrow for arrow to also shoot a 39. Great Britain took the bronze compound open mixed team medal with 151-150.
Â"This is my first time ever winning three medals across the three events that are available, so it's pretty surreal to me right now, but I've worked hard for this and I'm glad that all that hard work is paying off. In the past I've been fearful of success and getting myself out there but I don't have that fear anymore, I know who I am now on the competitive field and I've gone and really made a name for myself," Phoebe said.
Phoebe was up on the finals field again, this time for the compound women's open team gold final alongside Jessica Stretton. For the first two ends of the match, GB were one point ahead of Poland on 71 points to their opponents' 70. In the third end, GB extended their lead further to a four point advantage with 110 to Poland's 106. Poland shot a 32 in the final end to GB's perfect 40, meaning that GB took their first gold of the tournament, finishing the match 150-138.
Â"Five team matches and five team medals. There was a real positive energy running through the team today and it showed in all the performances. The team is now getting behind the four athletes shooting for individual medals tomorrow and we are looking forward to more time on the finals field," coach, Andrea Gales, said.
Recurve Open Individuals
The first match of the individuals day saw Hazel Taylor face Milena Olszewska from Poland in the recurve women's open bronze final. Hazel opened strong to take the first end set points with a 28. In end two, Hazel narrowly missed out on the points, shooting a 25 to her opponent's 26. The Polish archer then took the last two ends to win the match 6-2.
W1 Open Individuals
In the bronze final for the W1 open women, Victoria Kingstone shot against Czech Republic's Sarka Musilova. Victoria opened with a strong 29 to her opponent's 21, and from this point on her lead only grew. In the end, Victoria won with 133-63.
For the W1 men's open bronze final, Martin Saych shot against Thailand's Samutchaiyakij. The Thailand archer took an early lead, shooting a 25 to Martin's 20 in the first end. In the fourth end, Martin came back with a 27 followed by a 26, but it wasn't enough to beat his opponent who won 128-121.
Â"Winning my first individual medal is a huge confidence boost going into the Europeans, and I've learnt so much about how I compete, which is a win in itself. We know the venue here so well that it takes away some of the uncertainty of competing, and the coaches and practitioners go out of their way to ensure we can be our best selves when it counts," Victoria told us.
Compound Open Individuals
The last finals match for Great Britain saw Phoebe Paterson Pine shoot for the compound open women's gold against Jane Karla Gogel from Brazil. The two women drew the first end with 28 each, and then in end two, Phoebe took a one point advantage on 58-57. The lead grew with each arrow shot, and Phoebe finished the match on a 145 to her opponent's 139 to take the gold medal.
"I'm really proud to have been able to win individually. This is something I've been wanting to work on for a while now, and I'm glad it's finally happening. I've worked really hard on my individual game, and it's finally beginning to show!" Phoebe added.