Archery GB regretfully announce the retirement of five-time Paralympian, John Cavanagh.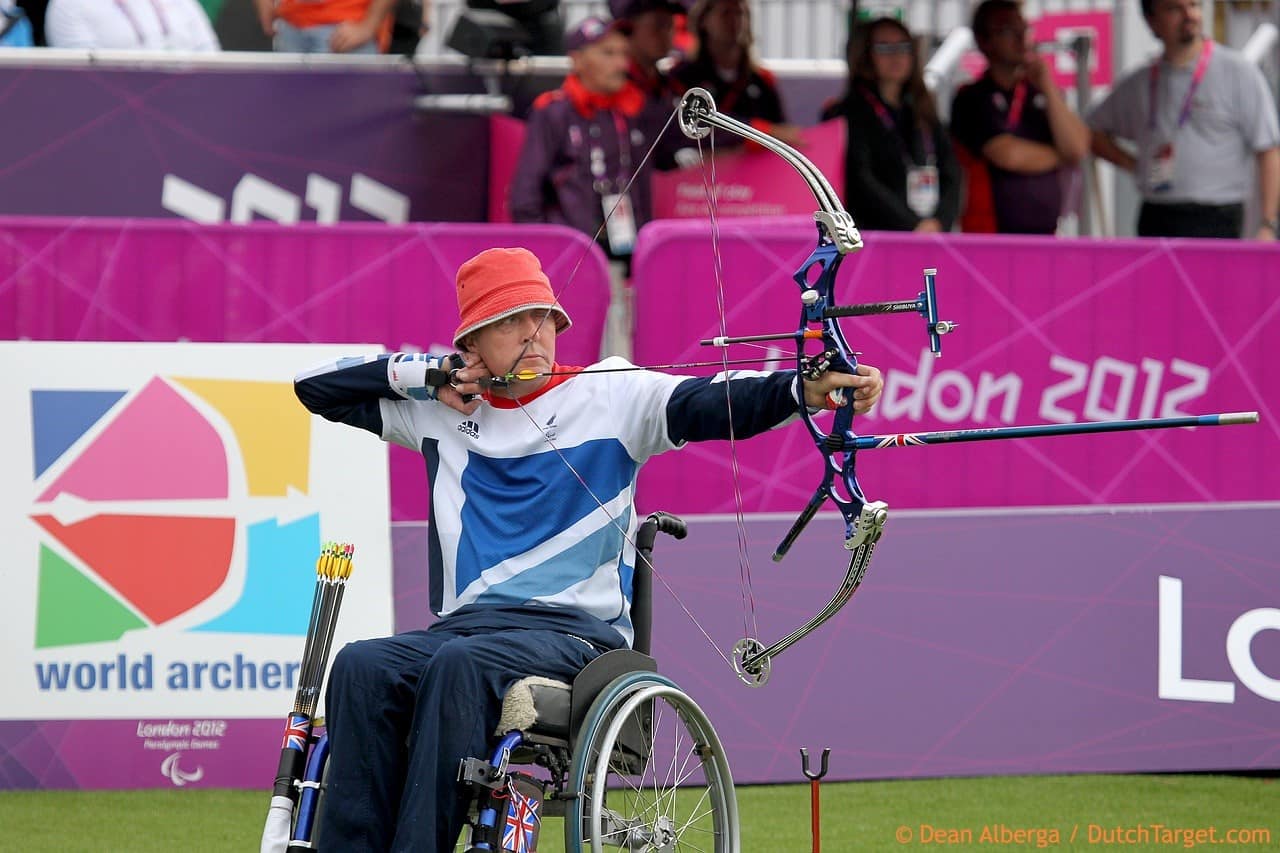 One of Britain's sporting heroes, with a gold medal win at the 2004 Paralympic Games in Athens, John Cavanagh has enjoyed an enviable career that has taken him around the globe. Sadly, an ongoing shoulder injury has led to his early retirement from the sport.
John's introduction to archery followed a skiing accident in the late 80s, when he was undergoing rehabilitation for his injuries at the Stoke Mandeville Spinal Injuries Unit in Buckinghamshire. A gradual improvement to his health meant that he was able to shoot at a local club, and soon after he began competing at outdoor events. By 1995, John's natural talent and competitive streak had taken him from casual shooter to the European Championships in France as part of the British para archery team. He attributes the journey in between to the sport's initial unpressured nature that allowed him to progress at his own pace.
[caption id="attachment_23435" align="alignnone" width="300"] London 2012 Paralympic Games. Photo by Dean Alberga[/caption]
Reflecting on his 31-year archery career, John said: ¬"Retiring from the competitive aspect of archery at the end of this summer has actually been my intention for a couple of years. The plan was to try and compete at the Tokyo Paralympic Games and then finish regardless of whether or not I made the team. With the Games now postponed for a year there was an option to continue into 2021 but the steady worsening of my long-term injuries means that this is not possible - and to attempt to do so would only exacerbate the problems.
¬"The sport has gone through so many changes over the three decades of my participation - certainly at the elite level it is the support provided by UK Sport since 2001 that has had the most influence. The way the squads and training are run and supported has been vastly improved. The most interesting period for me, though, was during many years as an athlete rep. During this period the governance of para archery transitioned from the International Paralympic Committee to World Archery, such that now it is a fully-integrated division of archery worldwide. However, it will still be some time before all countries understand the importance of equal recognition for their para archers.
¬"What I will miss the most are all the various archers, judges, and volunteers from the worldwide archery family that I have regularly met at so many international tournaments. Some have been around for just as long as I have! What I definitely won't miss are those pre-5am starts before spending all day on a windy, wet, cold and muddy archery field!¬Ē
[caption id="attachment_23434" align="alignnone" width="300"] London 2012 Paralympic Games. Photo: Dean Alberga/DutchTarget.com[/caption]
Tom Duggan, Paralympic Performance Manager, said: ¬"John has been a fixture of the para archery landscape for a long time, whether as part of the BWAA, the domestic competition scene and of course as part of the GB team at numerous European, World Championships and five Paralympic Games. John's knowledge, experience and passion for the sport, not to mention his achievements within it, are outstanding. None of us would be here, doing what we are privileged to do as staff and athletes, without the hard work and achievements of people such as John, so we owe him a big debt of gratitude.¬Ē
Highlights of John Cavanagh's archery career:
Paralympic Games
Five-time Paralympian
2004                Athens                                     Individual Gold
2008                Beijing                                     Individual Silver
 
World Championships
(A total of 12 World and 8 European Championships)
2001                Nymburk                                 Individual Silver
2017                Beijing                                     Mixed Team Gold
 
European Championships
2014                Nottwill                                    Individual Silver
2018                Pilsen                                      Mixed Team Silver