Parents of sporty children can sometimes be overlooked in the vital role they play. From keeping their child kitted out and motivated, driving them to the range and cheerleading from the sidelines, parents are the unsung heroes. Parents in Sport Week reminds us of the many hats that parents wear, and the most important one of all: keeping children safe.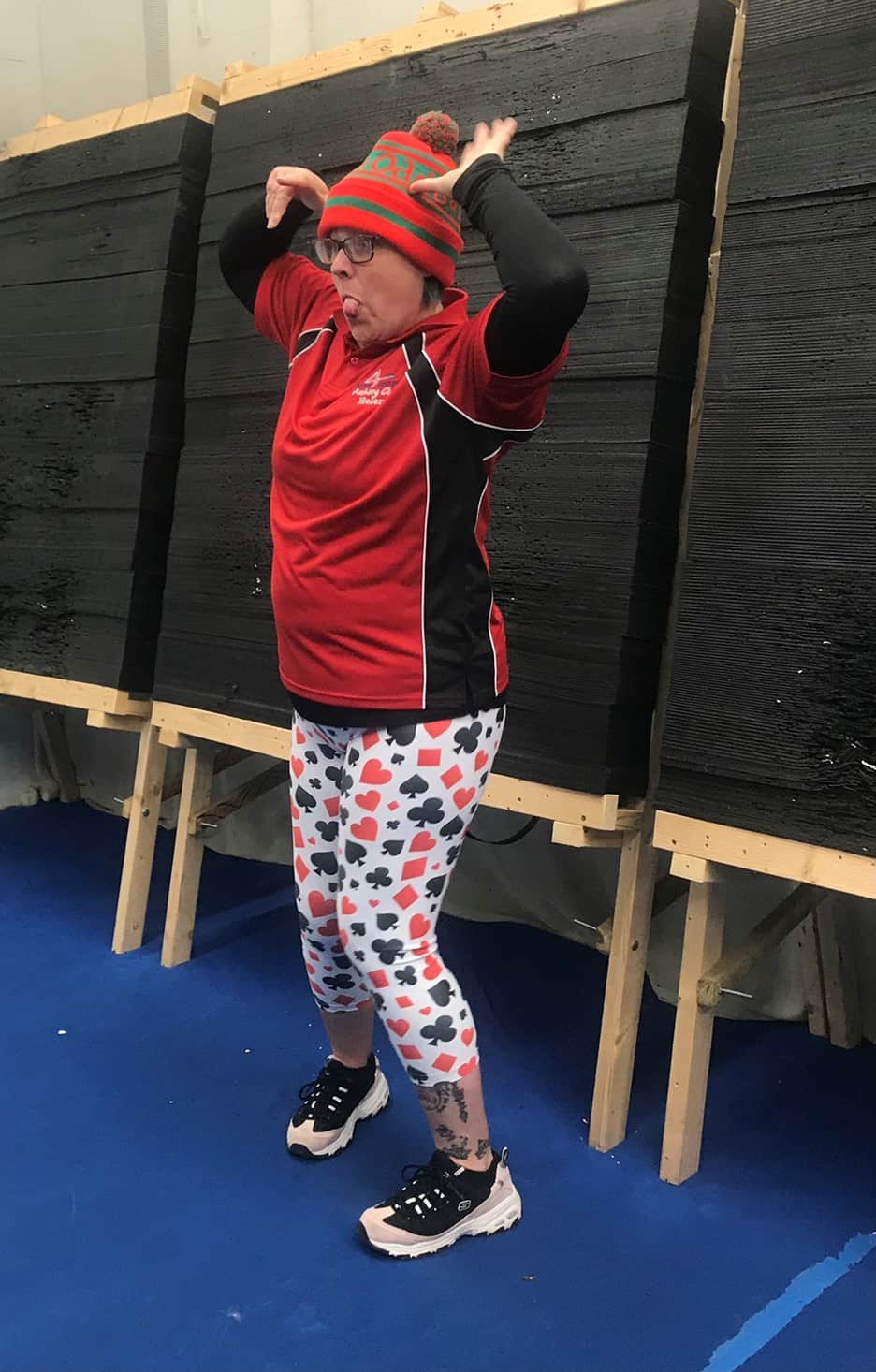 As this week marks the Child Protection in Sport Unit's Parents in Sport Week with a focus on safeguarding, we asked AGB Club Ambassador and club Safeguarding Officer Helen Sharpe to tell us about her role on the range.
Safeguarding symbol
I am often asked about my collection of crazy leggings! I have many and it's not often I am found on an archery range without them. Quite simply, what might seem crazy to many are seen by a variety of people, important people, as representing a safe adult.
My family all shoot, so we are scattered along the shooting line at competitions. My daughter was a small eight-year-old, shy and reluctant to talk to strangers. So to help her find me in a crowd or for judges and tournament organisers to find her adult, we started wearing co-ordinating leggings. This grew, when in 2019 I was asked to step in for the county captain at a junior competition. I was approached by a parent who asked me what I was wearing - walking trousers? But all the juniors in the county know the lady in the crazy leggings is the Safeguarding Officer at Wellingborough Open Archery Club and for East Midlands Archery Society. They know if there's an issue she's there for them.
I had a conversation with several coaches who have expressed similar views about my attire. I am surprised that my leggings have been so useful to the juniors in pointing them to a safe adult. I wanted a way for my daughter to find me, and apparently it's benefited many other children.
[caption id="attachment_29118" align="alignnone" width="225"] Helen's distinctive look on the archery range helps children locate their Safeguarding Officer[/caption]
I have had to deal with a variety of safeguarding issues in the club and a couple in my regional role. It is a topic that is immensely important to me. In archery, my day job and in my personal life, safeguarding has helped me protect children and adults.
I try and keep my learning current and spend time doing courses to help me understand an ever-changing world which brings new issues with it. But my biggest frustrations are the occasions when an issue comes to light and I learn that people knew about it sooner, but didn't raise it, thinking someone else would.
[caption id="attachment_29119" align="alignnone" width="192"] Another of Helen's many pairs of eye-catching leggings[/caption]
Sure, I, and many others in our sport, have chosen to take on the role of Safeguarding Officer but it is actually the responsibility of all of us to take a role in reporting concerns, however small they may be. I would rather have an issue raised and turn out to be nothing than we miss something bigger.
As a parent I believe that our sport is amazingly caring. We get to know each other and we understand that we are all there for the same purpose to reach the same goals, to allow people to shoot in a safe environment and be happy. It's why our sport has so many families who are happy to allow their children to be out of sight but on a boss with their peers, and know that we are all taking care of each other.
More information
Click here to find out more about how you can get involved in Parents in Sport Week 2021.
To help you understand how you can keep your child safe take this free e-learning course for parents, it only takes 10 minutes to complete but could make a huge difference.
If you're short on time, there's also an animation for parents about safety in sport which you can watch here.
You can find more resources and support at the Child Protection in Sport Unit Parents Hub.
Support from Archery GB  
Please see our recent news story: 'Changes to Safeguarding Training for Coaches'
Read another report about what it's like to be a Safeguarding Officer.