Sport England is building a new performance archery facility to bring together indoor and outdoor ranges on one site at Lilleshall National Sports Centre.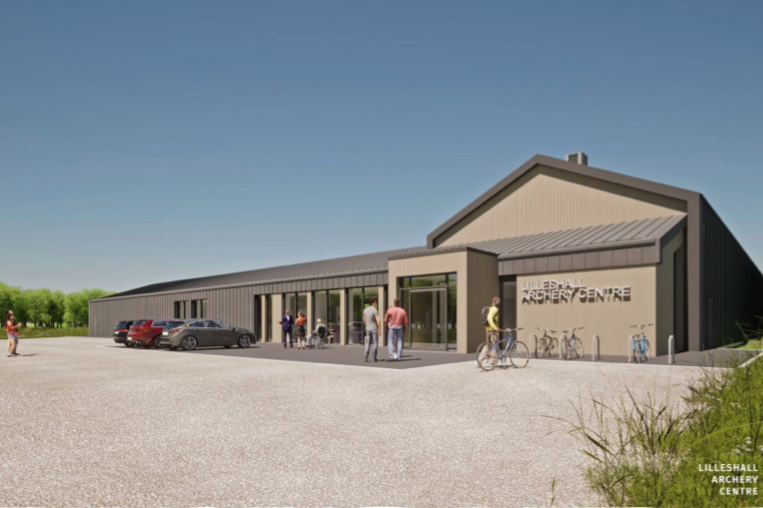 It will be used by Olympic and Paralympic athletes on a daily basis as well as Pathway athletes and the National Compound Squad.
Funding for the project is coming from Sport England with support from UK Sport.
Although Archery GB also has its headquarters at Lilleshall, no membership money is being used in the project and there are plans for the new centre to be used to benefit the sport wider in areas like training camps and education and development opportunities.
The facility will feature office and social space, a 70m indoor shooting range, a 70m x 40m outdoor shooting range, changing rooms, and other work space.
The site will also include accessible car parking and toilets and cycle parking.
Currently athletes have to travel half a mile across the 200-acre site from the indoor facility to a temporary outdoor facility which was created in 2020 when the former outdoor range had to close due to health and safety concerns relating to stray arrows.
A marquee was erected to enable athletes to continue training for Tokyo while plans were drawn up for a new training centre.
Sport England was granted planning permission at the end of 2022 with work starting in March.
While the work is being carried out, the marquee has been moved to a new location at Lilleshall to allow training to continue.
During 2023, the camping field will not be available to those taking part in archery competitions while the building work takes place. We'd like to thank everyone for their understanding as we recognise camping is a much-valued part of the competition experience.
The project is due to be completed later this year, enabling athletes access to this world class facility as part of their preparations for Paris 2024.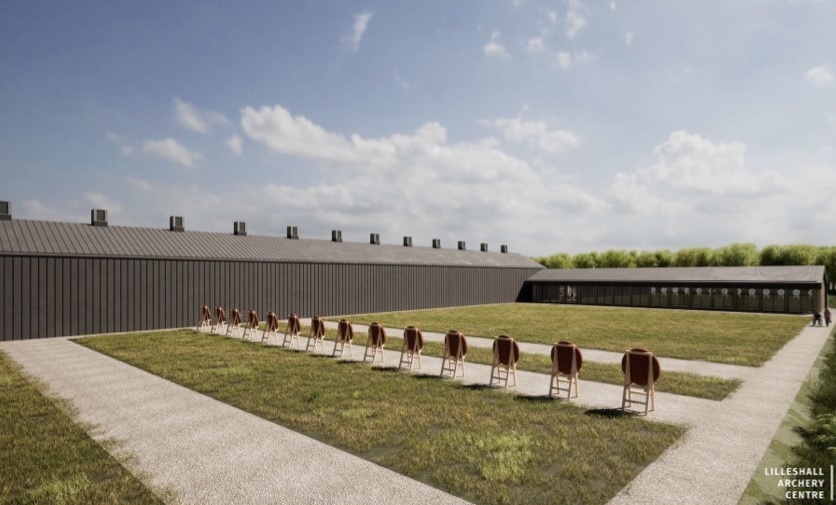 The partnership with Serco (who manage the facility on behalf of Sport England) and UK Sport will mean Archery GB remains an anchor tenant at the Lilleshall National Sports Centre and can use the new facility.
Archery GB will continue to rent facilities through the funding they receive as an Olympic and Paralympic World Class Programme as is currently the case.
'Increased training hours'
Tom Duggan, Archery GB's Performance Director, said: "Lilleshall has been the home of British Archery and the Governing Body's Head Office for the past 20 years. However, the archery facilities have lacked investment and haven't been fit for purpose, so to have a purpose-built performance archery facility will be a massive step for the sport at Lilleshall and aligns with our ambitions to redefine performance archery.
"At a practical level, the new centre will increase the number of training hours we have access to, give us better continuity and flexibility around training and reduce the number of training days we lose as a result of the capacity limitations.
"We are extremely grateful for the support and investment from both Sport England and UK Sport in enabling this project to come to fruition and look forward to the impact that this can have on performance archery."
Kevin Burton, Head of National Sports Centres at Sport England, said: "Sport England are delighted to be investing in the construction of a new dedicated archery facility at our Lilleshall National Sports Centre.
"The facility retains archery as a key long-term site partner providing a world class archery daily training environment for UK Sport's World Class Programmes, talent pathway athletes as well as being accessible for the wider archery community and contributing towards Sport England's 'Uniting the Movement' strategy."
Rob Lashford, Divisional Director at developers Speller Metcalfe, said: "To be working on this new state-of-the-art archery development for Sport England is an exciting opportunity for the company. It's great to see the investment into sport and that we can be a part of the continued success of our athletes in ensuring we build them a functional and efficient facility."