Archery GB coach Lloyd Brown delivered one of the practical L1 Session Coach modules at South Leeds Archery Club, helping more archers fulfil their coaching potential.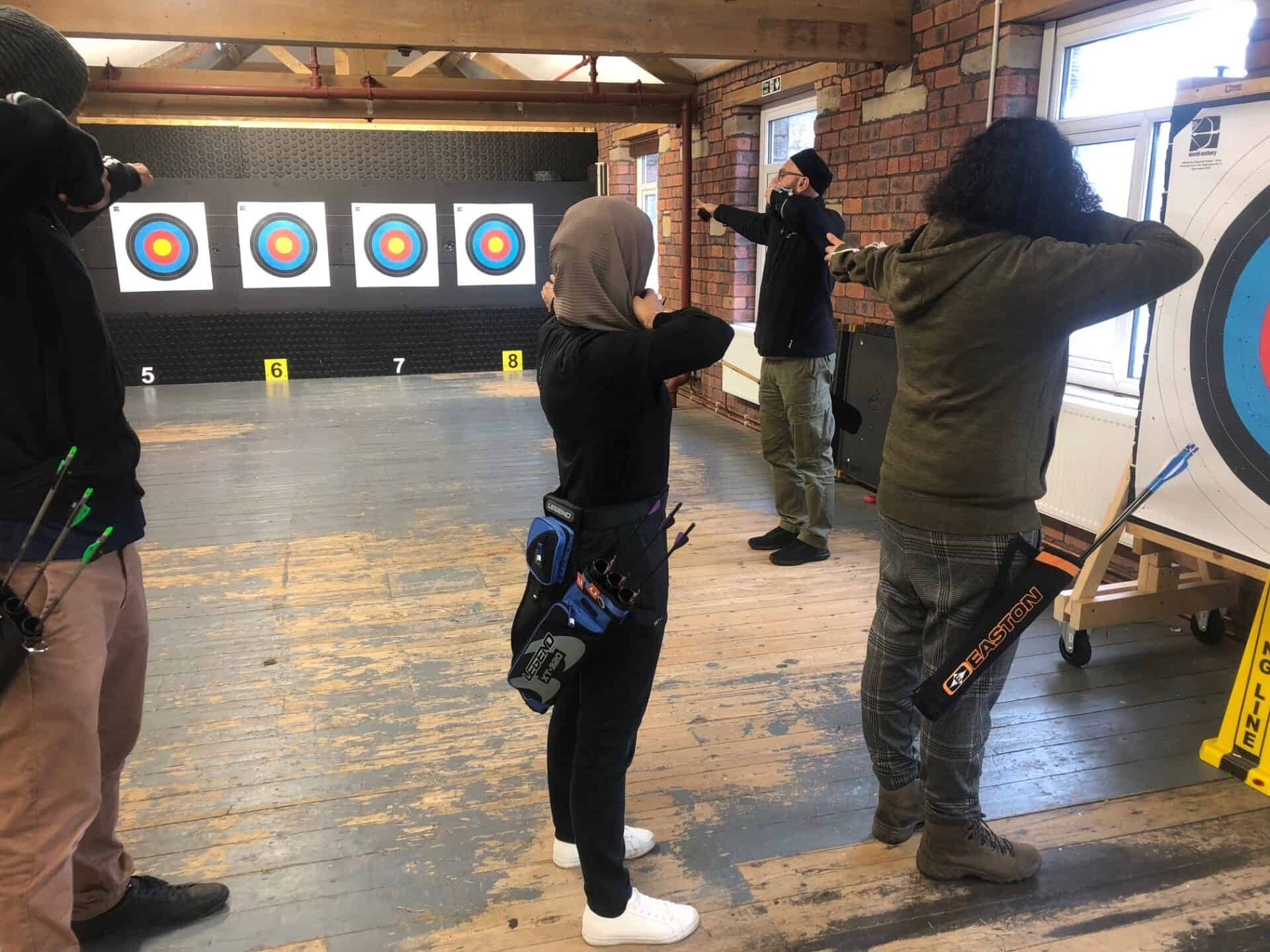 Archery GB's Session Coach (Level 1) course prepares learners to deliver engaging sessions for beginners, including design and delivery of a beginners' course, which is the most popular way for archery clubs to welcome new members. The qualification is structured into online and in-person practical modules that are completed separately, providing greater flexibility to complete the learning around work and home-life.
Feedback from Session Coach participants
In February, five coaches on Archery GB's Project Rimaya programme - a SportsAid-funded initiative dedicated to increasing participation for ethnically diverse communities - undertook a practical module of the course. Starting something new during a global pandemic was always going to be challenging, but the students are now better archers and are well on their way to being qualified, confident coaches.
Abrar Ali
┬"The course has been surprisingly good. I started off with very little experience in any form of archery. I felt a little uncomfortable during the online sessions as many of the participants were experienced but the sessions challenged us all and I was able to make meaningful contributions. I have slowly grown in confidence and have just completed my first practical session. At this session I reflected on my journey and realised how much I had learnt not only about archery but also coaching. I have used my newly-gained knowledge to support delivery of a beginners' class and club drop-in sessions.
┬"The course has been great with lots of additional resources which have allowed me to continue my learning.┬áThanks Archery GB!┬ö
Mehfuja Umarji
┬"The L1 Session Coaching with Lloyd was fantastic. We put all the theory we had learned from the online classes to practice to further our coaching skills. I have learned a lot from these courses, not just about archery and how to teach beginners' classes but also lessons that I can apply in other aspects of my life, such as rephrasing the words ┬Ĺdon't' and ┬Ĺcan't' into a positive sentence instead. I certainly feel more confident in coaching archery after this course.┬ö
Miriam Ahmed
┬"The session was really helpful. A really pleasant surprise. Wasn't at all sure what the day would entail. I feel like it brought all the online material together and has made me feel more relaxed about the final practical.
┬"We went through a really good amount of coaching practice and ways to provide positive support. I feel like I gained a lot of new and useful information. It was extremely useful to see things in person,┬áto be guided through details and have questions answered as they came up. I feel like I was able to get my head round the usefulness of aspects I hadn't┬ápreviously. I felt more comfortable sharing skills at the next drop-in we had.
┬"I'm looking forward to the start of the beginners' courses. I feel like it's meant to be a fun experience with lots of safe shooting.┬ö
Coach Lloyd Brown, said: ┬"It was a fun group to work with, and great to have so much positive feedback.┬ö
Take the Session Coaching course
Find out more about Session Coaching here.