GB have returned home with six medals from the Birmingham ISBA World Blind Games.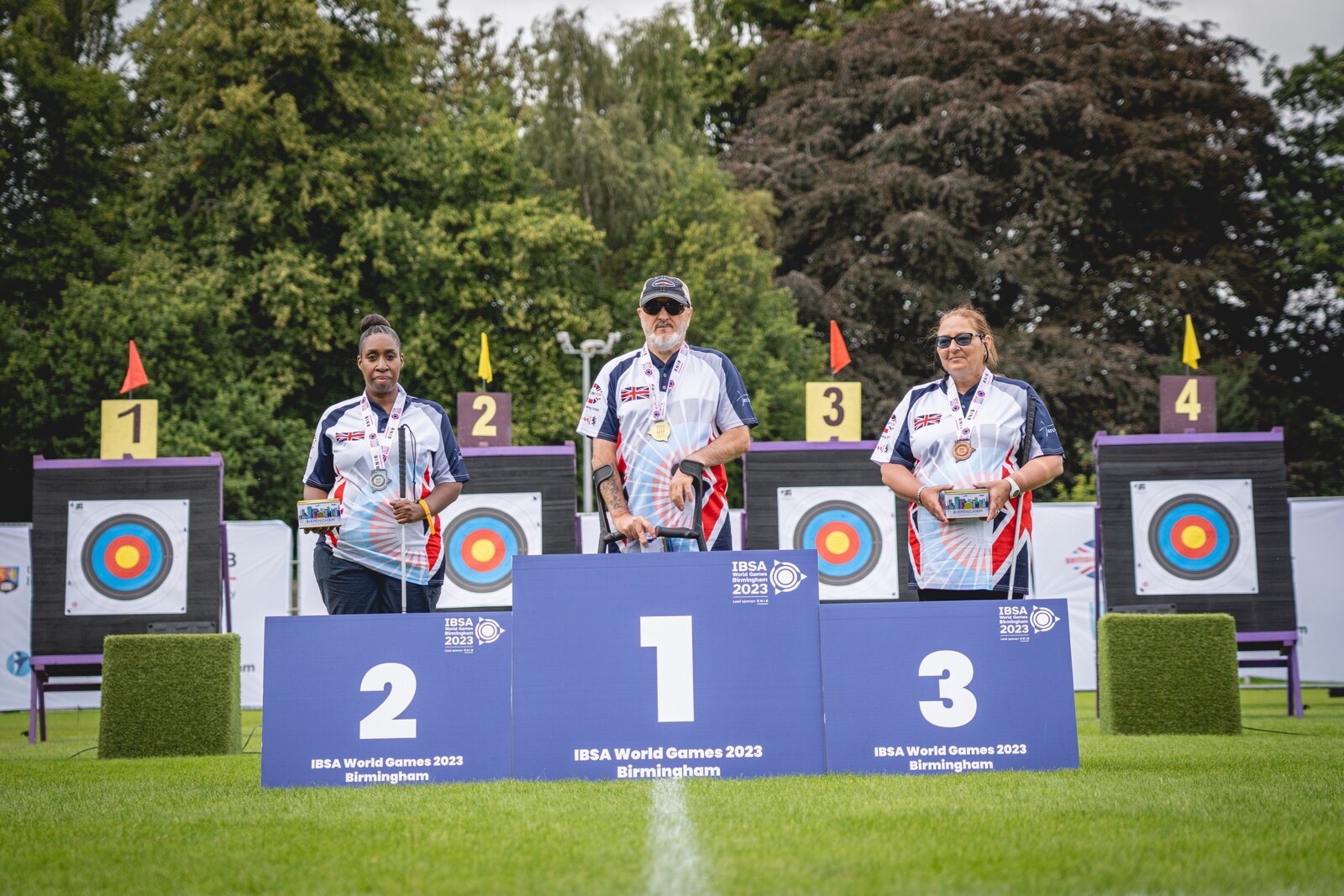 27 competitors, 10 countries, 12 international classifications; this year's World Blind Games was the biggest international VI event ever. At the athletic grounds of the University of Birmingham, the finals stage was set where our VI archers competed on a target at 30 metres.
The 2023 World Para VI 2/3 Champion, Steve Prowse met bronze medallist Nick Thomas in the gold final match. Nick took the first end with 21-17, and then Steve responded with a 23-19 to take the second end. A 22 from Nick took the set points to 4-2 in his favour. Steve came back with a 25 end to Nick's 22 to bring the points all square, and in the final end, a strong 27 from Steve won him the match and the gold medal 6-4. Despite suffering from an injury he sustained in the match, Steve's determination powered him through.
Steve said: "As this was the first ever IBSA games that included archery, it was a real landmark event for VI archery. It was fantastic to win the inaugural event, especially competing against the best VI archers in the World.
"It has also been special to be part of the VI team again, sharing a common ideal to promote the sport. The level of the standard of VI archery is improving exponentially, this is making it competitively more special."
In the visually impaired open category, Terry Piper and Andrea Thomas met in the gold final. Terry opened with a 19 to Andrea's 12 to take the first end. Andrea shot 14 in the second end, but a 25 from Terry took the points to 4-0 in his favour. A 20 in the final end from Terry won him the match with straight sets 6-0 for the gold medal.
Terry said: "The experience proved to be remarkable, shared with my fellow blind and visually impaired archers, all driven to showcase that varying levels of impairment shouldn't hinder one's ability to excel across different stages."
Clive Jones met Belgium's Ruben Vanhollebeke in the visually impaired 1 gold medal match. The Belgian opened with a 23 in the first end to take the set points 2-0. In end two, the archers were only one point apart with Clive on an 8 and Vanhollebeke on a 9, but the points went to the Belgian archer. A 26 in the last end from Vanhollebeke was enough to take the win 6-0, earning Clive the silver medal.