Coaches do more than just teach archery. They inspire, support and encourage archers to reach their potential – they are at the very heart of archery. Are you interested in becoming a coach, but have no idea what it involves or where to start? Kathryn Morton shares her journey into coaching and what it has taught her about herself.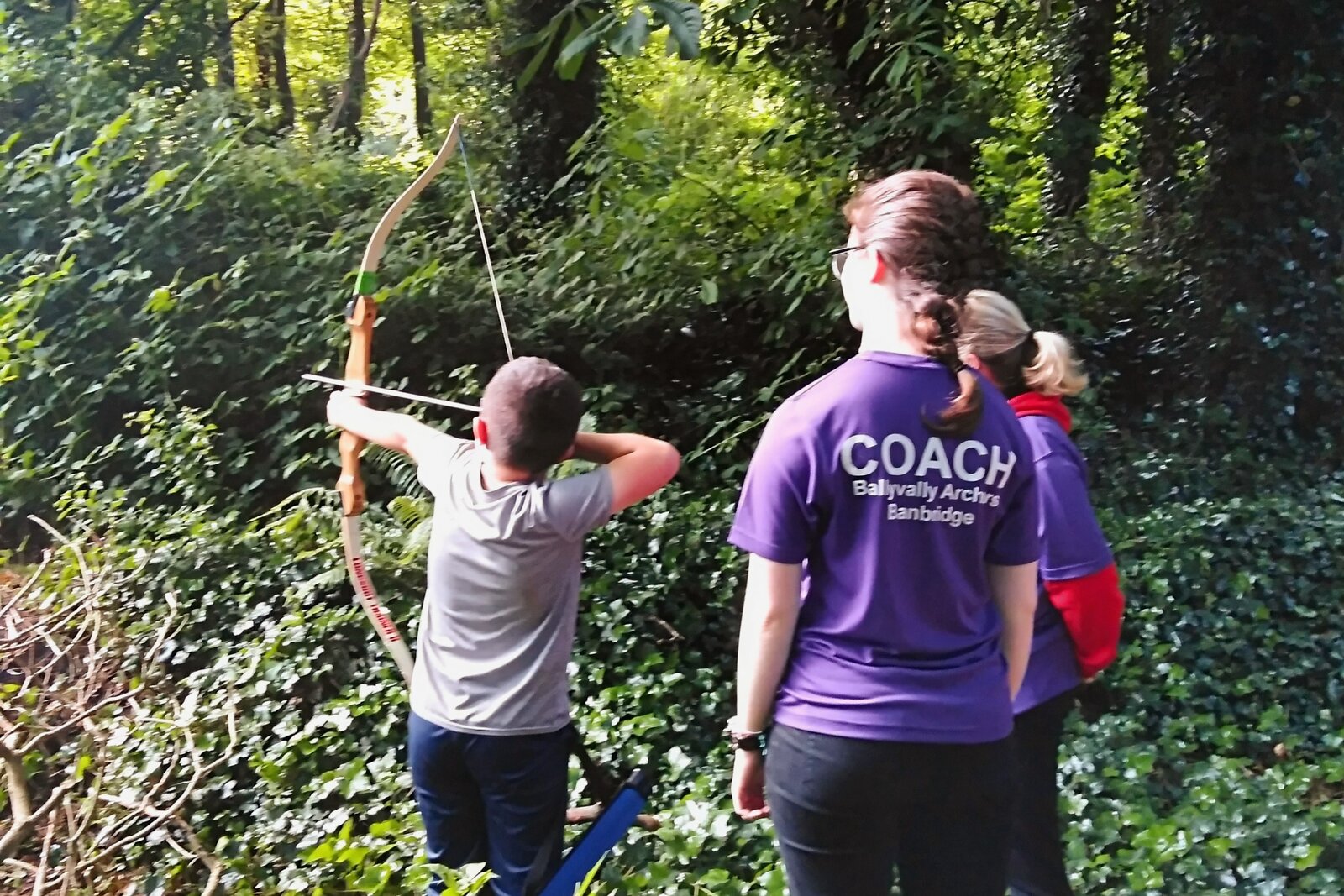 What made you want to try archery for the first time?
My interest in archery began in 2015 at the age of twelve when I was part of my Primary School leavers theatre piece, 'Robin and the Sherwood Hoodies'. I joined Ballyvally Archers Banbridge in September of that year, and the rest is history.
Why did you decide to become a coach?
I became a Session Coach (Level 1) in October 2021 but had coached at my club for a few years previously. At Ballyvally, archers are always encouraged to pass on information and discuss with one another. I was also encouraged by others at my club to volunteer at our annual 'have-a-go' events at local agricultural shows – this is where my coaching journey began. I really enjoyed taking people through an Introduction to Archery course and sharing my experiences with them. I began to coach more often, especially post-Covid. I loved the opportunity to help archers and I took the step to complete my Level 1 (Session Coach) qualification in Summer 2021, and my Level 2 (Development Coach) in Summer 2022. Having that previous coaching experience really helped me settle into my Level 1 Course.
Who do you coach?
I currently coach at my local club Ballyvally Archers Banbridge, as well as helping at the NI National Talent Development Program when I can fit it around my own training and studies.
At club, I coach all levels, from very young children shooting a bow for the first time right up to discussing more complex issues like fine tuning equipment with more advanced archers. Coaching provides surprising variety and has given me a new perspective and focus on aspects of my own shooting.
At Ballyvally, we have organised numerous beginners' courses over the past eighteen months and I have enjoyed helping the archers progress, from joining the club, to buying their first bow and advancing within the sport. Fortunately, Ballyvally has a very strong coaching team with a vast amount of knowledge as well as many experienced international archers, so there is always someone to learn from when working alongside the other coaches and club members. The club coaching team and committee are predominantly female - which is unusual - but I believe this has a positive impact on both family and female participation.
What do you like most about coaching? Is it easy to fit in around your other commitments?
I really enjoy being able to mix with such a broad range of age groups, abilities and backgrounds. I also find it very inclusive. For example, during the first end of the evening I'll help a 6-year-old archer shoot safely at 5m, then by the end of the night I'll be helping a more experienced archer with a very technical, subtle form change. I have found my own experience of shooting at international level comes in useful when coaching - I have learned a lot about the sport from top-level coaches over the years while competing.
It's relatively easy to fit coaching around my other commitments as our club sessions are normally Wednesday and Thursday nights for 2-3 hours each. This means I can plan coaching around my academic studies and work experience while still training most days for a few hours. I've also been able to incorporate competing at weekends, with any free weekends or evenings spent at work, enabling me to compete internationally.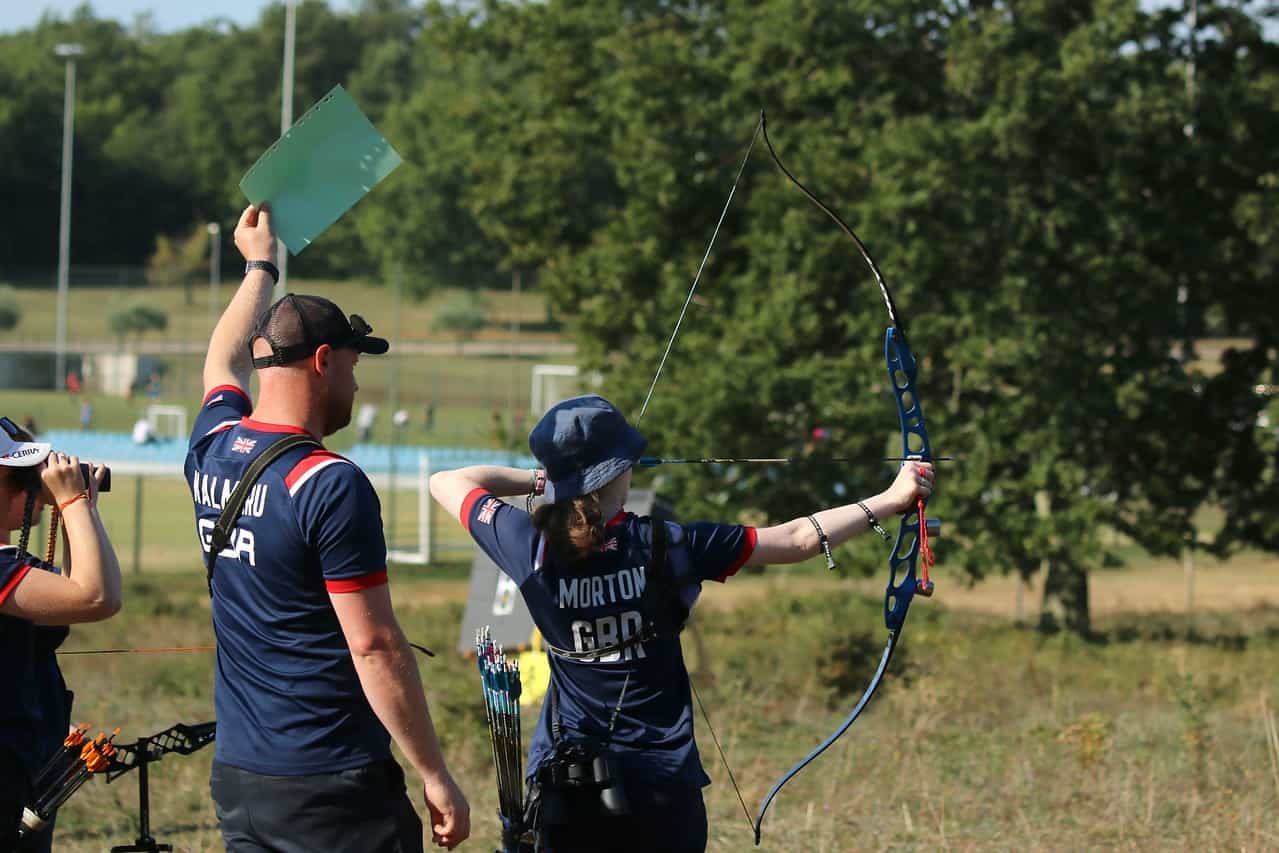 What is your proudest moment as a coach?
For me, coaching is a series of small regular wins, rather than one big one. I feel proud when an archer I have been working with for some time achieves their goal, regardless of their experience level. Much like when I train, I try to find one positive thing in each session, as this continual self-improvement encourages me to continue my coaching journey and helps me regularly re-evaluate and develop my coaching methods.
What are your future coaching plans?
I finished my Level 2 Development Coach course in October 2022. I intend to keep giving back to my local club, Ballyvally, as it helps archers take up and continue within the sport. I hope to start university next year and continue my coaching and shooting while there. My ultimate goal is to use my experiences to coach NI archers for Team GB.
If a friend was looking to become a coach, what would you say to inspire them to become a coach?
I feel all I would have to do is get them to try it for the first time, and they'd be hooked. It's a very rewarding role as you observe the archer's confidence, competence, form and subsequent scores improving month on month. I consider it an honour to be part of an archer's journey, no matter how small the part. Every person who coaches brings their own skillset, whether it's pure technical knowledge or simply the ability to encourage others. I recognise that coaches have helped to bring me to this level, and as such I feel inspired to do the same for others. Being a coach is not a destination, nor is it a title on the back of a shirt – it's an impactful journey with great travelling companions.
---
If Kathryn's story has inspired you to become a coach, click the button below to find out what courses you need to take and how to sign up.