An incredible day for incredible archers! Lilleshall had the sun shining, laughter on the field, and the Disability and Visually Impaired divisions 2019 Disability Champions were awarded.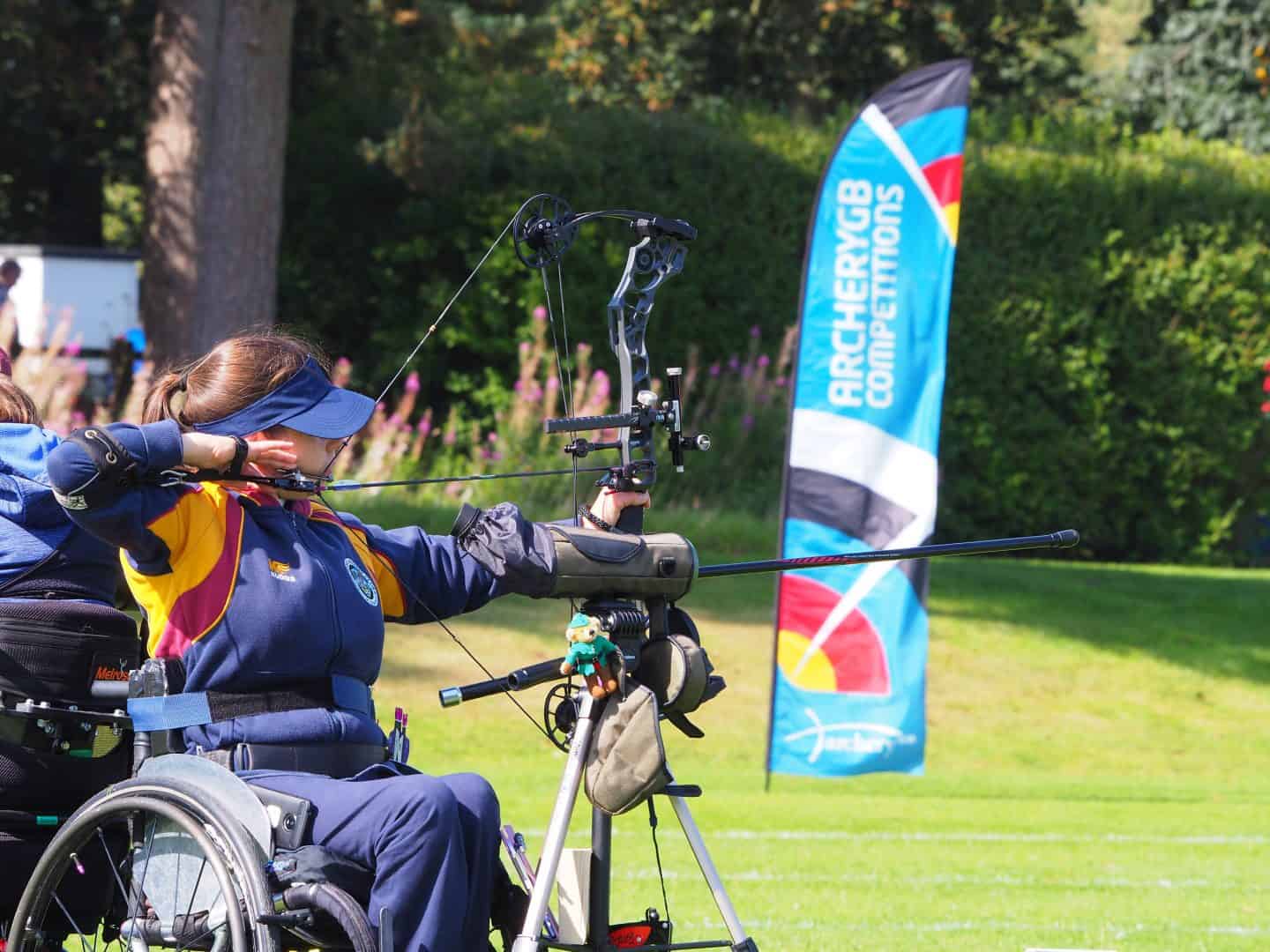 The Visually Impaired 1 category was won by Roger Rees-Evans from the British Blind Sport AC, with fellow club member Clive Jones in second taking the silver medal. Roger took the match 6-2, as well as qualifying first in the morning. John Nicholl of Causeway Archers, who ranked second in qualification, took home the bronze medal after winning his match against John Bower of SRSB Sheffield Blind Archers 6-0.
World Champion Steve Prowse of Wolverhampton Company of Archers took the gold medal after qualifying first, and then winning 6-0 over Nick Thomas from Red Dragon Archers who qualified third. Peter Price of Blind Veterans UK Bowmen took home the bronze medal after winning against Phillip Tranter from SRSB Sheffield Blind Archers 6-0 who qualified second and fourth respectively.
In the Visually Impaired Open class awarded the gold and silver medals, gold to Peter Shaw from Louth and District Archery Club and silver to Graham Walker after a 6-0 win. All of the Visually Impaired archers shot at 30 metres throughout the qualification and elimination rounds.
Along with the VI divisions, there were the Disability divisions. The Disability Compound division mixed both men and women together to create a competitive category for all to shoot in. Trevor Little, from Worthing Archery Club, qualified first and had a bye into the final where he shot against Andrew Woodger from Laleham Archery Club taking the gold 138-130. Gwenda Humphreys from Castle Archers took home the bronze after shooting a 121-135 against Andrew Woodger in the semi-finals.
The Disability Novices are archers who have been in the sport less than two years with a physical impairment, men or women and all bow types are allowed, they shot at 30 metres on a 122cm face. Jamie Wallace, a compound archer from Whitburn Archers took the gold medal after ranking first and winning the final 6-0 against recurver Daniel O'Connor from Bromyard Bowmen. Alan Izzard from Kyujutsu Archery Club took the bronze medal after finishing 3-7 to Daniel in the semi-finals.
Lewis Brown took home the gold medal in the Disability Recurve division and shot 514 in qualification in the morning and participated in the some head to head practice with 13 year old and gold medal winner in the Compound Cadet Men, Finlay Clark. Despite Lewis shooting 70 metres and Finlay shooting 50 metres, the two could be seen enjoying and competing against each other in friendly head to head practice rounds in the afternoon.
Tomorrow we will see the W1 mixed finals, Women and Men's Compound and Recurve Open Finals starting at 10am. We will be live streaming on our Facebook page and tweeting throughout the day.
For full results so far; https://www.ianseo.net/Details.php?toId=6027
Picture - Malcolm Rees