On the crest of the Scottish Macqueen clan there is an animal holding an arrow; legend has it that a member of the clan hunted the last wolf in Scotland, with bow and arrow, after it had attacked a young girl from a nearby settlement.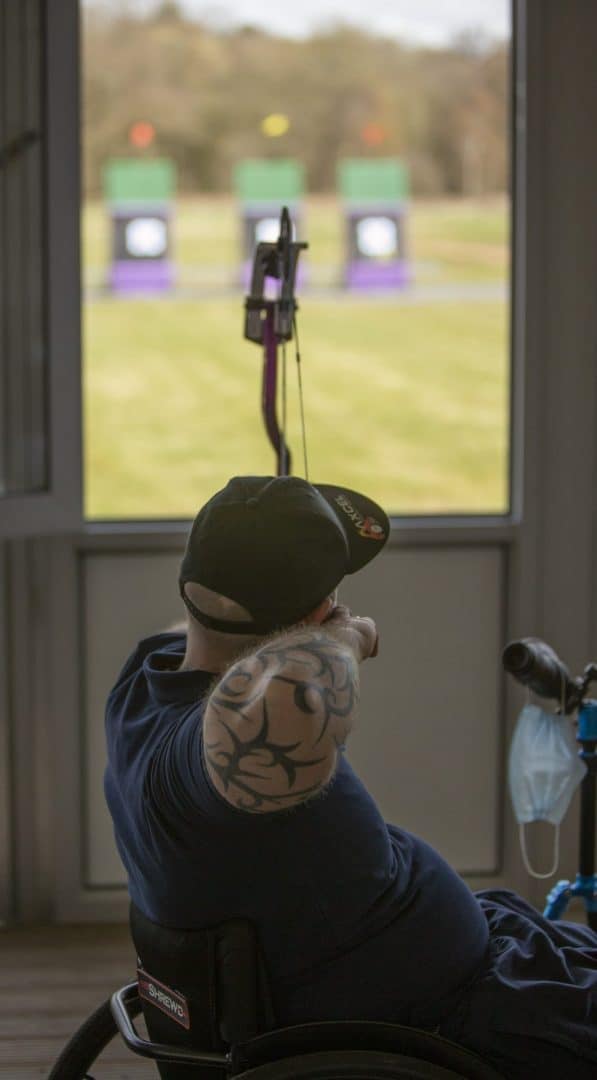 Scottish archer Nathan Macqueen - who was today announced as part of the ParalympicsGB archery squad set to compete at the delayed Tokyo 2020 Games this summer - has the crest tattooed on his chest, and if he needs any inspiration as he heads to his second Paralympic Games, he just needs to reflect on his forefathers.
Â"I asked my wife Tara recently why she thought I was good at archery," says Macqueen, who lives in Addiewell, West Lothian. Â"I said, do you think it's because my ancestors were good? Since I found out this bit of history I've thought maybe it's meant to be. It's definitely given me a bit of a boost."
More recent members of the family also play a special role.
Â"I'd love to give my wee boy a gold medal to put round his neck, to take him to school and for him to be able to say 'my dad is a Paralympic champion'. How cool would that be?"
Rio memories
Macqueen's ninth-place finish at Rio 2016 also serves as motivation.
Â"I went to Rio possibly feeling like I was there to make up the numbers, but I'm going to Tokyo knowing that if I shoot well I can medal," explains the 29-year-old.
Â"I let the situation in Rio get to me a wee bit. I was in awe of the fact I was at a Paralympic Games. Now I've learned to stay in the moment, rather than thinking ahead to what might happen next, or who I might be up against. It's a case of one arrow at a time."
Given that Macqueen's first senior international competition was just a few months before the Rio Games, you might think he was being hard on himself, but there's no doubting the mental strength he has developed in the years since making his Paralympic debut.
He explains: Â"Archery is the art of repetition - and blocking out the outside distractions. It's one of the most frustrating sports in the world. It's striving to be perfect and so much of it is mental. I'll do a session and think, 'I'll get a better score next time'. You are always trying to better yourself. That's what keeps me coming back."
Mental and physical strength
As well as developing his mental strength, Macqueen has also adapted to the different physical and mental attributes archery demands after years spent playing rugby, then more recently wheelchair basketball and powerlifting, which he also competed at internationally.
A former member of the Glasgow Warriors U21 squad, Macqueen's playing career and aspirations to play professionally ended abruptly in 2009 when he was involved in a near-fatal motorcycle accident, breaking numerous bones including all his ribs, both femurs and three vertebrae.
Â"I had an apprenticeship as a joiner, but I was training to become a professional rugby player. Then I hit that car and it all went away. With the accident I was just glad to be alive, so I got over that pretty quick.  I'm just grateful to be here because I died at the side of the road, so everything since is a bonus."
[caption id="attachment_26554" align="alignnone" width="166"] Nathan Macqueen is on course for Tokyo. Photo: imagecomms.com[/caption]
Not that the Dumfries man was a stranger to archery - he first took up the sport as a schoolboy, after a taster session organised by his local Cub Scout group. He and his father enjoyed valuable time spent together at weekly archery sessions, and Macqueen represented Scotland in his early teens - although, ever modest, he insists it was 'just for fun'.
It's clear family plays a vital part in Macqueen's sporting life - whether it be the time spent with his father as a youngster, or the determination to succeed that grew after the untimely death of his mother. And while history will forever play its part, the Scot knows the next generation of Macqueens spur him on too.