Archery GB is very proud to host the European Youth Championships later this summer, and you could be a part of it too!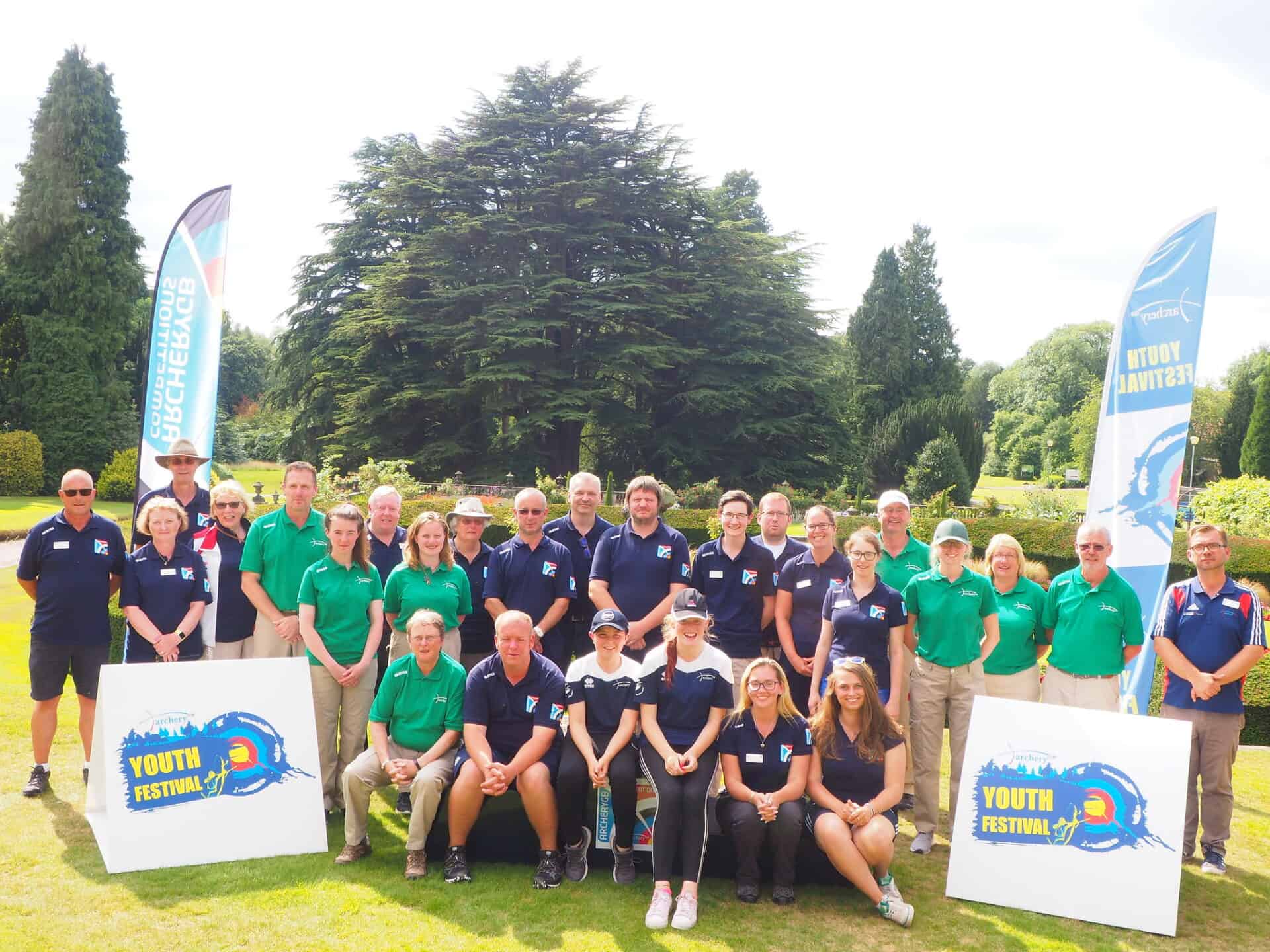 The European Youth Championships 2022 are being hosted at Lilleshall National Sports Centre. The event will take place from the 13th to the 21st of August 2022. Archery GB is honoured to host such a great event, after the two-year delay.
Jon Nott, Archery GB's Competition and Events Manager explained, "It's a great privilege to be able to host such a prestigious event. Many previous European Youth competitors have gone on to compete and win senior international and Olympic medals. We cannot wait to finally welcome all youth archers from around Europe to Lilleshall!"
The European Youth Championships is a prestigious event. During the event, we will need upbeat, hardworking, and dedicated volunteers. This will help ensure that the event runs smoothly.
Volunteer Opportunities at the European Youth Championships
We are looking for people to join our incredible and hardworking competition and event workforce. Could you be a part of this incredible opportunity?
There are many volunteer roles available. For example:
Sports Info/Athlete Services
Supporting athletes and teams.
Running the athlete/team information desk during the week.
Field of play
Delivery of the field of play, targets and equipment during the week.
Support with the running of the competition.
Administration
Assisting the general admin for the event. Including Anti-doping support whenever needed.
Results/Technology Team
Work on accreditation delivery.
Configure and distribute scoring tablets during the event.
Support the delivery of results.
Setup and testing of technology equipment, including during the finals.
Photography and Media Support
Support the event media.
Report/review writing during the week with stories around athletes.
Sports Photography during the competition.
How do I apply to be a volunteer?
To apply for a role at the European Youth Championships, please click here. In order to apply, you will be taken through a quick survey. This will help you to apply for specific roles.
While our volunteers can be under the age of 18, a parent or legal guardian will need to sign a consent form. They will also need to provide a point of contact that is available for the event.
As with any major sports event, the hours that will be worked will be long, but definitely enjoyable! But, it will be a very rewarding and fun volunteering experience!
What happens at the European Youth Championships?
The week-long event incorporates team, individual and mixed team events. Throughout the week, there will be a lot going on, so timekeeping skills are a must!
Saturday 13 and Sunday 14 August
Arrival of teams
Monday 15 August
Official practice
Tuesday 16 August
Qualification rounds
Wednesday 17 August
Team matches
Thursday 18 August 
Team matches and mixed team finals
Friday 19 August  
Individual matches and team finals
Saturday 20 August 
Individual finals
To apply as a volunteer, click here.
What is it like volunteering for Archery GB?
Chris Horan started volunteering in archery in 2007, with 15 years under his belt now. Since then, he has volunteered for Archery GB at the 2016 European Championships in Nottingham, National Tour Finals across the UK, along with World Archery events, and the London 2012 Olympic Games! With a wealth of knowledge of archery, Chris has volunteered at Club, County, National and International archery events.
Chris explains, "Volunteering at an international archery competition is an extremely fun and rewarding experience. My first was in 2007 and 15 years later I'm still keen to be involved whenever possible. Even more so for events hosted in the UK, home events always feel more special.
"Volunteering provides a great insight into how international sporting events are organised. It also allows a real opportunity to be involved and responsible for delivering the event.
"A huge level of camaraderie is always present during the volunteer teams at events, and I can personally say long-lasting friendships have originated from my time spent volunteering. From archery fans and enthusiasts to people keen on how international events are staged, I'd highly recommend volunteering to assist at the European Youth Championships 2022 at Lilleshall, UK."
Youth Festival 2022
Are you or your child looking for some understanding of what an international archery competition is like? If so, the Youth Festival 2022 is a replica event of how an international is run. It will give a feel of what it is like to compete at an event such as the Europeans.
If you are looking to enter, head over to the Members' Portal now!
#EYAC2022
Any questions, please email vols@archerygb.org