Helen Sharpe, a Club Ambassador, shares her first-year journey as an Ambassador, what they've got up to, what it means to her to be an Archery GB Ambassador.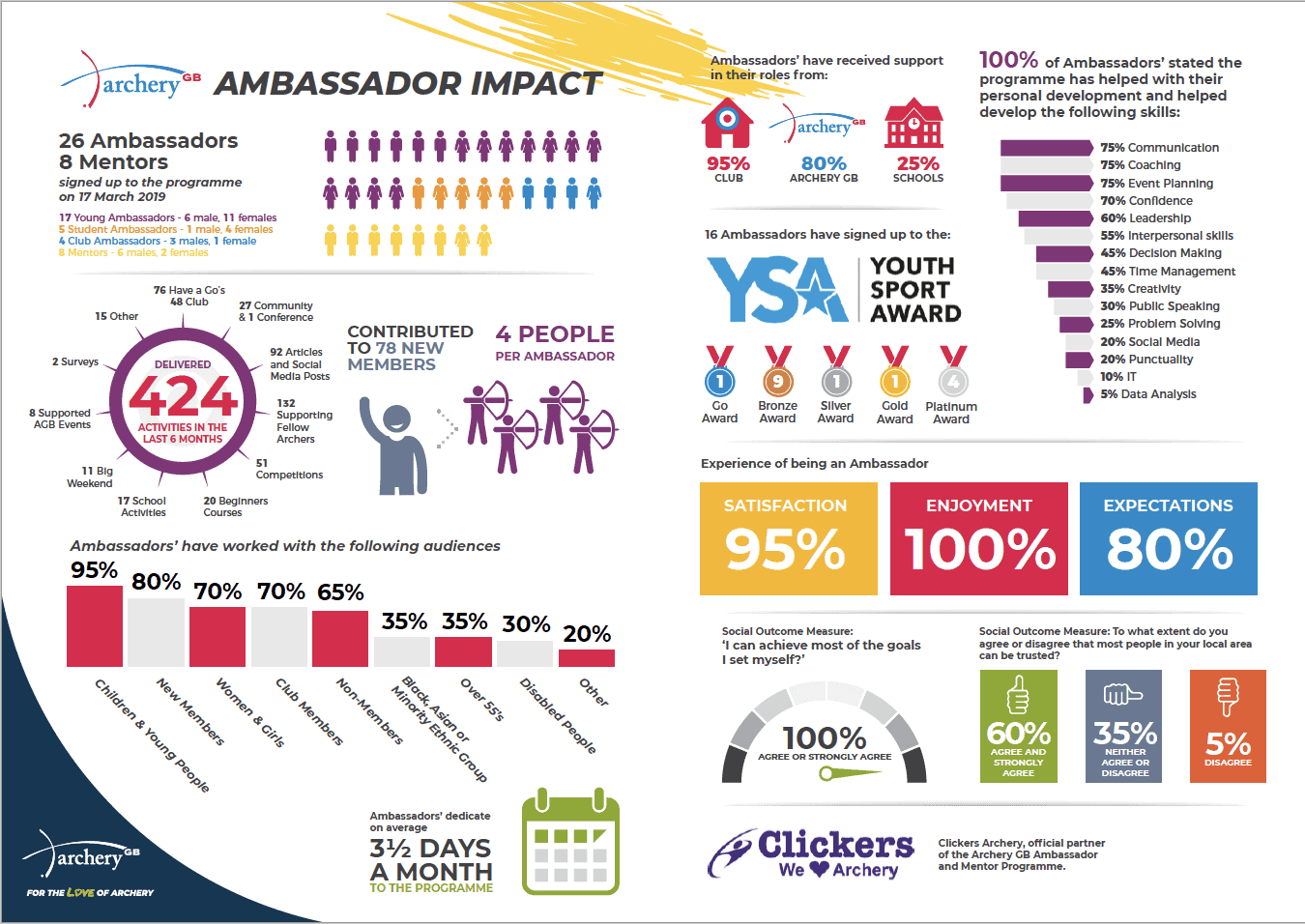 It has been a year since we first gathered at Lilleshall, where we all got together to meet and get to know each other at the first Archery GB Ambassador and Mentor weekend. We were ready last March to become the first group from the Ambassador programme to be sent out into the World.
It made me reflect upon the last year or so and on what I may have achieved.
I remember coming home from work and picking up my Archery UK magazine and reading about this new idea and considering if I wanted to submit an application?
It didn't take much thinking as I regularly have it pointed out to me that you can put me in any room of people and within moments I will turn to the nearest person and start to talk about archery.
Archery is my sport, the sport of my family, the sport that I love. It, in my opinion, allows anyone of any age, ability or group to be together in the same environment and get together either socially or to have grassroots archers stand in a club environment against the country's top archers.
I cannot think of any other sport that creates this coming together of everyone within it.
Then Jack came home and read his magazine, it arrived the same day his school year had been asked to consider if they could do a volunteer role that would allow them to put something about themselves on a CV. He embraced the idea that he could choose to volunteer for something he loves.
https://www.youtube.com/watch?v=pdKUhoxRQnI&t=2s
So what have the first 12 months seen us do/achieve?
Over the past 12 months, we have attended many club have-a-goes, including the Big Weekend and beginners courses to represent all that is amazing about our sport, some of those people that we chatted to are now archers themselves.
Also, we attended local summer events where our club go to help raise awareness of archery and it's diversity. We hosted a charity shoot at our club, Wellingborough Open Archery Club, on behalf of our county, NCAS, that raised almost £7000.00 to be divided between three local and very deserving charities.
We attended and volunteered at the World Transplant Games in Newcastle. It was an amazing opportunity over a weekend to help showcase what archery could be to the international transplant community. We looked after and acted as agents for international youth transplant athletes and acted as agents for one of the GB teams. I know that out in Australia one of my 252 badges is worn by an athlete on his quiver!
I arranged for a senior coach to come to a session for the county coaches who had asked what development they may get and more of these sessions are being arranged to concentrate on the areas that have been put forward. Thank you to Aim4sport for coming over that county border to provide these.
Parents were asking about the pathway for junior athletes and I arranged for Gaynor Hutchinson, from Aim4Sport, to come along to a club junior coaching event and as a result. We have a number of new juniors this year on the SCAS, ATC and NTDP pathways.
I attended the Archery GB Youth Festival finals day and both the Junior National Outdoor and Indoor Championships and was blown away at the number of people who approached me to ask questions. In particular, adults who support their junior athletes who wanted to asks questions that they feel their clubs cannot answer but don't feel they should approach AGB with questions that would take time away from Â"more important" matters.
Both of my children have completed, ready for submission their age-appropriate first levels of the Youth Trust Sports Award.
I have seen my son in a way that many parents don't get to see their children and it makes me immensely proud. None more so than when he was approached by a junior athlete who raised a safeguarding issue to what they saw was one of their peers that they can safely approach and talk to in a way that they were unable to do so with an adult!
What do Ambassadors actually do?
I would say that one of the most important things that my blue shirt does is to build bridges and open doors. To both those who are and those who are not involved in my sport.
For me, personally, it has given me opportunities I wouldn't have considered. In addition, as both an archer and someone who has multiple roles within archery, on those days when I question my involvement for various reasons. It reminds me of what I love in my sport and why I think it gives something other sports do not.
So yes, there is a reason for the Ambassador programme and I am proud to say I have completed my first 12 months and I have already started to work on projects for the coming year.