Buying and selling secondhand archery equipment can be a bit difficult, but what about when there is a purpose-built website?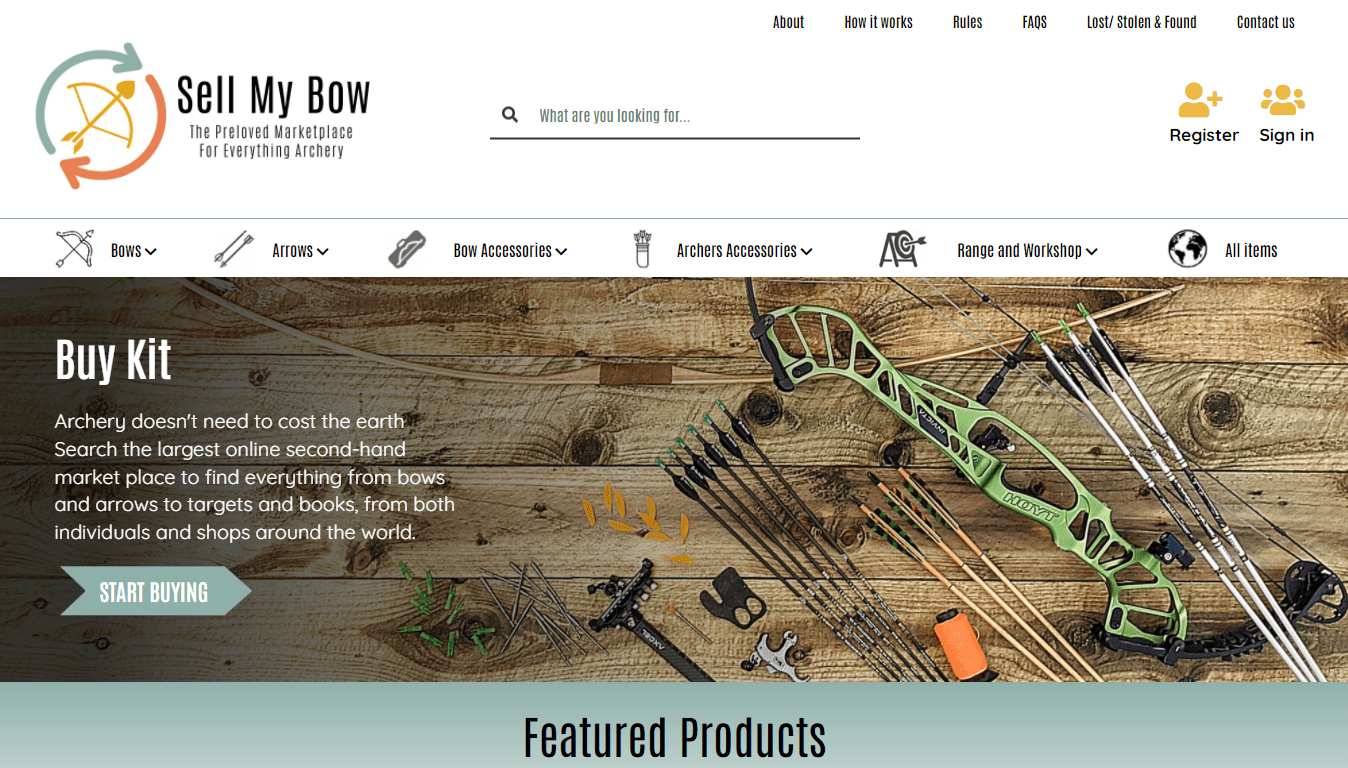 When buying secondhand archery equipment, it is important to make sure it is what you want, and legit. Whilst also being safe and the right equipment for you. We are going to focus on a new purpose built website for secondhand archery equipment. Along with some hints and tips for Facebook and eBay purchasing.
Sell My Bow - What it is?
Sell My Bow is a brand new, purpose built website specifically for archers and archery purchases. This type of website has been lacking within archery for a long period of time. To finally be able to have something this well built, promoted and designed is a big step forward in the archery community.
We spoke to Sell My Bow about what they offer.
"Archery is an inclusive and accessible sport that can be enjoyed by everyone, and like any other sport it can involve a large investment in kit. This can be a daunting prospect both for current archers and those that are interested in taking up archery. The continual expense of upgrading and changing kit can become costly and limiting. So Sell My Bow was created to support all archers, whatever their discipline, in buying and selling their pre-owned archery equipment.
"Archery has a supportive and sociable community with a thriving secondhand market. We know the value of the equipment we shoot with and appreciate its worth to others. Imagine giving someone the chance to achieve new personal bests with the very same kit you did.
"Sell My Bow is proud to increase the sustainability of our sport by rehoming unwanted archery items. So not only can new archers and buyers in the community access affordable kit. But sellers can recoup the money they've invested too."
Why look at using Sell My Bow over Facebook or eBay?
While the logical way to buy or sell secondhand archery equipment is through traditional eBay or Facebook, in recent months, it's become more difficult.
When we spoke to the founder of the website, they said;
¬"Whenever I tried to sell archery kit, I found that my sales posts were getting constantly rejected by Facebook. Even if I uploaded a photo of the item without any description it would often be kicked back by their algorithms.
"I didn't know how else to connect with the archery community. So I decided to create a single marketplace where every archer, whatever their discipline, can list their kit. A safe space, without controversy, that focuses on the sale of archery equipment.
"I also wanted to include a lost, stolen and found page for anyone that was missing equipment. This was a personal decision after a friend had their entire archery kit stolen from a secure lock-up. I didn't want to see it being re-sold before it could be recovered. So I hope this feature allows the entire community to keep a look out for missing items and report any they've found.
"I believe Sell My Bow has been missing from our sport for a long time, and I hope in time it will become everyone's most favourite and trusted place to buy and sell pre-owned archery equipment."
How do I know what to buy in the secondhand archery equipment market?
We previously wrote about how to know what to look out for in the secondhand market. How to assess the price of the product, whether you need it and want it, and the quality of the equipment.
What to look for when buying secondhand archery equipment
When purchasing secondhand archery equipment online, you need to be aware of a few things. Firstly, the cost. Is it a good price? Roughly work at 75% of the cost of brand new equipment from an archery shop, or less. This obviously depends on the condition, age, etc. of the bow you're looking at.
Be aware of what you are purchasing. Do you need it? Are you ready for it? Always talk to your coach or club members if you are not sure. Your archery journey is personal to you, you will grow with the sport when you're ready. The equipment you're purchasing should be in line with your growth and strength.
Spread your budget across the whole set-up. If you're looking at purchasing a full secondhand set-up, know your budget. Every bit of equipment is important. Ensure you have enough money within the budget to get the level of equipment you set out to buy.
Is it safe to purchase secondhand archery equipment?
The simple answer is yes. Providing you know what you are doing, you have somewhere safe to shoot (an Archery GB registered range), and you can verify there is no damage to the equipment. It probably won't be in perfect, fresh out of the box condition. This does not mean that you should avoid it.
Ask for more pictures of the equipment you are looking at purchasing. Can the seller provide a picture with a written date and their name? Ensure that everything is legit, as you would purchasing anything online.
If you want to check the purchased secondhand equipment is 100% safe, take it to your local archery shop. They will be more than happy to check it out for you and give you any tips to help.
Have a look here at the full article to make yourself aware of the pros and cons. Along with the do's and don't's of secondhand purchasing.
Disclaimer
Before purchasing any archery equipment, make sure you have done a beginners' course at an Archery GB club. Under Archery GB insurance, you are not covered to shoot anywhere but at a registered Archery GB range.
This article is to help anyone looking to purchase secondhand equipment to make the right choices. There are many opinions, brands, types of equipment and it mostly comes down to personal preference. 
Archery GB holds no responsibility for anything purchased online. The buyer does so at their own risk. This is simply guidance to help to purchase.
Archery GB is not affiliated in any way with Sell My Bow.