In the run up to International Women's Day on 8 March 2021, Archery GB is sharing the stories of female role models in the sport. Here, former Olympic athlete Vlada Priestman shares her journey in archery, from elite athlete to coach.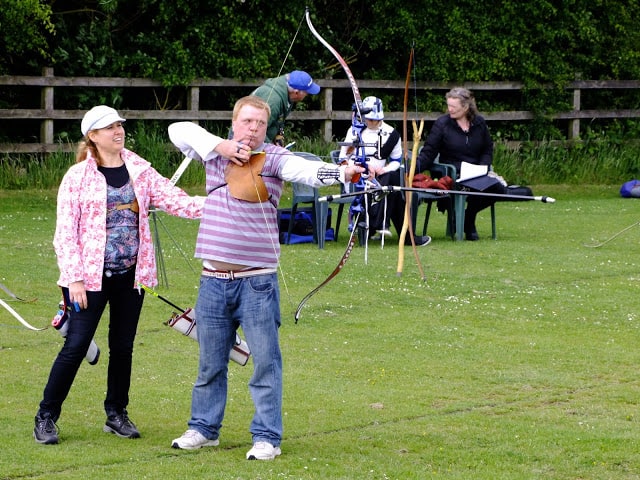 I started archery by chance - a student teacher asked children in the class if they would be interested to try archery. At that time I played tennis and competed in regional tournaments, but it sounded so exciting that I decided to have a go. After the first session I was totally hooked. It took me another year before I gave up tennis for good after it became impossible to commit to both sports.
I showed improvement at each archery competition and was selected for the USSR Junior team at age 15. My first international competition was in 1985 where I won team gold and individual bronze medals.  After this event I was invited to the senior squad. Last time I competed for the Soviet Union team was in 1991, and since the USSR broke up, I represented my home country Ukraine from 1993 till 1996.
I immigrated to the UK 23 years ago - I married and had a family. It did not stop my training and I became a member of the Great Britain archery team in 1998 and won a silver medal at European Championship for my new country. After the birth of my second child, I won a quota place in the Olympics and competed at the Sydney Olympic Games in 2000. The last time I represented Great Britain was at World Indoor Championship in Poland in 2009.
International archery competitions
I had 18 years of international competitive archery, 12 of them professionally. I represented three countries, visited 26 countries, won national titles in three countries - it was an incredible journey! It would not be possible without guidance, help and support from my family and coaches. My parents were very supportive through ups and downs. Three personal coaches led me to victories at different stages of my competitive career.  I was very lucky to work with amazing leading coaches of our time from the Soviet era and from Ukraine. Sharing all that experience and knowledge gathered over the years with other archers was important, to repay the sport that changed my life in so many ways.
[caption id="attachment_25653" align="alignnone" width="300"] Vlada Priestman helps other archers achieve their goals[/caption]
Archery coaching career begins
I had coaching experience in Ukraine, but no official qualification. In 1996 I went overseas to get an official qualification with the American Archery Association and was awarded Level 3 Archery Coach.  In the UK I started small: coaching at beginners' courses, then moved to coaching intermediate level club archers. I obtained a County Coach qualification nine years ago.
I was asked to coach junior and senior county teams. At one CPD for coaches, the speaker coach told me about the Talent Coach Development Programme and encouraged me to sign up. That was six years ago, a decision that eventually led me to work in Archery GB Performance Academy, where I am still working with a group of very talented juniors.
Coaching - what's involved?
In this job, I coach individually and in groups, take part in regular training camps, create and deliver individual training programmes, discuss and review them with my athletes, their personal coaches and parents, and monitor athletes' progress. I encourage and support them between training sessions and at competitions. Coaching is like any teaching job - the majority of the work is behind the scenes.
I am also a part of NTDP (National Talent Development Programme) coaching team searching for new gifted athletes. My other roles are a Head Coach of Lancaster University archery club and head coach of Nethermoss Archers.
Want to be a coach?
My advice to any young women who are thinking about coaching is to do it! If you have passion for archery, share it with others, and do not be afraid to ask. Speak to your club coach or committee member. Get involved in your club's have-a-go sessions and beginners' courses. You can gain a qualification in your spare time locally; some clubs reimburse the cost after the course completion. You will not be alone - another coach could be mentoring and supporting you on your coaching journey.
It's an amazing feeling to see archers develop their technique, progressing in their shooting, reaching their goals and creating positive memories. To be a part of their 'never-ending search in the pursuit of excellence' is a real honour.
Visit www.archerygb.org/coaches-judges-volunteers/about-coaching for more information.