Today (8 March 2021) is International Women's Day and in the last of our series about women in archery, we meet Paralympic squad archer, Victoria Kingstone.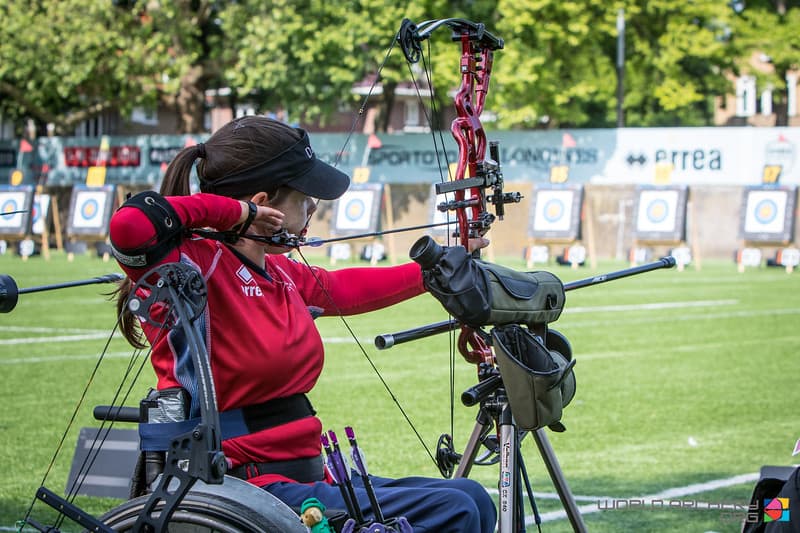 Growing up with a disability and in a non-sporting family, sport was not encouraged at home or at school. I was probably the least likely person ever to become an athlete - I had no interest in either watching or participating in sport of any kind.
It was university, and the experiences it encourages, that changed my perceptions of what sport is and what it enables. Through wheelchair basketball, I found a whole new world. As an international official and classifier, I have literally travelled the world, officiating at European and World Championships, Olympic and Paralympic Games, but believed that representing GB was an honour best left for other, more competitive people.
Discovering archery
An unexpected medical diagnosis in 2016 led to a reassessment of my hobbies. I could no longer play such a 'physical' sport, so in 2017, when I applied to UK Sport's Discover Your Gold campaign (matching people with disabilities to potential sports), I was both relieved and surprised to be directed towards para-archery. It was a sport that I knew nothing about - after all, it doesn't exactly have a TV presence (not that I'd have watched it anyway…). Also, we archers are very good at hiding away in out-of-the-way fields or sports halls.
Initially, I had no ambitions of being an 'athlete'. I had never been a great wheelchair basketball player; I just enjoyed having a hobby that kept my mind and body active whilst spending time with friends. I hoped that I would find this again, which I did, and so much more besides.
In the whistle-stop two years that followed, I went from barely knowing the sport existed, to joining Guildford Archery Club and the Para-Conversion Academy and ultimately representing GB at the World Championships in 2019.
This was one unbelievable experience of many that I have been privileged to have in just a few years, so I know that with the support of everyone (inside the sport and out), I will continue to achieve as an athlete, and maybe one day as a coach.
Archery is inclusive
One of the many things that I love about archery, both as a sport and as a community, is how inclusive it is. I am sure everyone has looked along a shooting line and seen people of all shapes, sizes, ages, genders and (dis)abilities, shooting a range of bow types and distances and with a variety of experience levels. I cannot think of another sport that manages this so effortlessly and consistently. It is also a sport where anything is possible and people go out of their way to help and involve you: can't stand up to shoot - use a stool or wheelchair; can't hold a release aid - use a harness, mouth tab or fingerless release. There is an adaptation and a role for everyone in archery.
I have been so lucky to work with some absolutely fantastic women (and men, but this is for International Women's Day after all). Each has their own amazing story to tell. My only regret is not finding this wonderful and enabling sport when I was younger.
Resources for disabled people in archery
For more information about getting into archery if you're disabled, click here.
Read one archer's story about disability and inclusivity here.
Please see Archery GB's latest Covid-19 guidance for disabled archers.
Activity Alliance Annual Disability and Activity Survey 2020-21
Archery GB secures disability funding from Worshipful Company of Fletchers
Thanks to all the women who let us share their archery stories - you can read them again on the links below:
Lydia O'Donoghue, Vlada Priestman, Gaynor Hutchison, and Katy Lipscomb.