Gaynor Hutchison is well known in sport, having coached gymnastics, trampolining and badminton among other things, before she found her way into archery coaching. Here, Gaynor shares her sporting journey in the run up to International Women's Day on 8 March.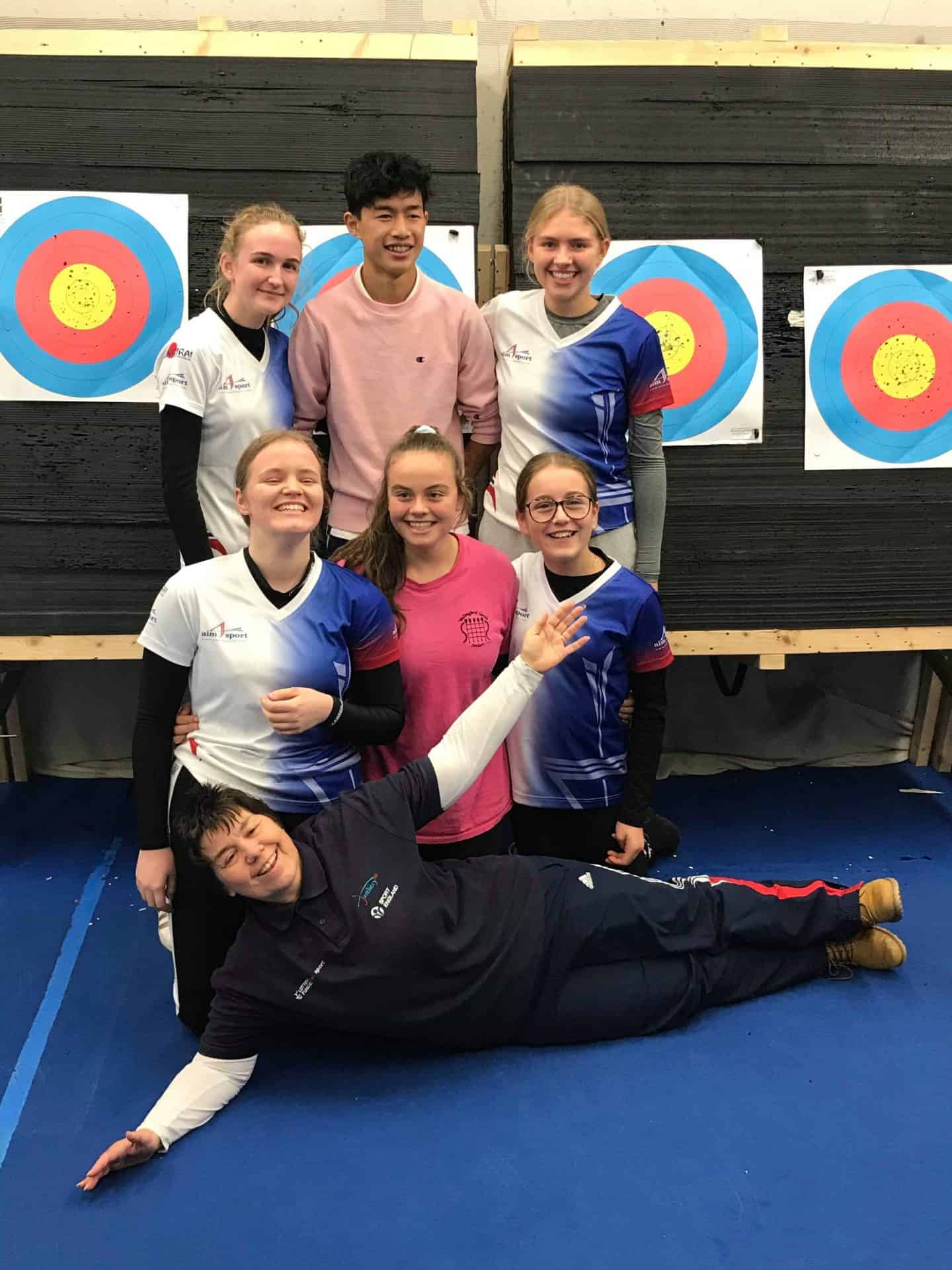 Gaynor has mentored young archers for more than two decades at Aim4Sport in Bedfordshire. Together with her partner, Dave Leader, she has helped the next generation reach their medal-winning potential. Gaynor considers herself lucky to have supported athletes and coaches with their various achievements, which range from seeing a beginner achieve their first badge or enter their first competition, to her involvement in the 2000 Sydney Olympics and success with the GB juniors in European competitions.
Gaynor's introduction to the sport began in her teens when she was asked to assist a family friend who needed students for his GNAS Archery Leader Award. She went along with a couple of friends, and from there never left the sport. That taster session led to a beginners' course and Gaynor then joined a local junior club hosted at the leisure centre. She said: Â"I have always had a passion for sport. Like many girls at that time, whilst I was able to engage in various sports, when teams were chosen, they were always single sex and the girls were often left on the practice field."
A career in sport
At the time, Gaynor's mum was a national trainer for the Keep Fit Association and encouraged her, with the head teacher's authorisation, to take an adult education course and Gaynor became the youngest person awarded the Keep Fit Association's teacher certification.
Gaynor also took the opportunity to undertake some work experience in PE at her college while studying for a City and Guilds qualification, and learned as much as she could about various sports - swimming, lifeguarding, netball, basketball, volleyball, badminton, short tennis, athletics, running, gymnastics, trampolining (meeting an Olympic coach who would return later in her career) and even taking a line-marking course!
Gaynor was discouraged by various people who told her that there was no money in sport, and that she would need an alternative job. With this in mind, she took on an admin role at the local leisure centre by day but took over as teacher for the evening adult education course in movement and dance. Gaynor recalls: Â"I was asked to cover the evening gymnastics and trampolining class for eight weeks and this was when the coach I'd met earlier returned to my life - with his encouragement and support, I took over his trampoline club and applied for a new role as recreational assistant at Harpenden Leisure Centre. I coached trampoline and gymnastics and every day at work was like a holiday, paid to do something I loved!"
Invitation to work with Olympic squad archers
Gaynor's abilities as an aerobics instructor later saw her being asked to help with the fitness and strength side of training for county archers. This led to a further invitation to visit Lilleshall to look at the fitness of the elite archers on the Olympic squad (Gaynor is pictured with members of the Olympic squad in the main photo, top). She still remembers her initial anxiety about the Lilleshall trip, wondering what she had to offer a team that had been concentrating on simply shooting!
Gaynor went on to become part of the team, and worked with former AGB Performance Director Barry Eley and elite archer Alison Williamson, and AGB's current national coach Richard Priestman. In addition, Gaynor began helping with the Pathway athletes for the junior squad, as a chaperone. She said: Â"I am very proud of my work in leading the first Pathway satellite site outside of Lilleshall. It's been a joy to see the success of the junior athletes progressing along the Pathway. It's rewarding just to be part of the junior club sessions where the noise and laughter prove the enjoyment of those taking part. I'm also proud of what I've achieved at Aim4Sport."
[caption id="attachment_25803" align="alignnone" width="225"] Gaynor with Archery GB's National Talent Development Programme athletes - photo taken pre-Covid[/caption]
Women's champion
Gaynor has faced many challenging steps in her career with regards to equality, and has been keen to champion the role of women in high performance sport whenever possible. She said: Â"In the past I've done motivational speaking, and was also once entered as a wildcard in a multi-sport strength and conditioning workshop on behalf of AGB, where I was the only woman in around 100 men!"
As for many coaches, the impact of the pandemic has led to Gaynor delivering coaching sessions online. With family commitments now pressing, this has allowed her to contribute to the sport while maintaining the necessary work-life balance adjustments. Gaynor continues to develop her skills as a coach and can't wait to put them into practice at the end of lockdown.
Get into coaching
Visit www.archerygb.org/coaches-judges-volunteers/about-coaching for more information.