Archery GB Junior National Outdoor Championships competition at Lilleshall National Sports Centre, featuring recurve, barebow, longbow and compound competitions.
The 2023 Junior National Outdoor Championships will take place at Lilleshall National Sports Centre across the weekend of 1-2 July.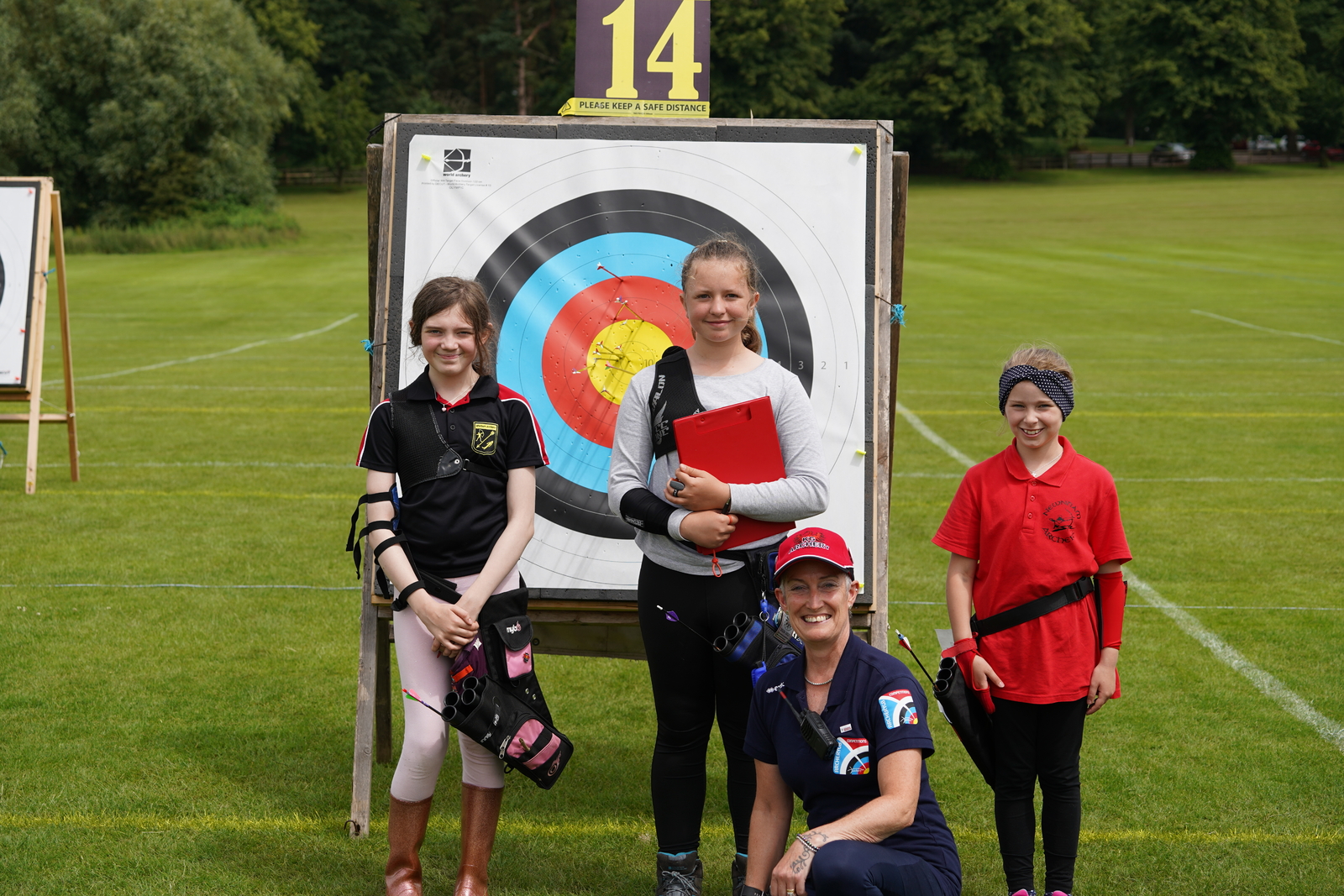 Competition information
Date

1-2 July 2023

Price

£25 per day

Location

Lilleshall National Sports Centre, Newport, TF10 9AT

Registration

08:00 on both days during equipment inspection

Event timings

Assembly at 08:45 both days
• Saturday - two ends of practice at 09:00
• Sunday - one end of sighters at 09:00

Chair of judges

Michael Pearce

For more information

Please contact Archery GB
Event format
Saturday 1 July
Junior World Archery 1440 Star
Under 21 WA 1440 – Women under 21, Men under 21
Archers shooting the above rounds are eligible for World Archery Star awards, dependent on the score achieved.
Metric Rounds
Under 18 WA 1440 – Women under 18, Men under 18
Metric II – Men under 16
Metric III – Women under 15, Women under 16, Men under 15
Metric IV – Women under 14, Men under 14
Metric V – Women under 12, Men under 12
Archery GB age rules apply. Junior Men and Women shooting the Under 18 WA 1440 are eligible for World Archery Silver star awards.
Sunday 2 July - National Championships
York – Men under 21
Hereford – Women under 21
Other available rounds
Bristol I – Women under 18
Bristol II – Women under 16, Men under 18
Bristol III – Women under 15, Women under 16, Men under 15
Bristol IV – Women under 14, Men under 14
Bristol V – Women under 12, Men under 12
Entries open: 9 March 2023, at 7pm
---
Further information
Age group and face type
Please select your bow type when entering. You will be allocated into your correct age group based on your year of birth under the new Archery GB age ruling.
| | |
| --- | --- |
| Year of birth | From 1st Jan 2023, for the whole year, your age group will be |
| 2002 | Senior |
| 2003 | U21 |
| 2004 | U21 |
| 2005 | U21 |
| 2006 | U18 |
| 2007 | U18 |
| 2008 | U16 |
| 2009 | U15 |
| 2010 | U14 |
| 2011 | U14 |
| 2012 and later | U12 |
Compound archers
| | |
| --- | --- |
| Under 21, 18, 16 and 15 | Triple Spot face |
| Under 14 and 12 | Single Spot |
Longbow, Barebow and Recurve archers
All ages shoot on a single spot face.
Age groups will be in separate genders in the age brackets below:
Under 21
Under 18
Under 16
Under 15
Under 14
Under 12
Proof of membership to your governing body must be provided if you are not an AGB member.
Target lists and pre-event information will be published on Ianseo seven days before the event.
Live results will appear from the start of the competition.
Urgent event notifications will be published on all of Archery GB's social media platforms. The entry list is available on the AGB entry portal.
No refunds will be given 28 days before the event. Refunds prior to this will be as advertised on Sport:80 when you enter and will be administered 5 working days after the event.
The decision of the Competitions and Events Manager will be final.
Please refer to Archery GB rules of shooting for dress regulations, all archers should comply with dress regulations until after presentations of the awards.
Archers competing at record status tournaments may be subject to testing. Competitors who are approached to give samples must comply; Non-compliance will be treated as a positive result. By entering this competition, you consent to testing, this is in line with UK Anti-Doping Policy, Rule 5.7.2.
No smoking/vaping is allowed in the building; there are designated smoking/vaping areas outside the facility.
Event formats can be changed on the day due to unforeseen circumstances by the competition manager, organiser and judge in charge in collaboration with competitors.
Lost arrows must be reported to a judge or member of the field party (please remember to inform them if you later find the arrow). It is the archer's responsibility to account for all arrows before leaving the field.
Animals will not be allowed at this event, except for assistance dogs.
All entries will be treated in accordance with the Archery GB privacy notice and subject to Archery GB's competition terms and conditions.