More than 50 archers. A burning desire to win. Glorious sunshine in a spectacular setting. What more could you want from the 2018 Disability Championships?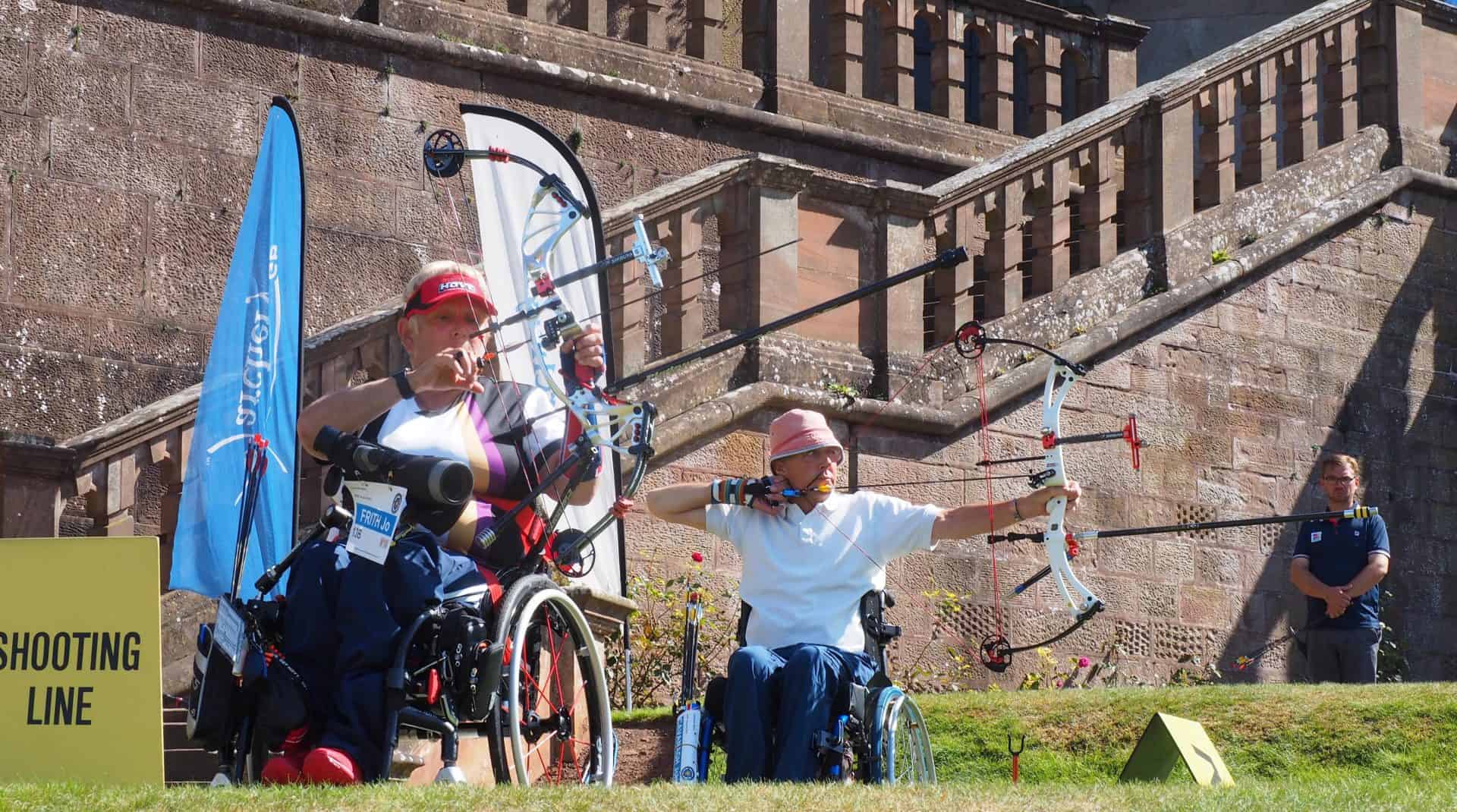 The event, supported by the Worshipful Company of Fletchers, was held at Lilleshall. It produced stunning performances, nail-biting finishes and a spectacular return from injury for Paralympic medallist Mel Clarke.
The new compound champion said: Â"My wrist is fixed now so this is my first time back since 2015. It's good to be back! It was a bit scary but considering I have only been shooting for six months. This was my first big head-to-head and it was quite nerve wracking but I'm really proud of what I have done."
The silver went to Jodie Grinham with bronze medals going to Jess Stretton and Ben Edwards.
The men's compound title went to Evesham junior Jamie Harris. He beat David Bramley to gold and said: Â"This year there were a lot more categories so it was more inclusive to people who would not normally do shoots. It's a really great competition."
Last year, recurver Ken Hargreaves finished fourth at the Invictus Games in Toronto. Yesterday he took the Championship title - and won the Fletchers Cup, awarded to the archer who either improved upon or came closest to their personal best.
Ken, who battled past Mark Pattenden, eventual bronze medallist Paul Browne and Phil Spink, said: Â"I feel very honoured simply to be in the presence of the Para archers and world record holders. I could never have dreamed when I arrived that I would be in such a position and have the honour of actually beating them. I feel blessed."
Tania Nadarajah beat Hazel Chaisty to women's recurve gold. She said: Â"It feels great. I have been working on lots of things recently and although I experienced a couple of problems they are now stored in the bank and It's something I can work on." Kate Murray took bronze.
It was a particularly special day for Victoria Rumary. She beat Jo Frith to W1 gold using her spare bow - which was bought for her by the Worshipful Company of Fletchers. Â"They really helped me out," she said. Â"It's been amazing!"
The men's W1 title went to Paralympic gold and silver medallist John Cavanagh, who is a Freeman of the Company. He beat Martin Saych to gold and Tamas Gaspar edged Peter Higgins out of bronze.
In the Visually Impaired categories, Roger Rees-Evans beat Stuart Phillip James Rodgers to VI1 gold while there was a replay of last year's VI 2/3 final as Steve Prowse beat Peter Price into second spot. Nick Thomas took bronze with a 7-3 win over Phillip Tranter. The open title went to Peter Shaw who defeated last year's winner Debora Wright.
Emily Williams took the recurve disability title while top seed Wayne Mason edged the disability compound final, beating Alan Hayden 128-126. Tom Folwell beat Andrew Woodger to bronze.
And there were strong performances in the new disability novice category. Lewis Brown took the title with Daniel O'Connor second and Sue Sandars third.
Among those watching the action were representatives of the Worshipful Company of Fletchers including Chris Brown, Duncan Garland, Andrew McMillan, Ian and Yomei McLellan, Andrew and Melanie Trapnell and Michael and Pam Holden.
Prizes were awarded by Chairman of Trustees Chris Brown and Archery GB President Trish Lovell, who is also a member.
Chris said that the Championships were created a part of a bigger programme aimed in part at giving archers more competition experience, creating a Â"try before you buy" library of equipment so that para archers can find out what best suits them before they invest and to train new classifiers.
He also announced that the following athletes has been invited to become Freemen of the Company:
Jessica Stretton
Jodie Grinham
John Stubbs
Jo Frith
John Walker
Tania Nadarajah
You can watch all the action from the finals here.
And you can find all the results here.
Picture: Derek Sizeland
Follow us on:
Instagram: archerygbofficial
Facebook: Archery GB
Twitter: @archerygb